Art Music Lit Space
Methods of Negotiation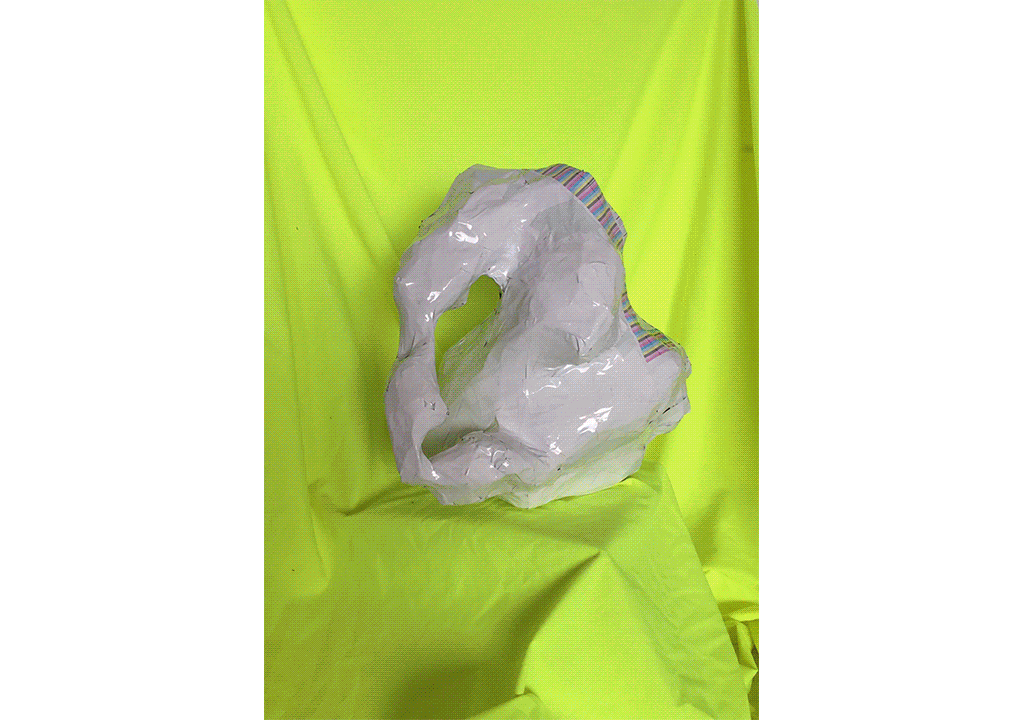 Anne Garvey       Harriet Heyman        Diane Wang        Matthew Lazure        Liyu Xue        Miranda Magaña        Forest Aliya        Matthew Pagoaga        Trevor Coopersmith        Alice Combs        Halcyon Clay        Jonas Johansson          Roxy Rawson        Anokhi Shah          St Celfer               Philip Brubaker          Bunny California          Jeremy Forman          Seongmin Yoo
How do we negotiate a world
where many of our usual methods of negotiation have been disrupted? How do we negotiate a world where even going out for a walk or making a grocery run presents new and risky challenges? How do we even begin to negotiate artmaking and art sharing in such a closed-gallery, canceled-concert world? What does art mean in our virus and teargas reality?
Art Music Lit Space was born in the midst of this COVID uncertainty to provide a method to negotiate not only this shuttered world, but to negotiate a world increasingly connected through online networks of communication. Using art as a foundation, Art Music Lit Space provides a global platform for people secluded in their homes to come together and share their craft, draw inspiration from each other, and discuss navigating this uncertain world. Through this platform, Art Music Lit Space seeks to foster an online community unrestricted by geographical distance that thrives long past the need to be physically distant.
With the virtual exhibition Methods of Negotiation, Art Music Lit Spare welcomes into its online community artists from throughout the world and shares with you glimpses of how each of them negotiate our online-mediated realities with art. Some artists in this exhibition persevere with their physically-oriented craft and provide us with brief windows into their lives and practices in the form of digital images. Other artists in this exhibition have already lived digitally-mediated artistic lives and repurpose social media platforms and web browsers to provide us with brief windows into lives and scenes that only exist in the form of digital images.
The artists of this exhibition of seemingly disparate practices and distant locations are unified by the browser window, the window we rely on more and more these days to view the world beyond our shelters. Although we live in increasingly screen-mediated realities with face-to-screen-to-face interactions replacing our face-to-face ones, the connections we make are still human and we are not alone nor isolated in our quarantine lives. Although our galleries are closed and our concerts canceled, artists are still persevering with their crafts both digital and physical (and sometimes in-between) and through online communication and art, we can still come together and share meaningful experiences.
Curator, Derek Kwan
Like never before, the act of negotiation
is becoming a daily endeavor. How do we shop in this time of masks and distancing, how do we love, embrace? The artist, like the lover, is keen in accepting the act of negotiation into their life, such as the way they prosper or flourish in uncertainty. Methods of Negotiation invites artists to express their negotiations, subtle, sophisticated and, to explore through process the complications of concession and compromise.
With delicate gestures and strokes, such as in the painting of Anne Garvey, the negotiations we all undertake are fraught through veils and distance. Where the common place of touch and the tender meet impasse, we find that what is difficult can be faced with grace, affection and the act of moving beyond the self into the complete "we." In Harriet Heyman's sculptures, the negotiation of bronze, casting and an unwieldy medium lead the viewer into the softness of embrace, it's nurturing comfort and, how the negotiations of the inner self are bargains of the ideal, where we find in moments of repose our purpose and deep meaning.
There are negotiations of material, such as Diane Wang's paper forms and Matthew Lazure's mosaic pictures. The object-hood of the resulting artwork is articulated, care-taken and, the subtle and underlying content in the work is a result of a relationship with medium. Further negotiations of form, such as the synthetic apparatus, in the work of Matthew Pagoaga and Alice Combs, bring us closer to our plastic selves. Not the one we detest for it's uncanny nature, but our shape-shifting self, our fractured summation of beautiful parts expressing our entire self. In this place, through surface, tactility and vulnerability, our negotiations are authenticated through our closeness to the unknown. Such as the negotiation of what is fragile in a world of uncontrollable forces.
Liyu Xue, Miranda Magaña, Forest Aliya, Trevor Coopersmith and Halcyon Clay negotiate inner and outer spaces. The way the hand moves over a surface is investigated, the way a body moves in space is considered. Color and light react and imply space where there is only surface, phenomenologically enlightening us with life. Unnatural spaces bring us closer to understanding the given and, raw energy, excitement and passion in making helps us to realize the unimaginable and that our activity is electric. Through a negotiation of will we can move ourselves forward into what is unseen, what is yet to be learned, what we have yet to let enter inside of us.
Curator, Tavarus Blackmon
Anne Garvey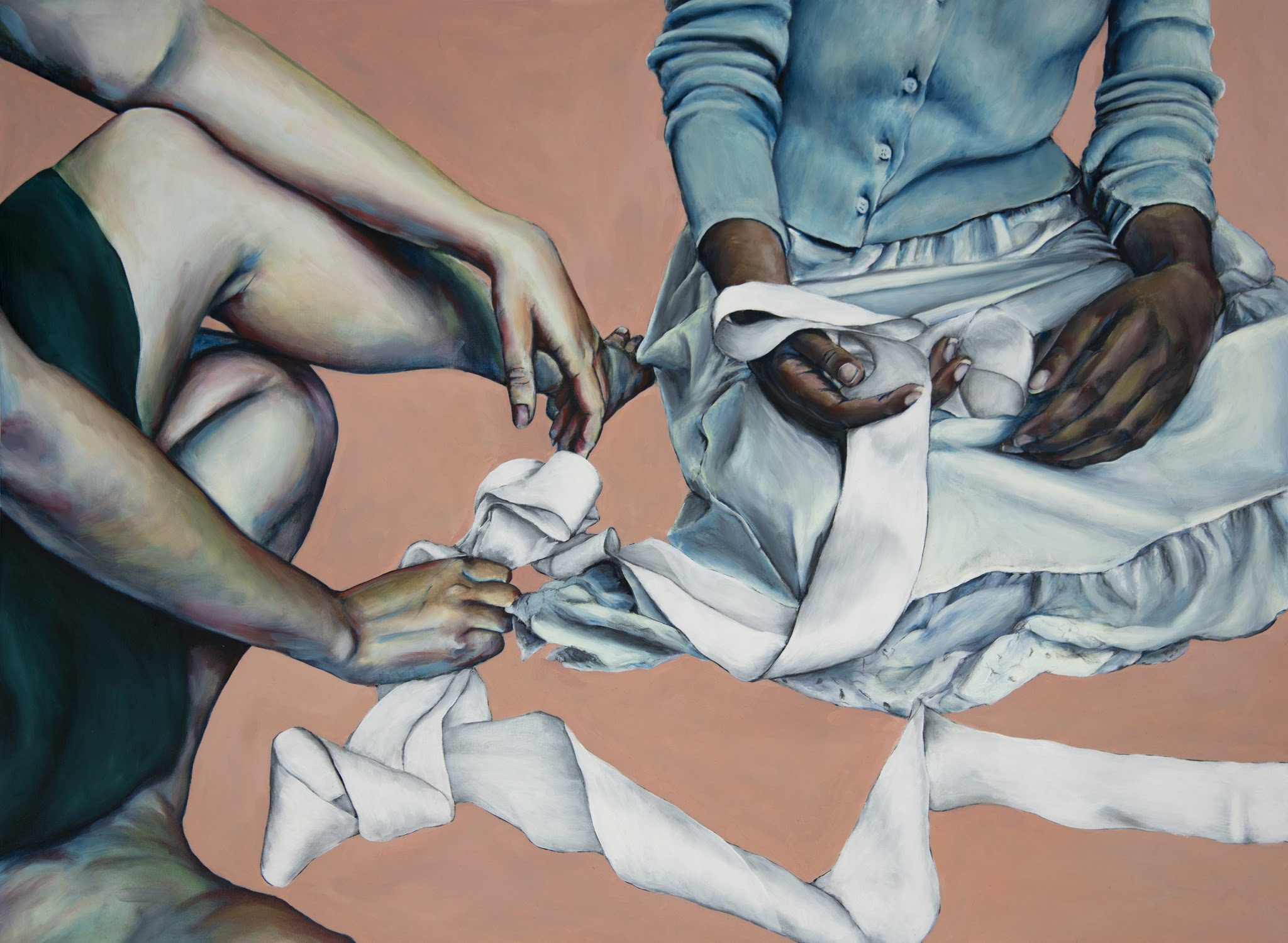 Correlation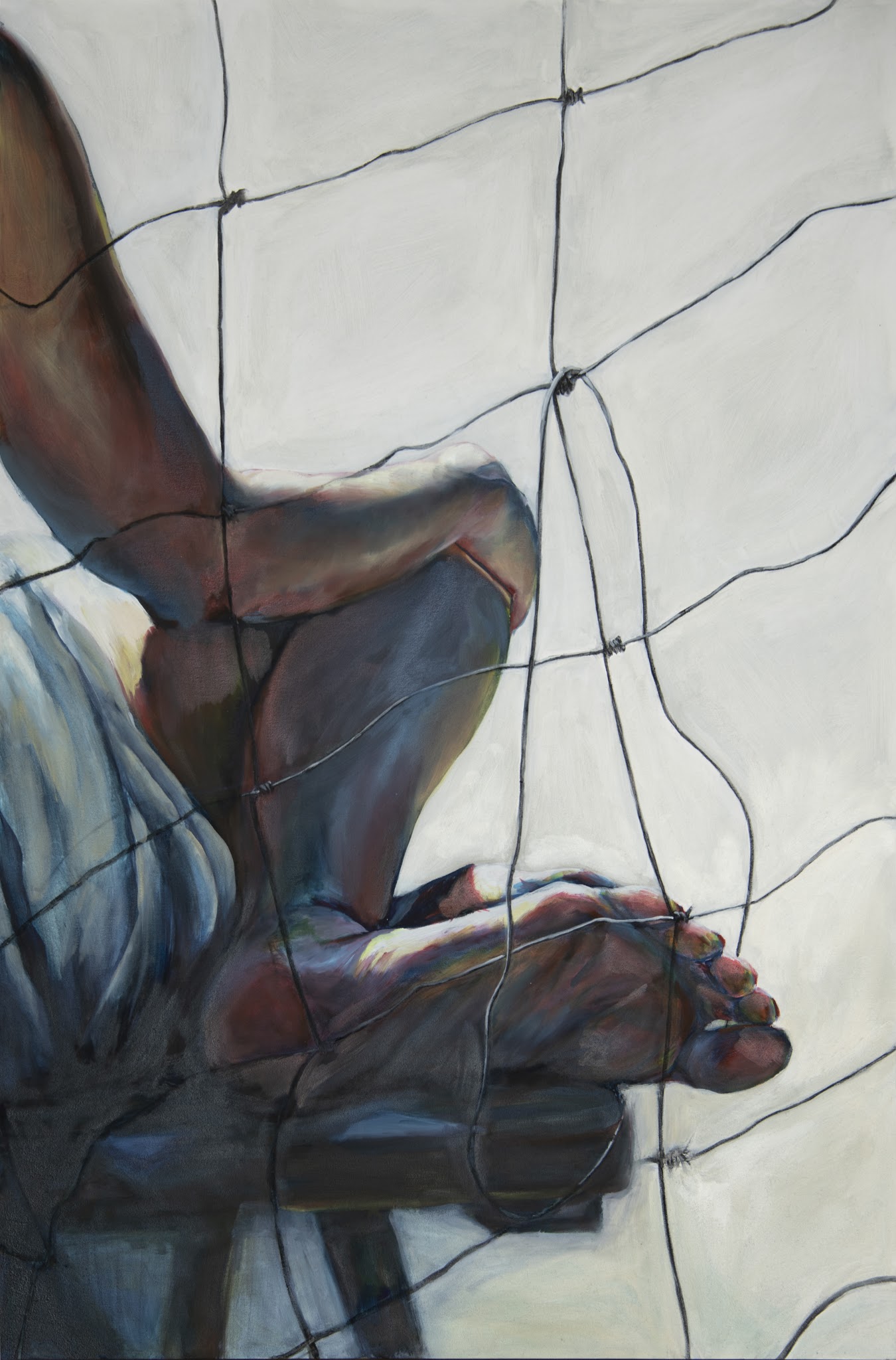 Reticular Formation I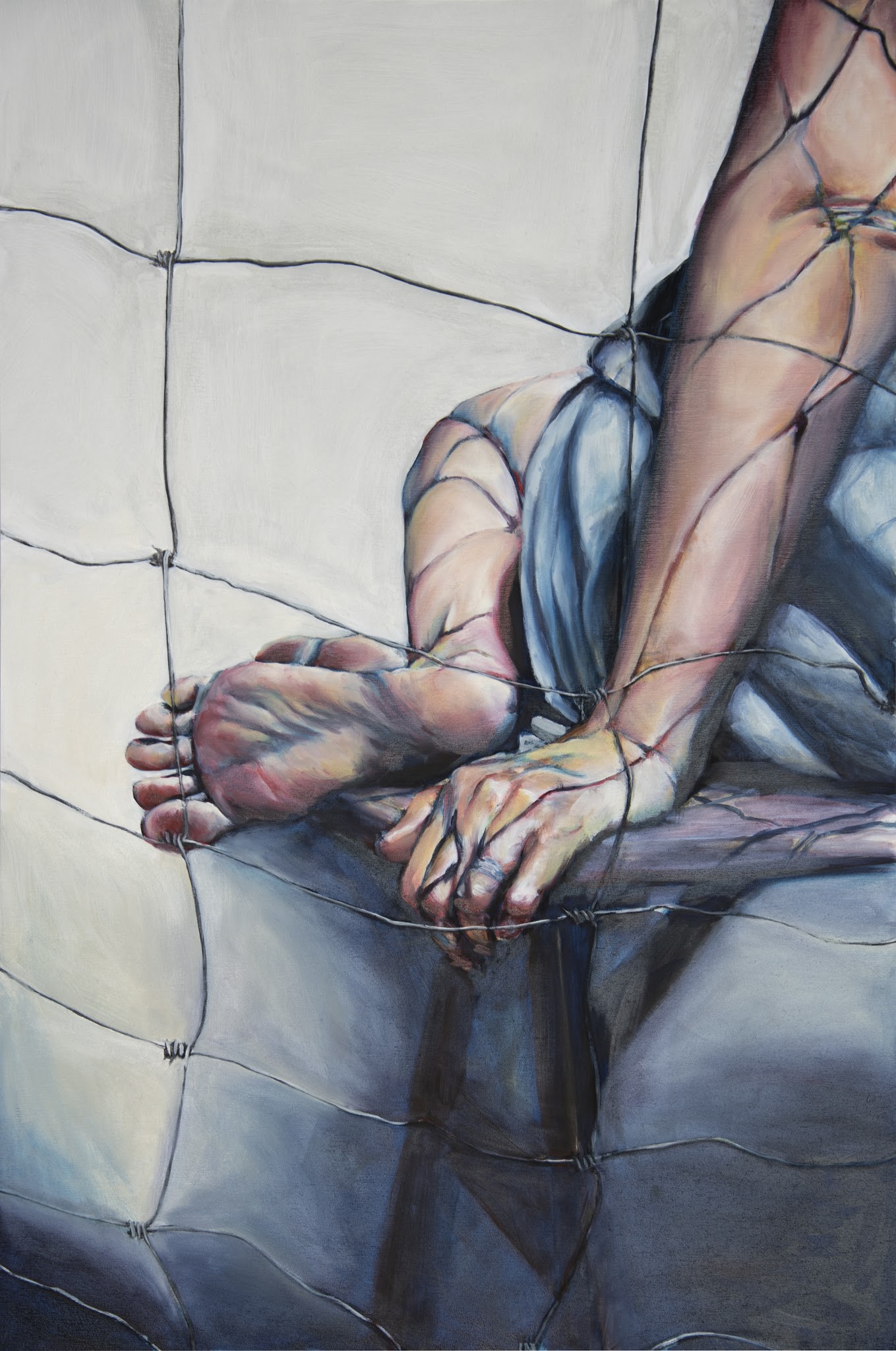 Reticular Formation II
Anne Garvey is a contemporary visual artist based in Oakland, California. Though her artwork spans a variety of media, she is primarily known for her realistic paintings of people and tangled objects. Garvey's art centers around the inner human experience of various psychological states.
A graduate of the San Francisco Art Institute and Saint Mary's College, Garvey has exhibited, taught, and collaborated with fellow artists for the past decade. Her work has been featured in Memoir Magazine and the artist interview series, Twirl Project. As an artist and educator, she has participated in residencies in the Bay Area, Hoi An, Vietnam, and the North Street Collective in Willits, California. Most recently, Garvey created artwork for the Perception Project, a non-profit organization serving survivors of trauma in Los Angeles.
http://www.annegarvey
art.com
Harriet Heyman
Samantha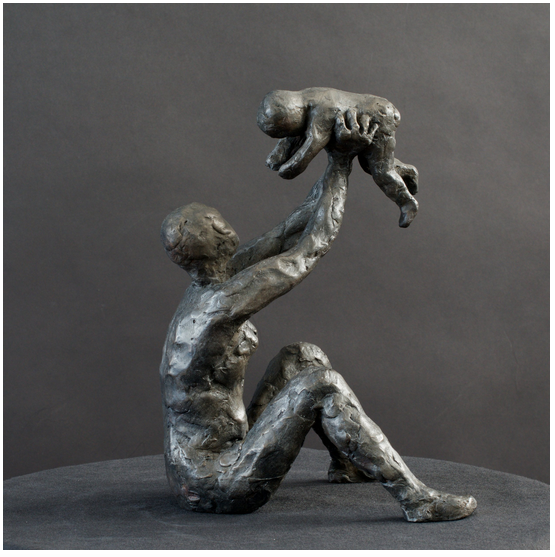 Mother Holding Baby Aloft
Since she began sculpting, she has worked with teachers from the Royal Drawing School in London. Mainly, she sells her work privately. The work has been exhibited at the annual Fall Show at Fort Mason in San Francisco and at a private exhibit in the studio of a San Francisco architect. Before turning to sculpture, she worked for many years as a writer, editor and journalist-- on staff at The New York Times and LIFE, and freelance for national magazines. Her book, Private Acts: The Acrobat Sublime (Rizzoli), explores the nature of work and creativity. Having practiced trapeze arts for more than a dozen years, and playing piano since childhood, Harriet understands, bodily and intellectually, the link between conscious practice and unconscious mastery.
Diane Wang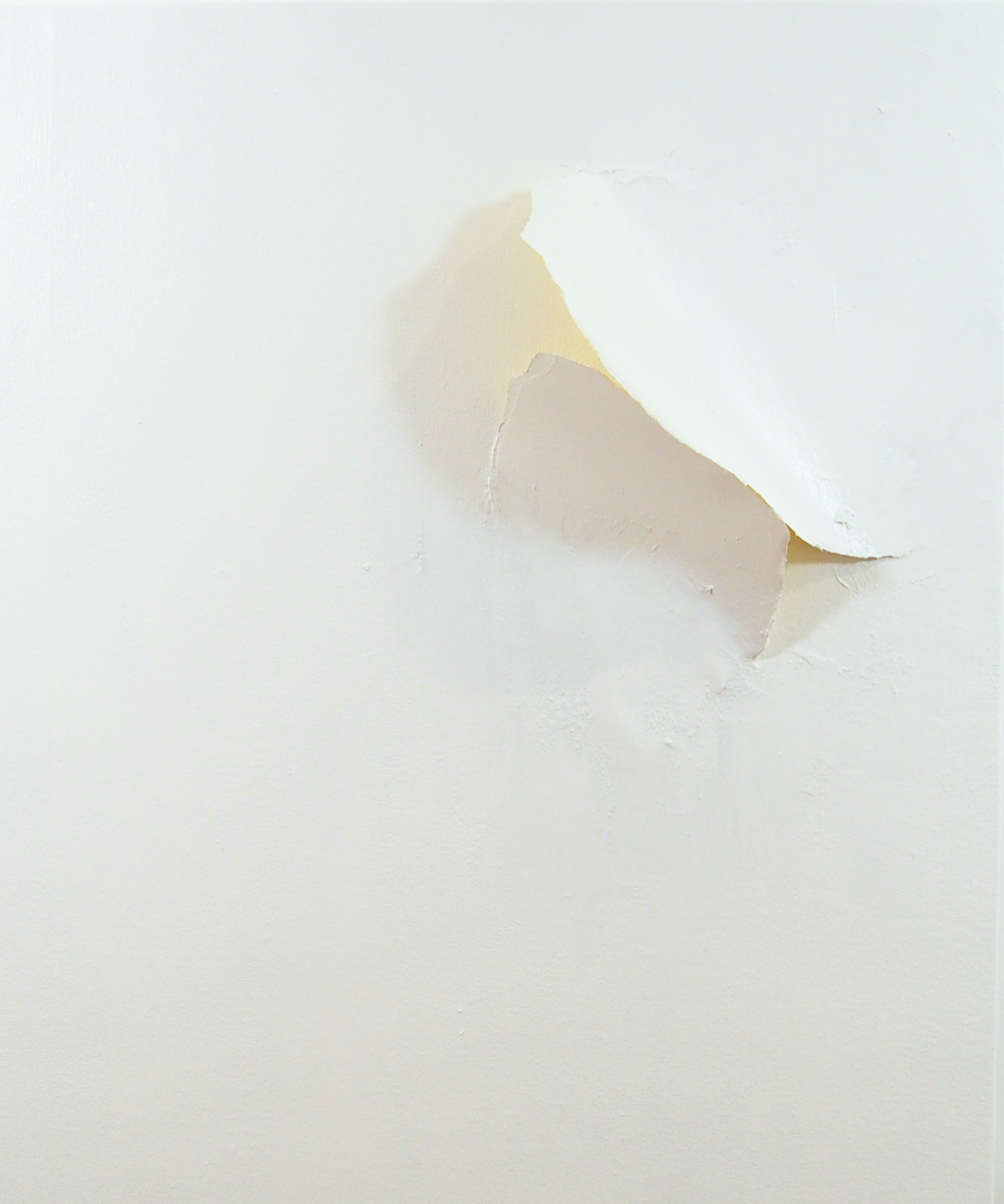 Remembrance 007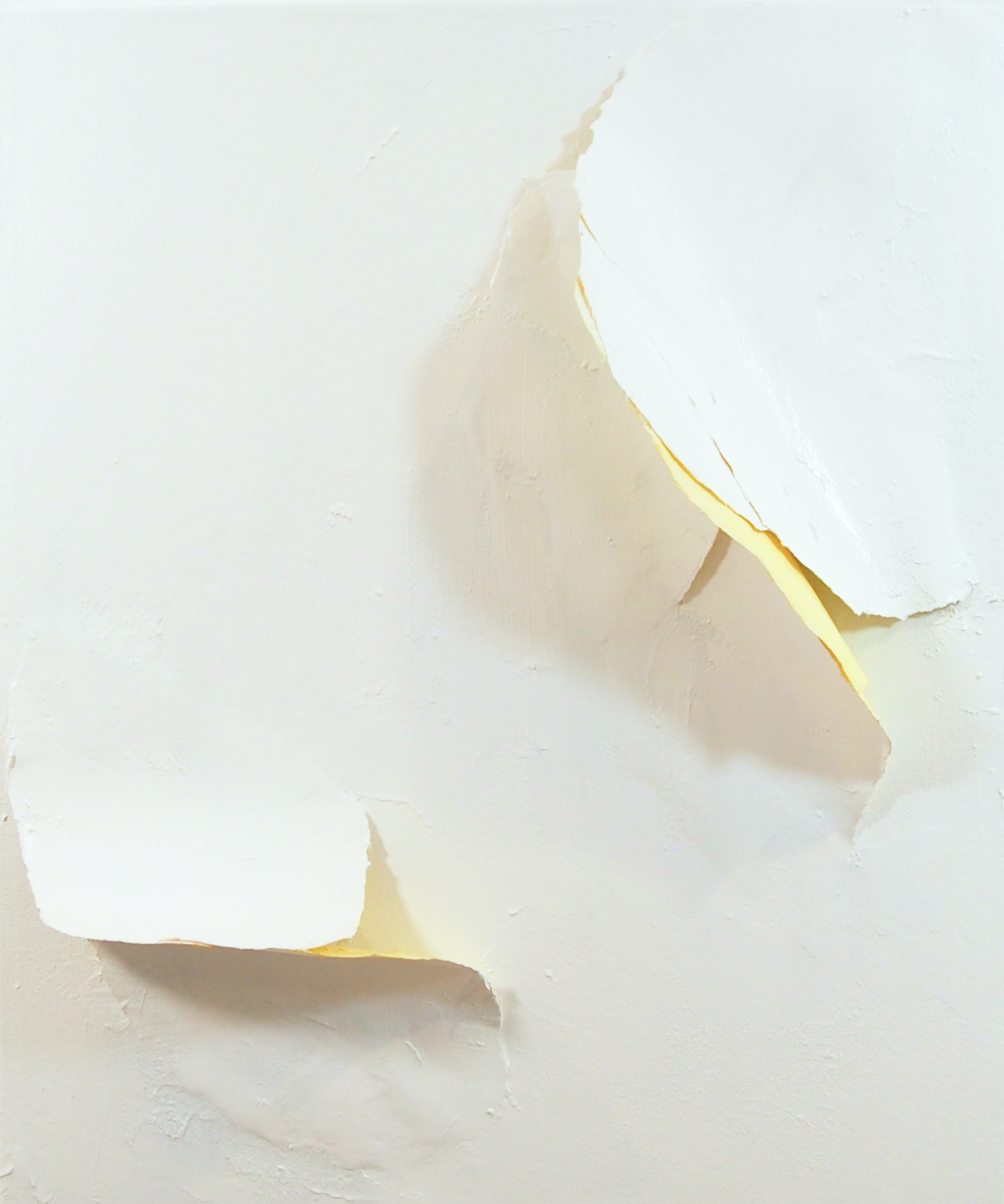 Remembrance 009
Diane Wang is a San Francisco Bay Area native and Taiwanese-American interdisciplinary abstract artist investigating human perception of nature's stories and sense of time. Diane studied Chinese ink-wash painting throughout her childhood and received her B.A. in Computer Science from UC Berkeley with a focus in Human-Computer Interaction. Post-graduation, she designed award-winning emerging technology interfaces across IoT, AR/VR, and wearables at Google and Nest. She continued her studies in the visual arts and abstraction at the California College of the Arts. Her cross-cultural background and exposure to a variety of creative practices influences her approach, techniques, and process.
Matthew Lazure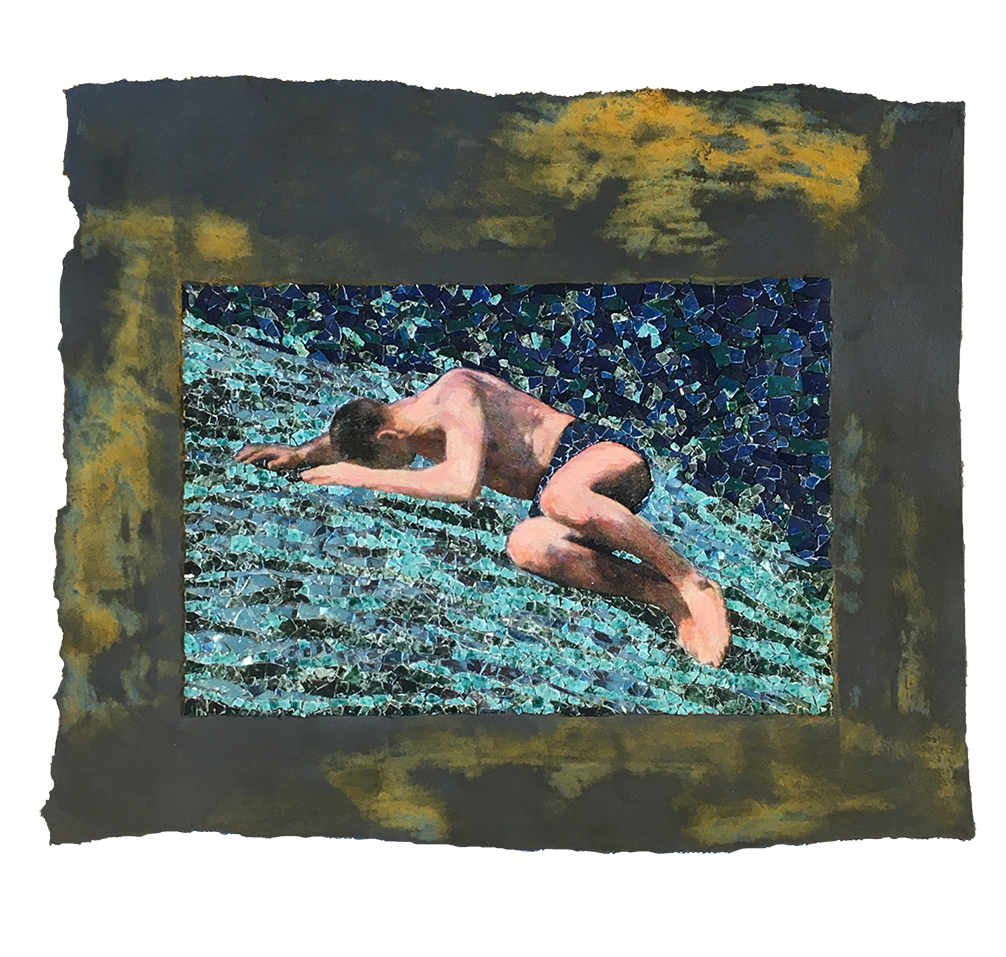 Fig. 39. Position of victim of stomach cramp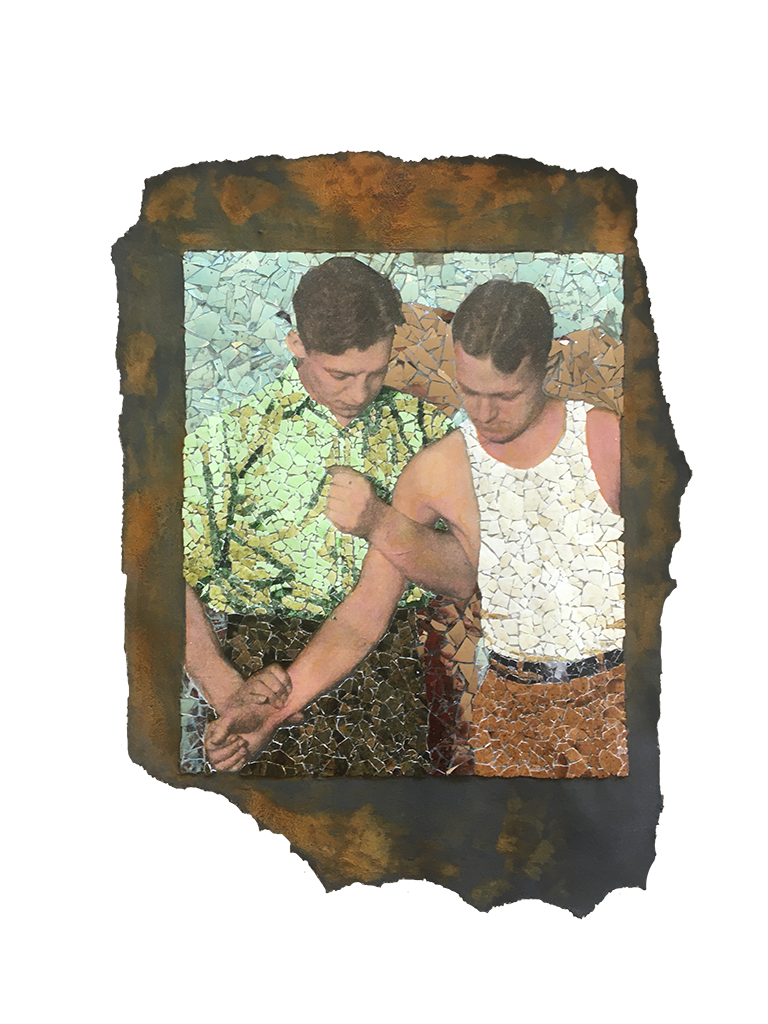 Fig. 48. Using forearm to apply pressure to arm
Matthew Lazure has spent the past 20 years refining his skills as both a fine arts mosaic artist and as an award winning scenic designer. A graduate from the Massachusetts College of Art and Design, Matthew has spent most of his career in the Boston area designing, fabricating, and painting scenery and properties for theater. He has received recognition from both the Boston Theatre Critics Association and the Independent Reviewers of New England (IRNE) for his outstanding design. His fine art mosaic work combines vintage photographic images from home health, water safety, and first aid manuals with materials including broken shards of glass from holiday ornaments and miniature pieces of colored eggshell. Matthew has been an active member of the Brickbottom Artists Association and Gallery, one of the country's first and largest artist-developed live-work buildings, dedicated to preserving and expanding the arts in the greater Boston area. Since 2007, he has contributed as guest juror, gallery assistant, and participating artist.
Liyu Xue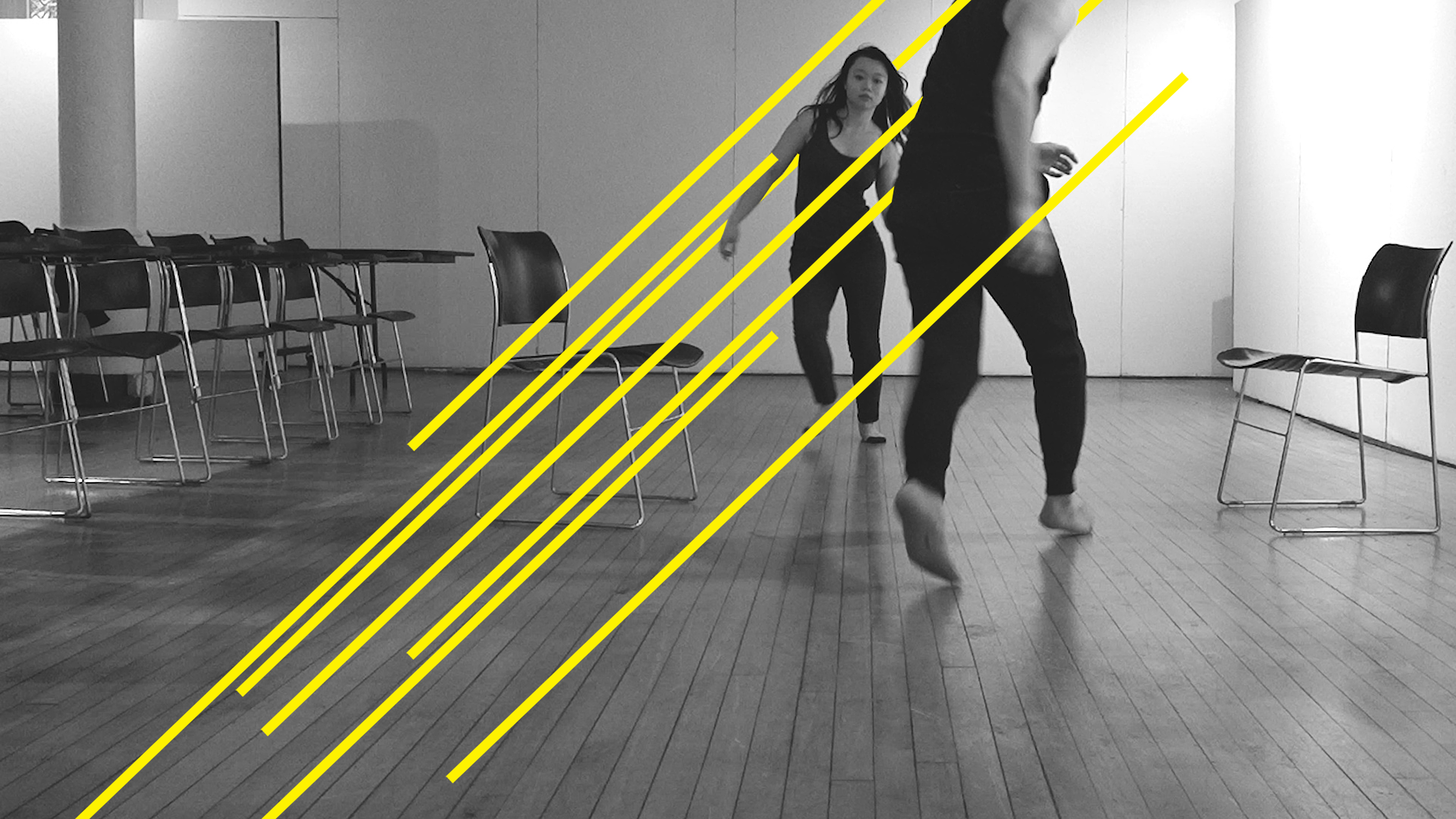 60s, 24h III
Liyu Xue is an interdisciplinary artist based in Los Angeles. Using an array of media including video, performance, and photography, he explores the performative nature of image and performance making. Liyu also invests in consciousness research and neuroscience, where he finds new perspectives and evidence to think about the bodily presence and the embodiment. He received his M.Arch from School of Architecture at Pratt Institute, where he also studied photography and performance at the School of Art.
Miranda Magaña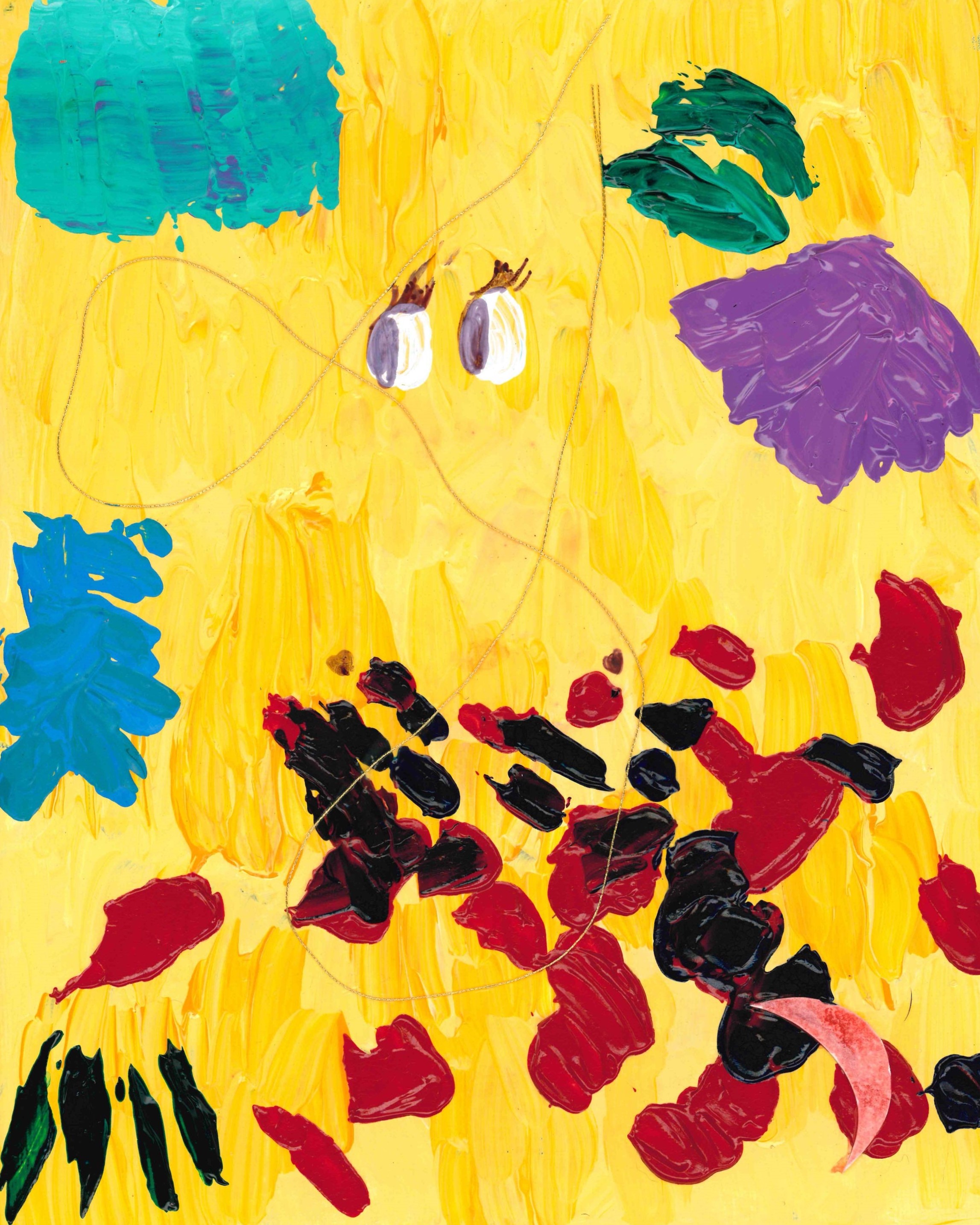 Ducky Momo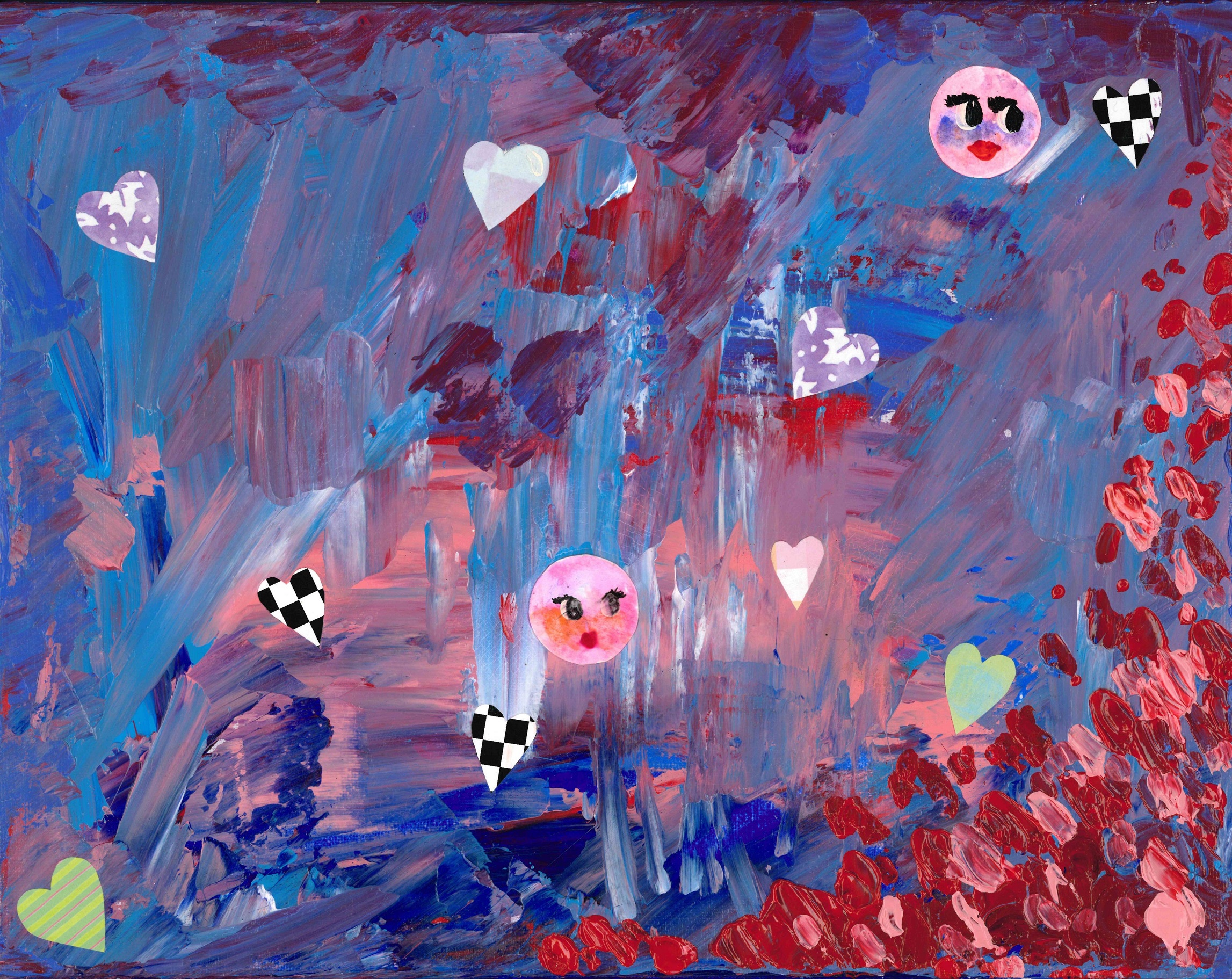 Catch a Taxi
Miranda Magaña is a self-taught artist born and raised in Oxnard, California. She is currently a student at UCLA, majoring in Spanish and Portuguese & Brazilian Studies. When she is not studying, she is often playing her guitar, the piano, or working on her paintings. She enjoys working with all mediums- digital, musical, watercolors, acrylics, paper mâché, and more.
Forest Aliya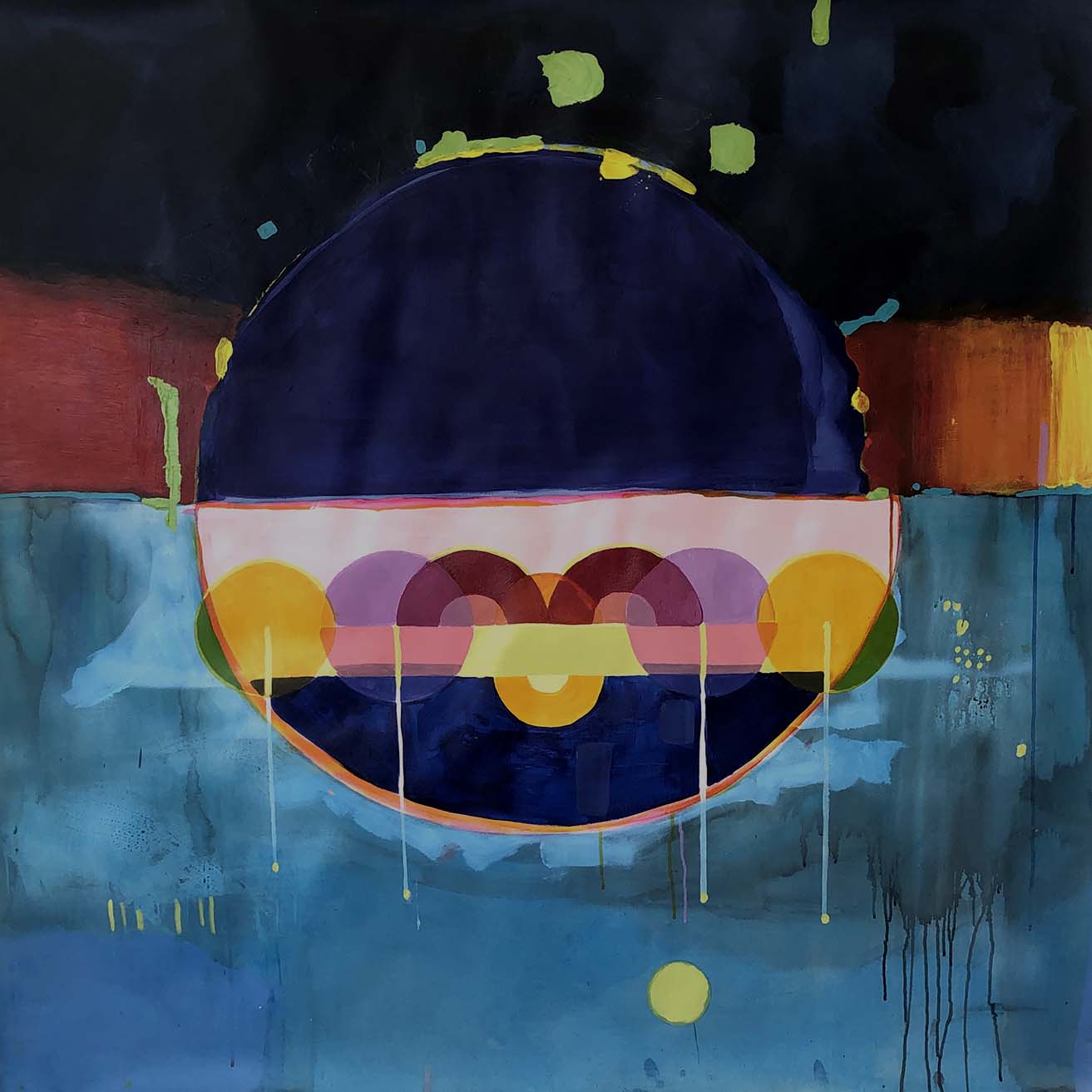 Coming Together in a Weird Way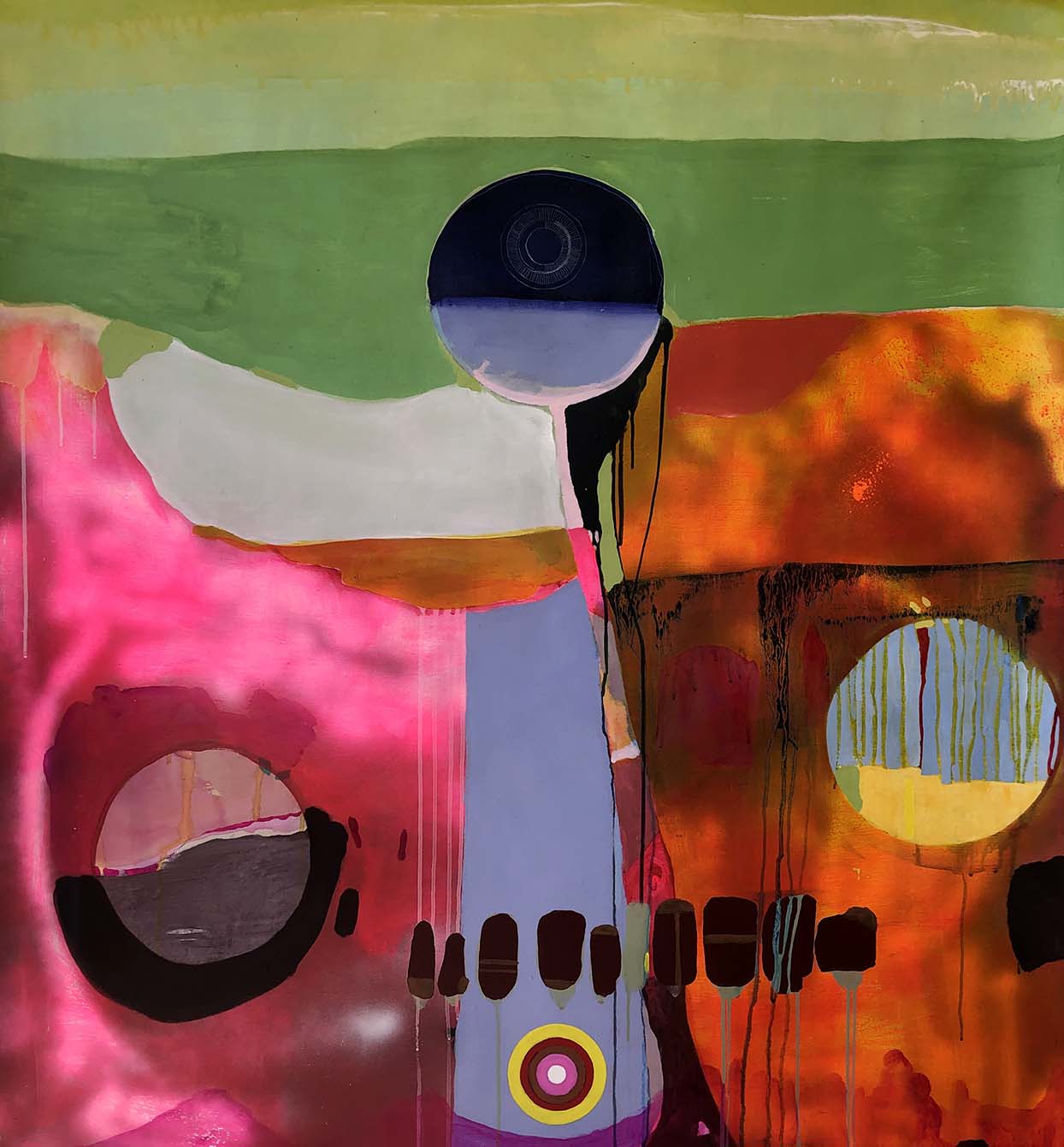 Finding Balance
Forest Aliya is a clairvoyant, contemporary, abstract landscape painter, muralist, and sound artist who lives and works in Nevada City, CA. She describes her work as Timescapes which are narratives of collective places she has experienced in the physical world as well as with the mind's eye. They are brought together to create a world that has not been fully manifested on Earth. In a Timescape, there is neither time nor space, only movement between worlds which are expressed with color, line, and form. Her art is an expression of how light and sound interact. Aliya's work has been exhibited in the San Francisco Bay Area, CA; Sacramento, CA; Nevada City, CA; Capetown, South Africa; and Portland, OR.
Matthew Pagoaga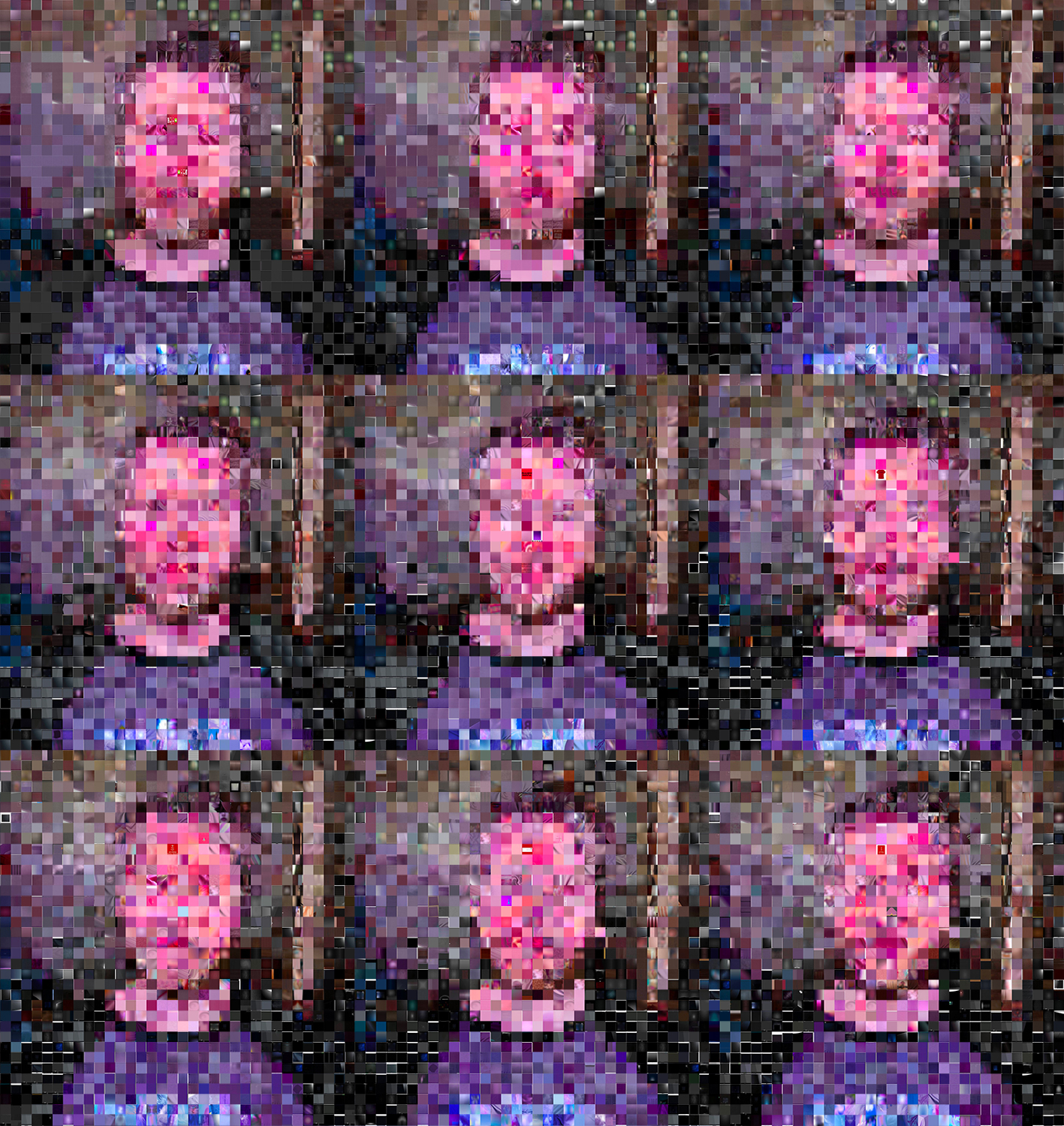 Myself When I Am Not Real, composite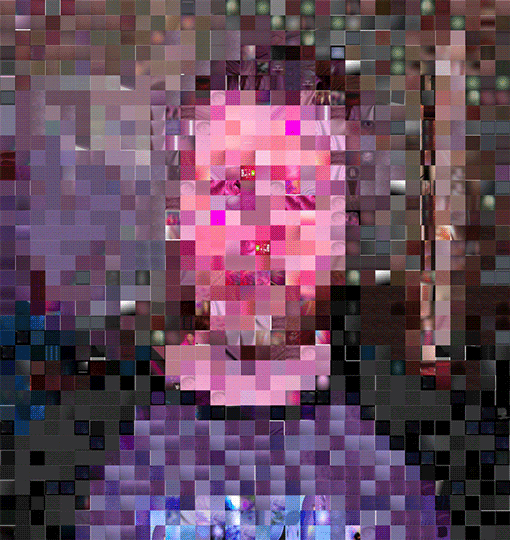 Myself When I Am Not Real
Matthew Pagoaga is a Los Angeles based artist, author, and filmmaker. His art work splits between conceptual media investigations and interactive light art installations, while his writing centers on existential questioning, memory, and grief. He is a recent recipient of Honoraria awards from MOZAIK Philanthropy and the Burning Man organization, and is actively creating work that hybridizes studio and public art with post- studio practice. Matthew's latest works examine processes of archival degradation, and human connection and disruption as related to the Covid-19 pandemic. In 2019, he left his career in the tech sector and enrolled at California Institute of the Arts – where he is currently pursuing a Master's degree in Art + Technology.
Trevor Coopersmith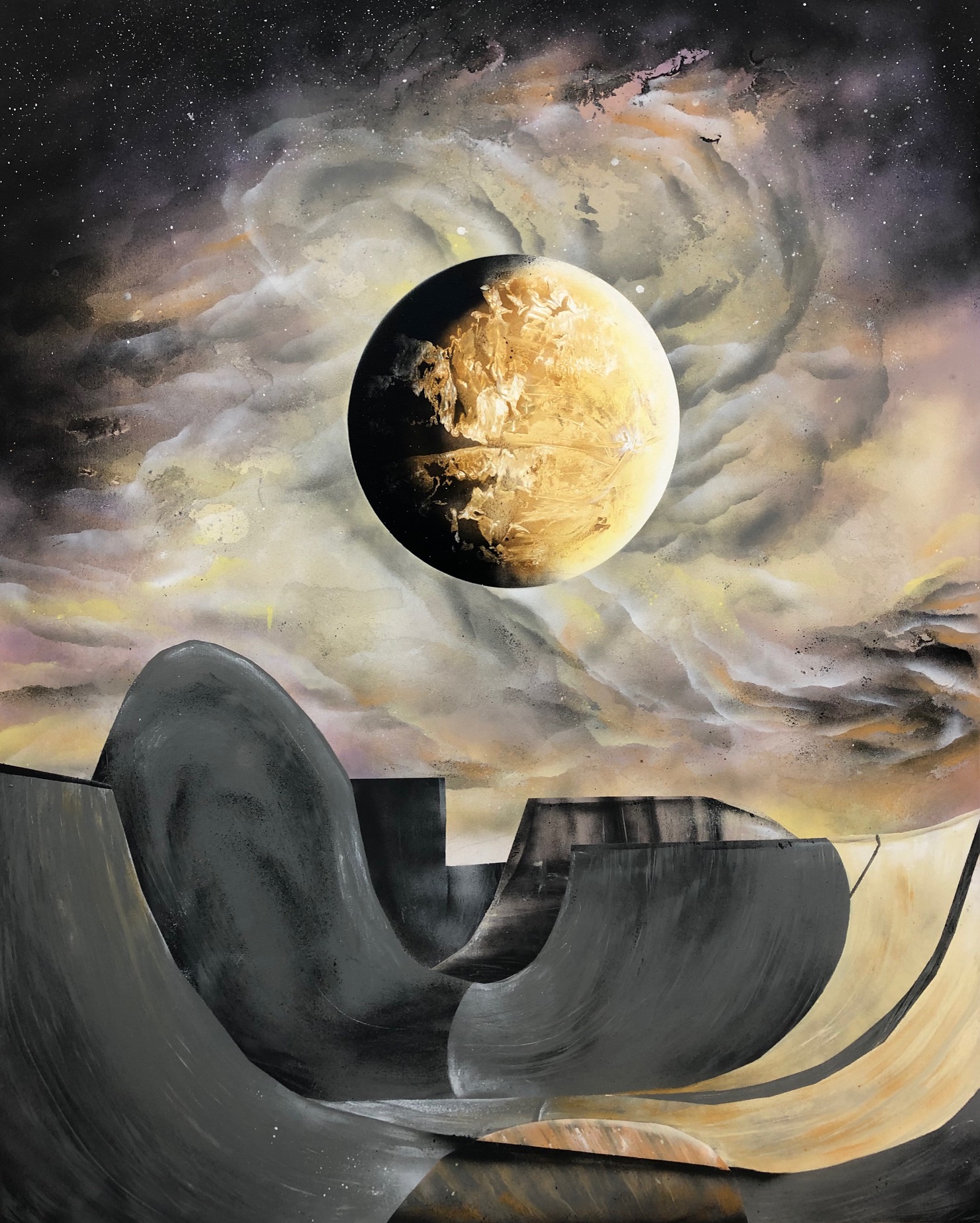 Venus Firmament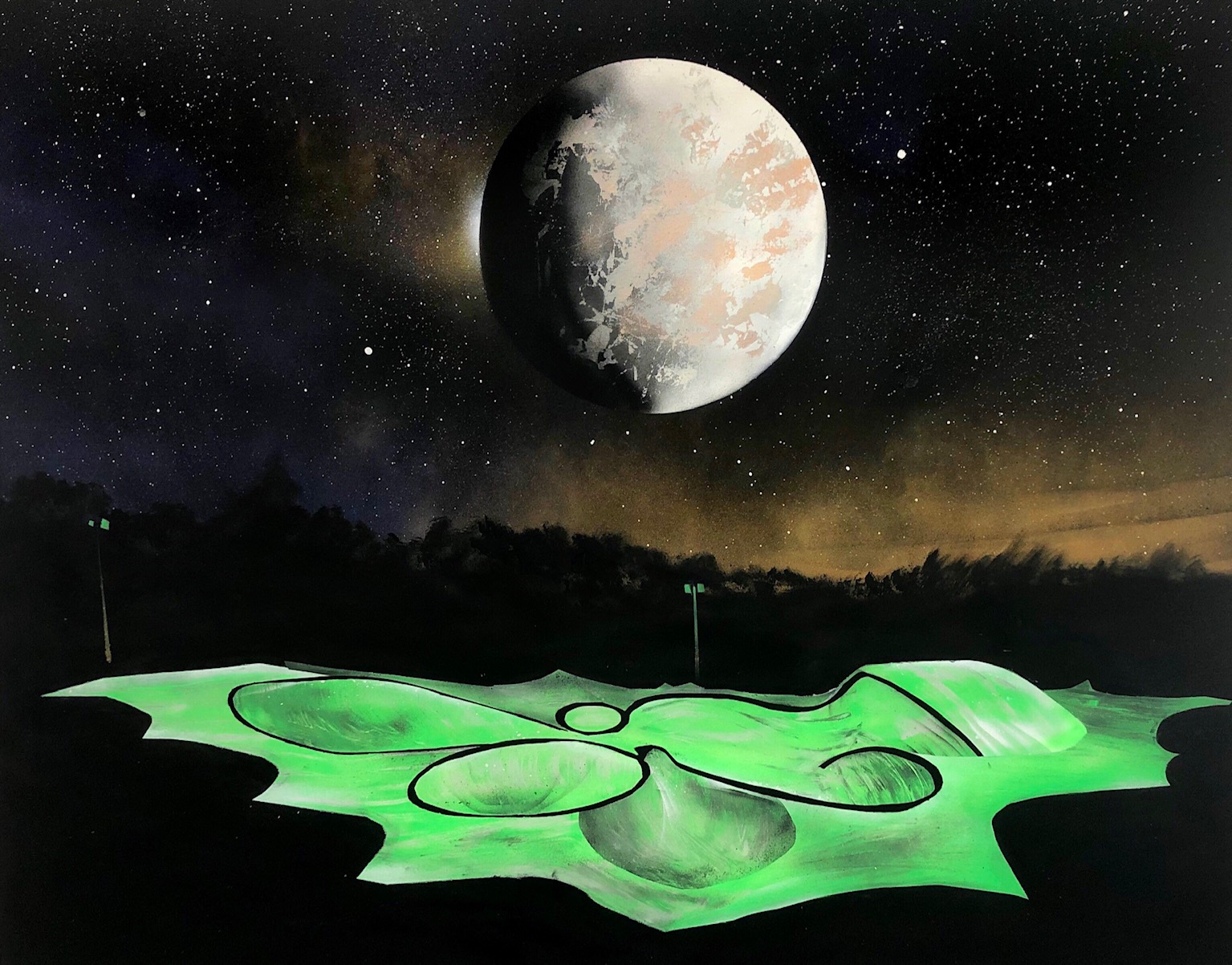 Perennial Twilight of Mercury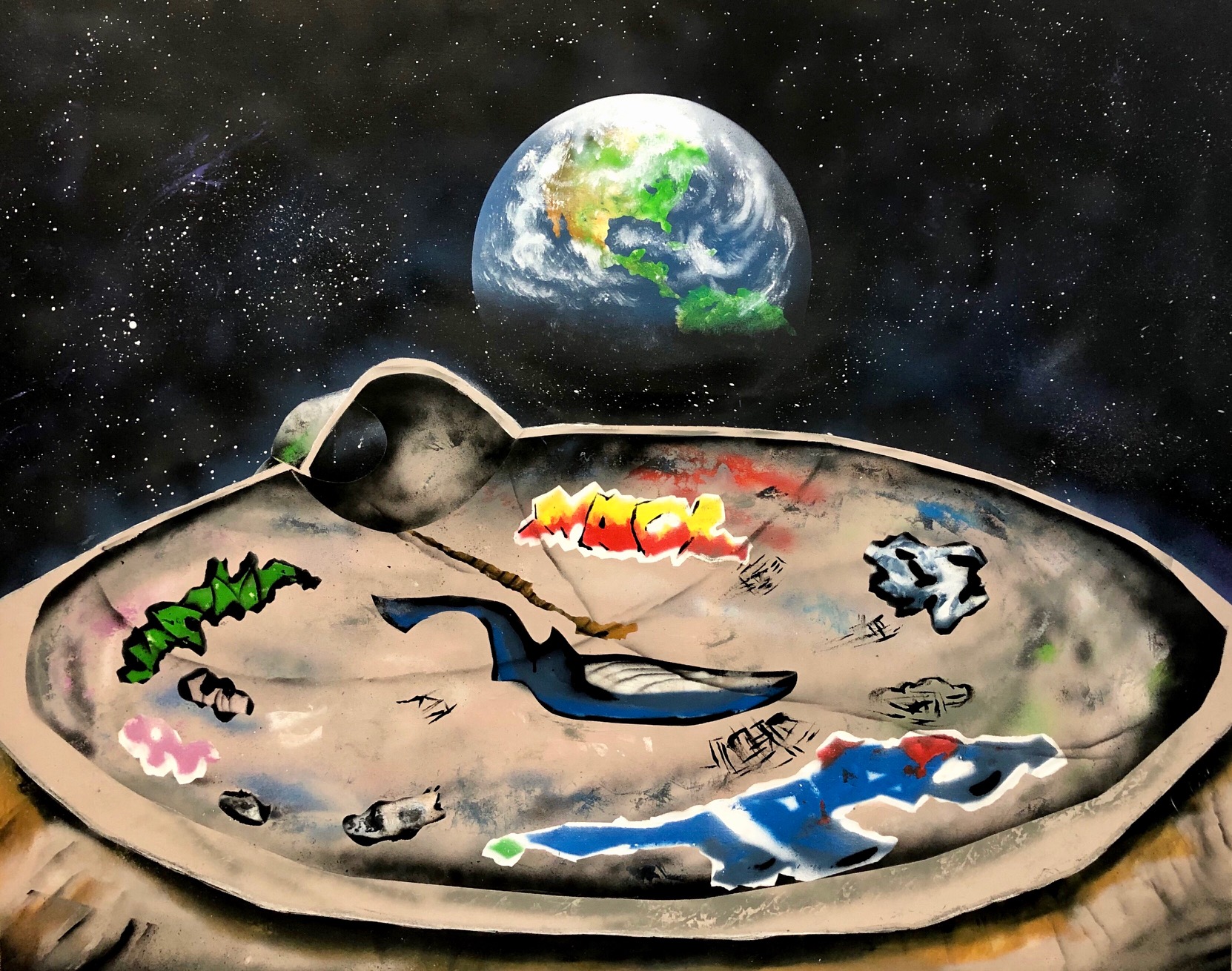 Cosmogonal Cynosure
Trevor Coopersmith received a Bachelor's in Art from the University of California Santa Barbara. Originally from San Diego, California, the supposed birthplace of skateboarding subculture, Trevor is interested in exploring relationships between skateboarding, the natural environment, and urban negotiations of public space. Influenced by Brutalist architecture, Trevor makes an attempt to portray re-appropriated public spaces in juxtaposition to mythological and imaginative spaces. Throughout his artistic career, Trevor has exhibited at dozens of public art affairs, private exhibitions, internationally recognized institutions and sold to private collections across the globe.
Alice Combs
Vinyl Boulder with Print Test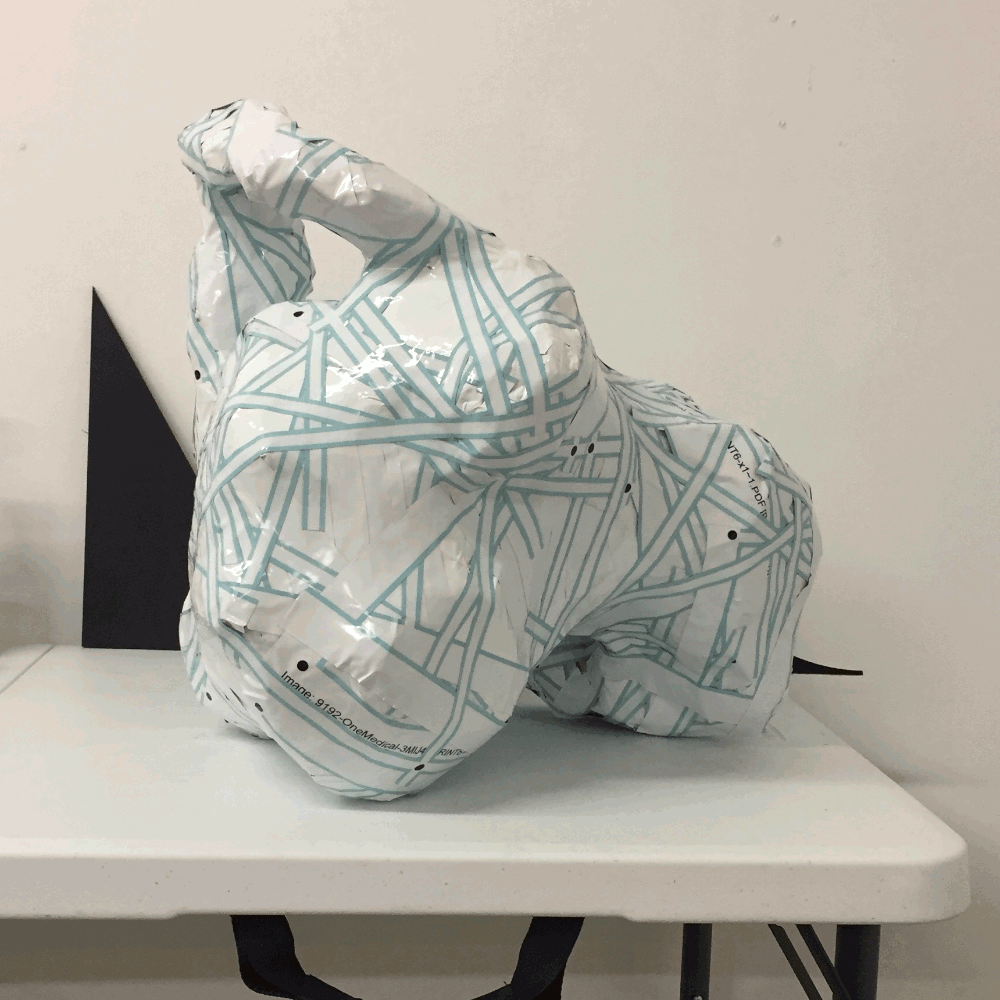 Vinyl Boulder with Blue Grid
Alice Combs uses everyday materials like human hair, blueprints, and rusty metal, manipulated through repetitive and laborious processes, to create assemblage drawings and sculpture to address the malleable nature of histories both personal and those within the context of capitalism.
Halcyon Clay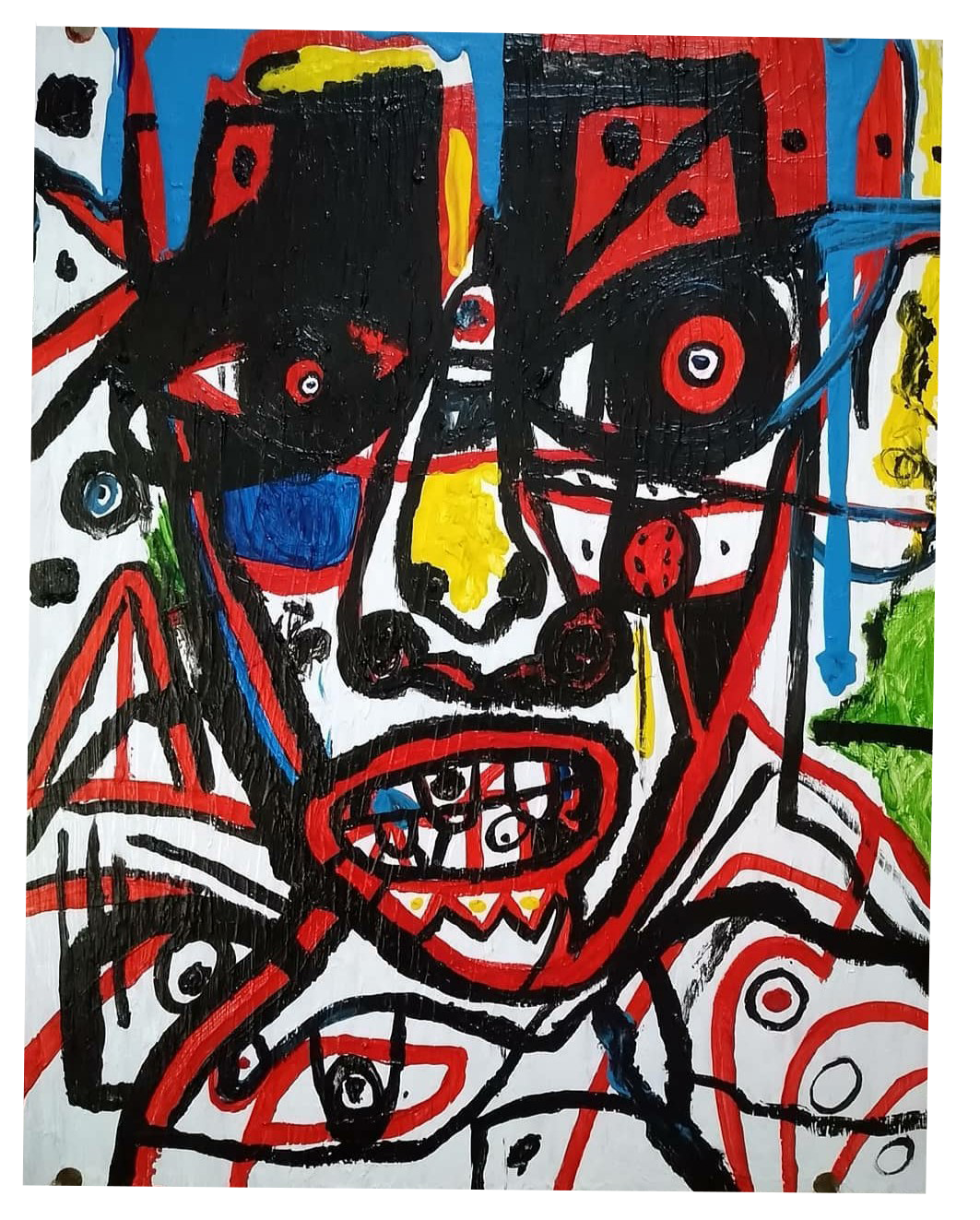 Mad Hatter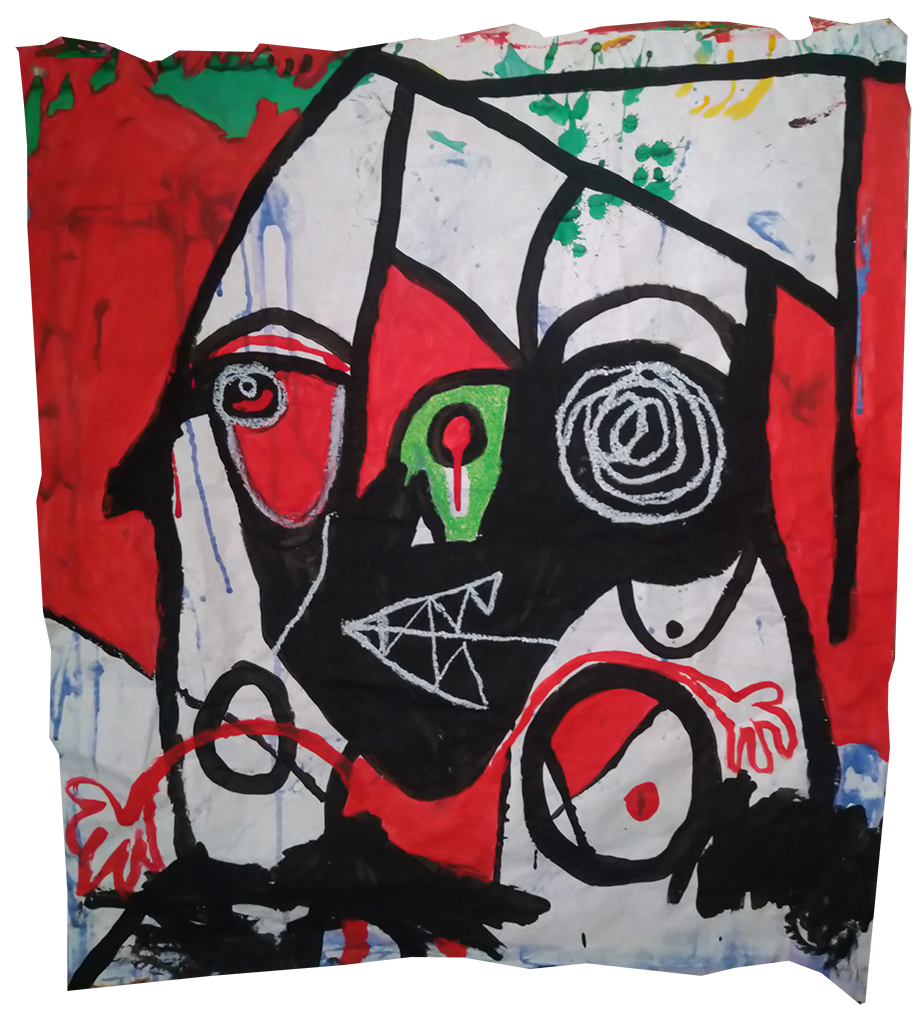 Ghost Joker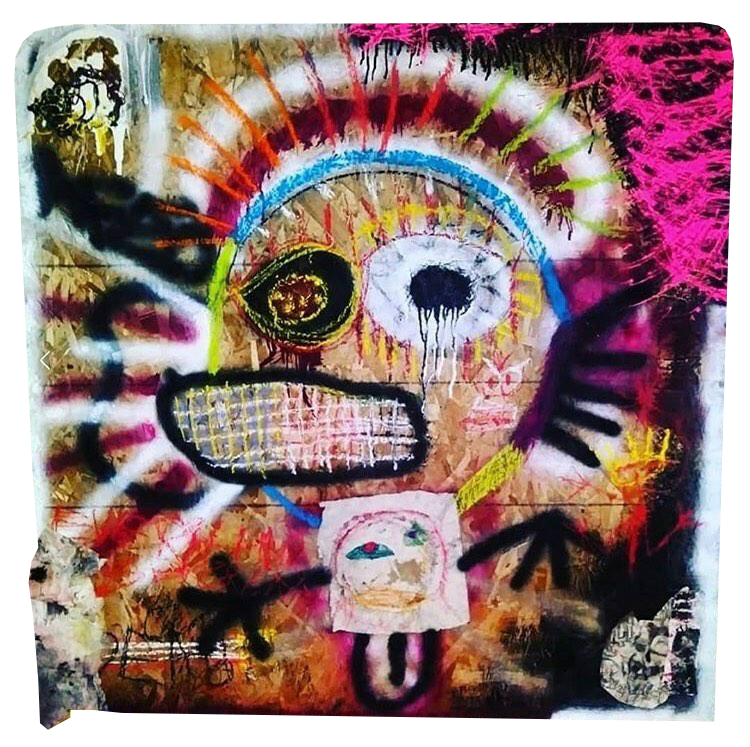 Halcyon
Based in Sacramento California, the only thing that limits me is resources. I work out of my apartment. Money is sparse. I live the starving artist stereotype pretty well. I am self taught. I paint whatever is in my head. I can never stop. I have an addiction. A mental physical soul health connection with my work. It is all I do. All I know. It is my pain of existence.
Drawing inspiration from the once-vibrant
screen saver development community, Berg and Pilgrim from Jonas Johannson's series VISTA are minimalist, web browser-based animations inspired by memories and dreams. Like the winged, flying toasters of Berkeley Systems' After Dark 2.0 from the early 1990s, many aspects of VISTA are implemented with the use of random numbers, procedural generation techniques, and physics simulations so that elements such as the triangular faces of Berg's eponymous mountain and the soft, minimal synth tones and hypnotically undulating cloth of Pilgrim are uniquely determined as soon as the browser window is opened. Because of these run-time generated parameters, each viewing of Berg or Pilgrim is a live performance put on by the computer able to be viewed as long as desired and the animations are not doomed to repeat themselves each successive run-through but instead allowed to be fresh and spontaneous.
Both Berg and Pilgrim consist of an object against a monochromatic background illuminated by a source of light. In Berg, a solitary, Perlin noise-generated mountain against a clear blue sky occupies the center of the view. As a hazy sun and a small, dark planet circle the mountain in tandem, a gradient of pink with the blue forms and dissolves in the sky and details of the mountain's topography are illuminated and obscured. In Pilgrim, a red cloth gently wafts in the physics-simulated and audio-synthesized wind within a dark purple fog as it reflects distorted glimpses of Stockholm Palace and occasionally catches the glimmer of a distant golden light. As the light gradually moves around the scene illuminating different contours of the cloth, gentle calliope-like synth chords separated by long time intervals in E minor solemnly sound.
Roxy Rawson's Valerian Roots, performed with Rawson on violin with cello accompaniment, is a lilting song mostly in 4/4 in the indie folk vein of artists such as Joanna Newsom and Regina Spektor. Named for an herbal remedy typically taken to treat sleep problems, "Valerian Roots" consists of verses characterized with uncertainty where Rawson inquires, "Is this valerian root starting to work?". Their uncertainty is illustrated by irregular seven-bar and two-bar phrase lengths, a ritardando at the end of every phrase, and light pizzicato in the violin strumming and cello arpeggios. The uncertain verses are juxtaposed with the more determined choruses where Rawson proclaims, "I see and I see the positivity in it". This determination is characterized by pizzicato violin arpeggios, long, bowed cello notes in a low register and more typical four-bar phrase lengths with a ritardando only occurring at the end of the chorus. The bridge combines the qualities of the verses and choruses. Like the verses, the bridge consists of irregular seven-bar phrase lengths but with the seventh bar extended by two beats to form a 6/4 bar. This extended bar combined with a ritardando gives the phrases of the bridge a more settled feeling compared to the phrases of the verses. The bridge also combines the pizzicato violin strumming of the verses with the long, bowed cello notes of the choruses but in a higher register, imbuing the music with a sense of tenuousness. At the end of the bridge, Rawson declares "I really don't know life at all" and the instruments return to the music of the verse. Having been through the course of the song, this declaration and return feels hopeful rather than uncertain. Perhaps in the end, it is okay to not "know," life at all.
As an artist, the two types of Instagram accounts I most frequently encounter are accounts showcasing an artist's work and accounts showcasing moments in a person's life. Anokhi Shah's Paw_cosm blends the two and repurposes the social media platform's functionality to explore the world of a character named Paw_lish. Alongside its principal implementation as an Instagram account, Paw_cosm also exists in the form of print media and virtual reality explorable with an HTC Vive headset.
The Instagram account Paw_cosm acts like a central hub for the project with each of its nine photos depicting a Paw_lish-occupied room that links to a related Instagram account by a tag. Each linked account depicts an Escher-like location consisting of labyrinths of spaces in Paw_lish's world stretched out over Instagram's photo grid layout. Much like how scrolling through an account's posts traverses curated glimpses of a person's life throughout time, scrolling through each linked account's posts traverses glimpses of Paw_lish's life accompanied by her witty comments throughout Paw_cosm space.
Anokhi Shah's Paw_cosm explores the possibilities of digital art by utilizing a non-traditional format and blurs the boundaries between reality and fiction by repurposing social media for fictional narrative. Paw_cosm further blurs the boundaries by tagging real people from Anokhi's life (including herself), adding locations from her life to the Instagram post info, and referencing other work in her creative output. Witnessing the Instagram-constructed life of Paw_lish calls into question how much we know about the lives of "regular" Instagram users, how much of those lives are constructed for social media, what value systems determine their curatorial decisions, and what function these constructed lives serve in the context of our own lives. Through repurposing Instagram, Paw_cosm asks us to reevaluate the roles social media platforms play in our lives and explores their possibilities for digital expression.
Reflecting the swiftness of the virus's outbreak throughout the world, March of the Covids by St. Celfer moves at a relentless brisk pace and is driven throughout nearly its entire eight minutes and forty-eight seconds by a clicky, sine-tone-like ostinato. Over this insistent rhythmic engine and the repeated, down-pitched sample of a voice intoning "Don't stop it before I break down. You wouldn't stop anyway", St. Celfer deploys a kaleidoscopic assortment of varied electronic textures with associated melodic motives in an free, improvisatory fashion, recalling landmark jazz fusion and minimalist albums of the late 1960s and early 1970s such as Miles Davis's Bitches Brew and Terry Riley's A Rainbow in Curved Air. With prominent grooves throughout its duration strongly emphasizing the notes G and D, the tonal center of March of the Covids is firmly established at G. While DTMF (Touch-Tone)-like twirling gestures around notes A and B and singing, rubato meanderings around note groups C-G and G-D-E establish the piece's major mode, hints of a minor mode darkness with the note B flat appear throughout the beginning and most prominently in repeated swells at the two minute mark.
Curator, Derek Kwan
Jonas Johansson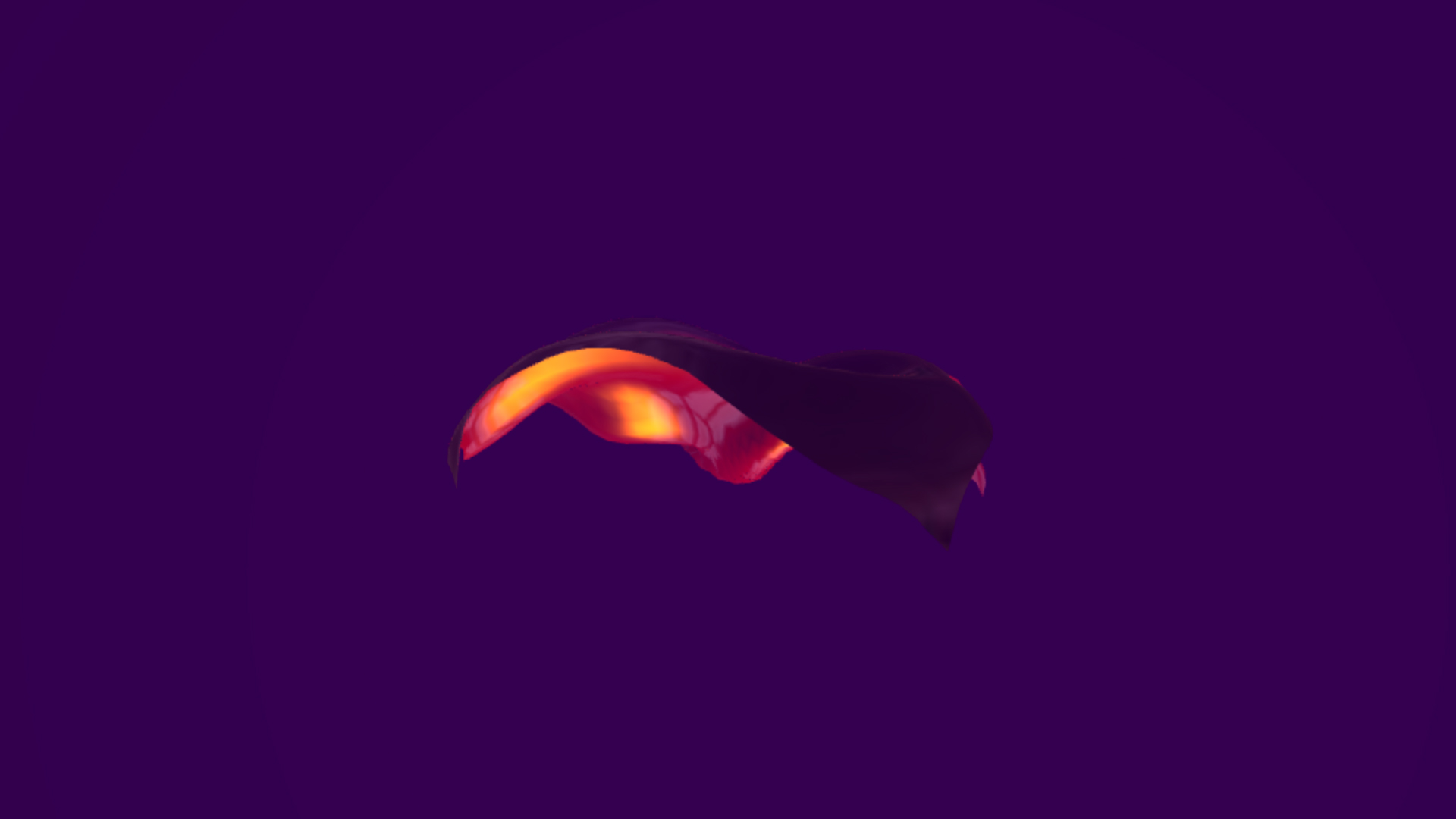 Pilgrim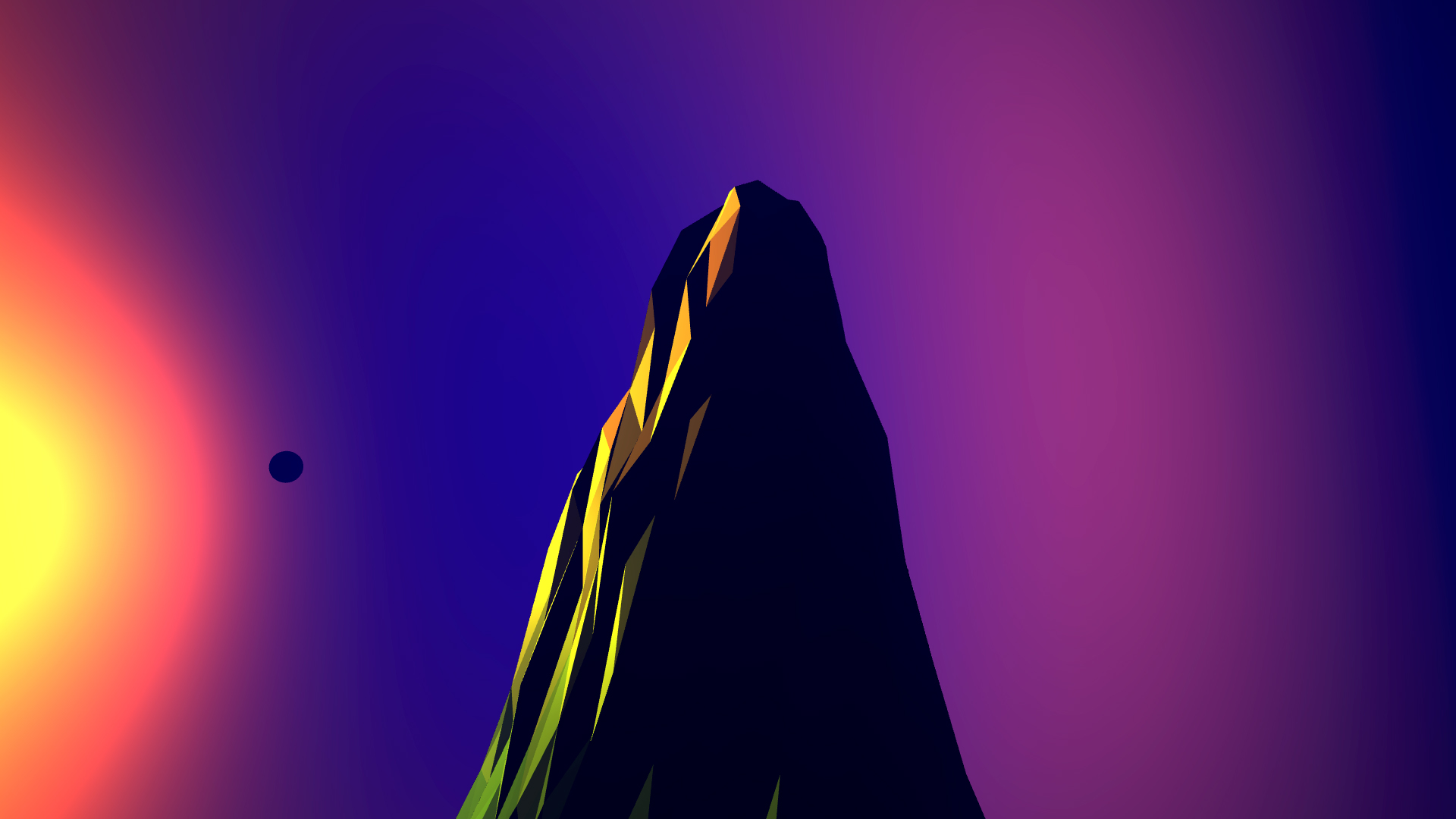 Berg
Jonas Johansson (SE)(b. 1987) is an anywhere based artist-activist transforming light ✺ technology through ❋ play, science and (un)human intervention. He works in the intersection of the real and unreal through audiovisual experiences, biotechnology and graphic art. He is part of the borderless initiative Nordic Audiovisual Artist, and Stockholm based DIY lighting collective Svartljus.
Roxy Rawson
Valerian Roots
Falling squarely into the anti-folk category by way of a manipulated, punk-y violin, Roxy Rawson has been a cult presence on the Parisian and London music scenes. Now based in San Francisco Bay, she released her long awaited full length debut album in November 2018. This is a singer songwriter whose flair for the alternative demands the world's attention.
roxyrawson.com
Anokhi Shah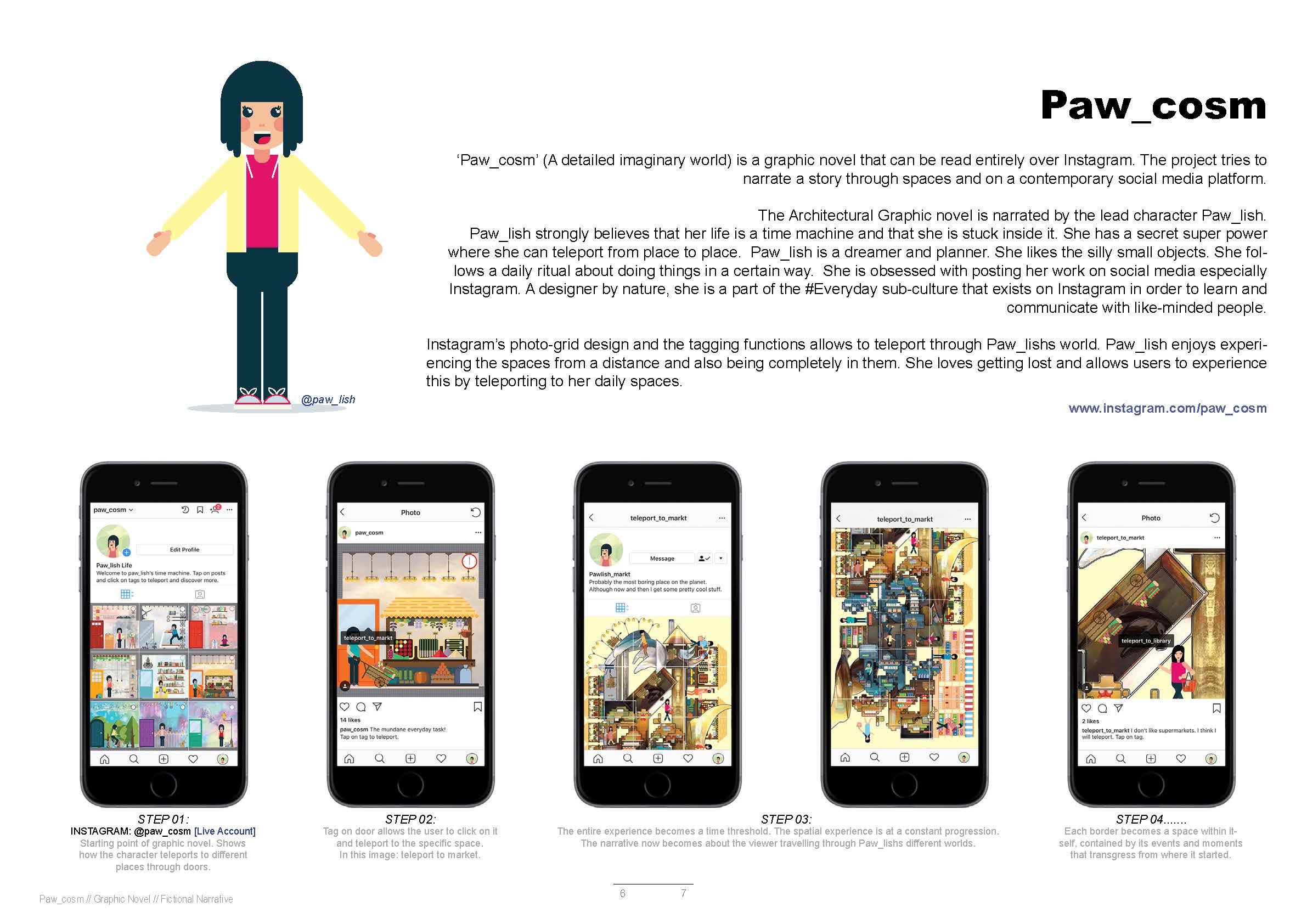 Paw_cosm I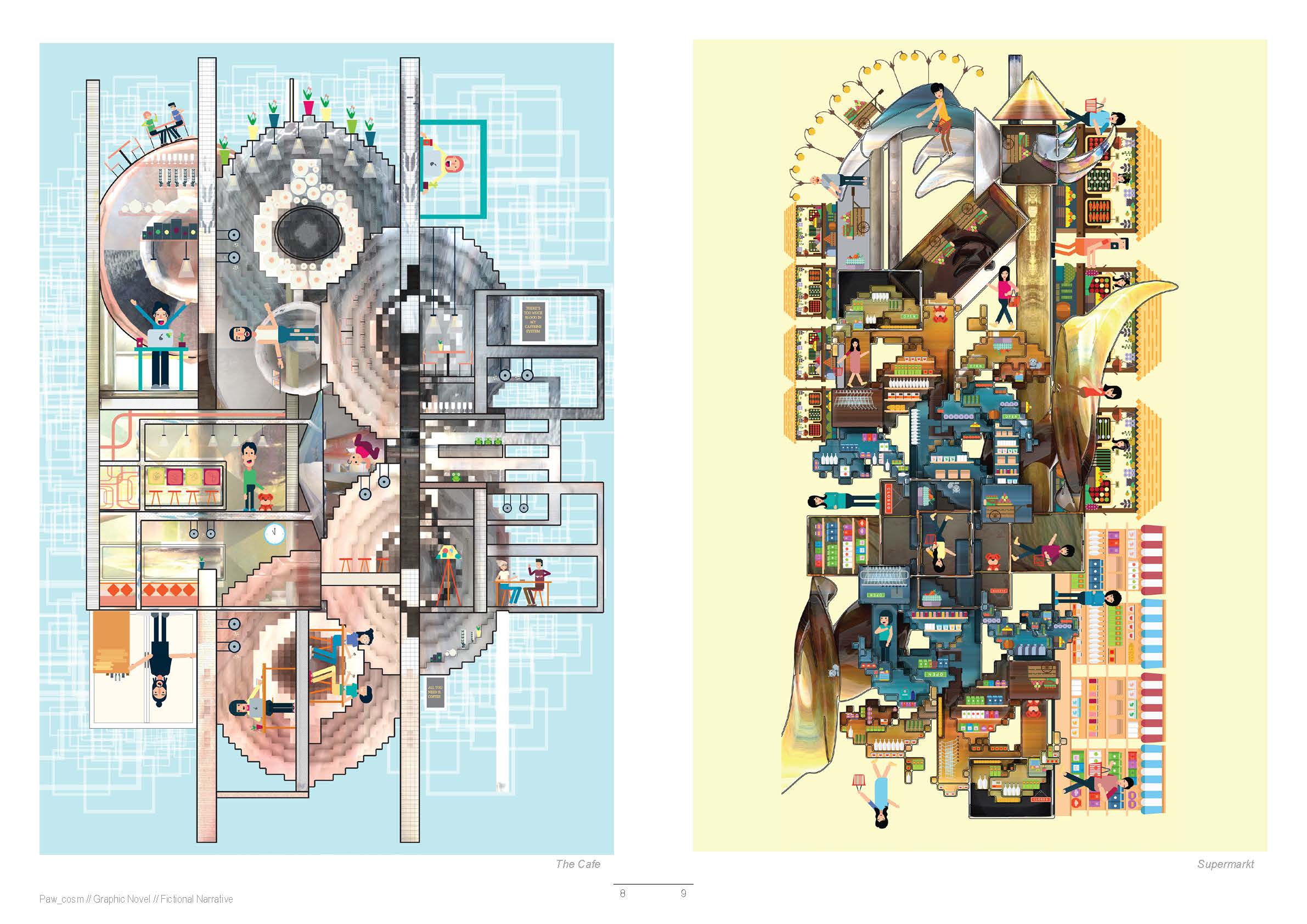 Paw_cosm II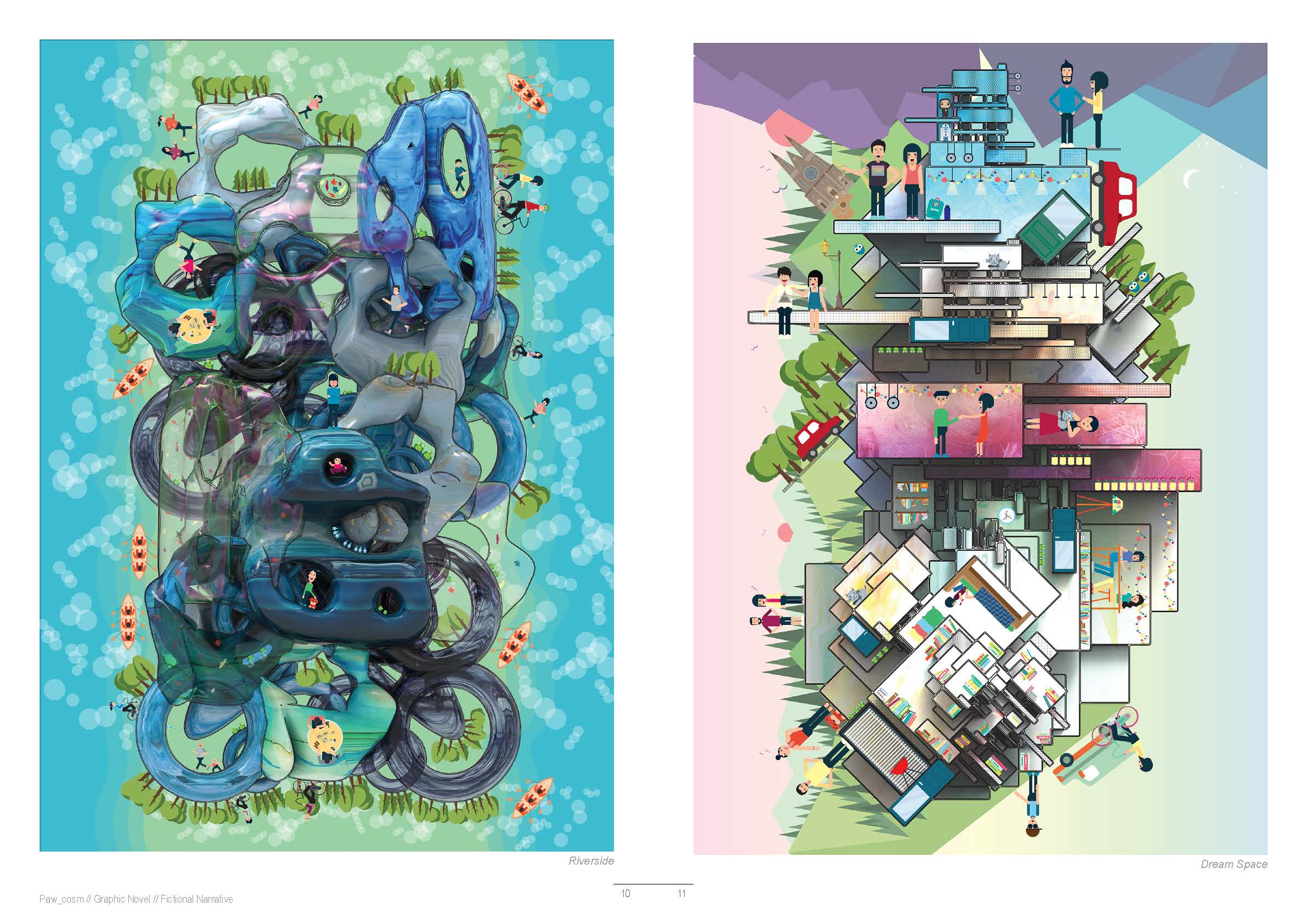 Paw_cosm III
Anokhi Shah is an Architect, Curator, New Media Entrepreneur based in Frankfurt and Pune. She completed her Master of Arts with a specialization in Architecture and Aesthetic Practice from Städelschule Architecture Class in Frankfurt. Her interest lies in exploring architecture in relation to the arts to infuse interactive design with original and critical ideas and practices through contemporary digital mediums.
She is the founder of company IOVR -an Interdisciplinary Design Research startup founded on the premise of technological innovation flirting with new media narratives. She is the Curator for the annual New Media Festival: Cyberia at TIFA Working Studios. She has hosted and curated multiple art exhibitions with an interactive experience in Europe and in India.
St Celfer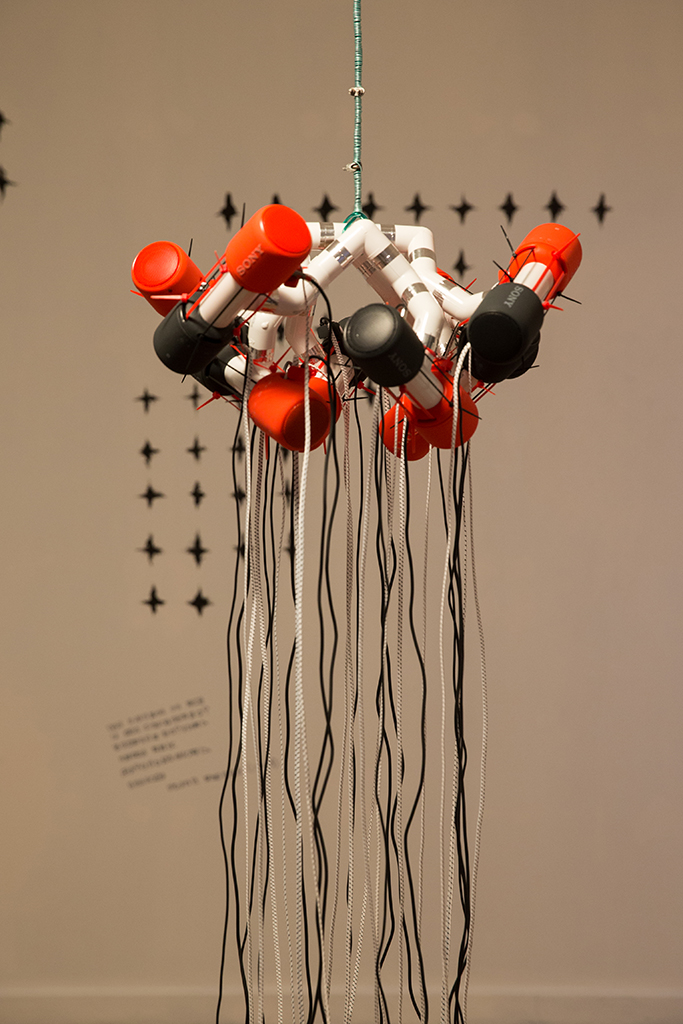 Photograph by Marcus Leoni
in Sao Paulo (CasaGaleria e oficina de arte Loly Demercian)
Jonathan Parker (St Celfer) of Seattle and Sao Paulo has had numerous exhibitions and performances, including alongside artists such as DJ Spooky and Christian Marclay at galleries like Andrew Kreps, Caren Golden, and Pierogi and venues as CBGB's, Tonic, and The Kitchen.
Initially self-taught with a handful of college courses in architecture, drawing, ceramics, and millinery, he made art objects while training as an athlete for the 1992 Olympic Games. During his transition to coaching at the end of his athletic career, he studied painting, first at Washington, then later at University of Pennsylvania. Just prior to receiving his master's degree, he moved to New York City, and showed installations where he applied painting's ideas of plasticity to detritus gleaned from his Brooklyn neighborhood. Later he added sound, and this move made sense in terms of working with fluid-like mediums. As an avid music fan in Seattle throughout the 90's, he was fortunate to take part in New York's music scene of the 00's. He wrote, produced, and performed dozens of albums to compliment his visual work.
Perhaps acceptance is the ticket
to successful negotiation. Acceptance meaning we let go of expectations, of what we think the terms are. Meaning we relinquish our ideals, without thinking we were cheap or naïve for having held to them so tightly and so longly. Acceptance meaning that instead of thinking we know what we want, we look into the bigness outside of ourselves, seep into the cracks of the process and learn the contours of whatever forces with which we wrestle, with which we must merge. Ha! as if this weren't also an ideal, a pinnacle of acceptance and accordance… none of which are negotiation. And so back to the drawing board, or the word processor, the canvas, or the crack in a parking lot, for that matter. A deal must be struck! At least for now—until we can arrive at another deal, maybe a few days (weeks?) after the deadline, negotiations being the very essence of our movement through the world and how the world moves through us in turn. The artists in Methods recognize this essence, capitalize on it, describe it, and sometimes, accept it.
Philip Brubaker's Not the Real Thing grapples with the sticky mortar that increasingly binds us to each other while simultaneously conning us into straying from ourselves, that mortar being our devices, or the internet, or social media, or whatever hungry ghost encapsulates all of these things. But Brubaker's grappling seems to come from a place of acceptance (or is it complacence?) though he charts the incessant energy poured into negotiating ourselves with our avatars.
ARE YOU HUMAN?, Bunny California's bright and bold painting of overlapping hands, hints at a propaganda poster in an almost post-human world (I imagine tabs below with a number to call so you can turn yourself in if you are). But it also points to that ultimate existential question, "Are you what you think you are?" the answer being a constant negotiation (between ourselves and our avatars;).
Jeremy Forman's The Cascades charts the imperfect back and forth from ideal to reality of negotiation, swaddling the reader in nostalgia for comfort, "We make some sort of Strawberry Pie/From your mother's recipe..." while all along recognizing gnawing demands beyond the poem's moment by denying them, "I do not look for jobs/I do not worry about the rent/I do not worry about dying alone/I do not worry about my sleeping habits or my eating habits."
With crisp basket lines and their shadows, hovering over a crack in the asphalt, Min Yoo traces the wobble and occasional groundlessness inherent in negotiation in Summer Solstice Project 2020. Nimble and swaying needles give a light and loose tone to the work as the performer grows the drawing and its precarity one wavering mark at a time.
Curator, Joy Miller
Philip Brubaker
Not the Real Thing
Kind of like that call you need in the middle of the night,
only it's a blip of red the size of a pin.
You've been notified, so sad you hoped for more, although who gets phone calls in the middle of the night? One is
only a second choice for love, or
a pet project in progress.
We were married on social media. Our relationship consummated for $14.99. Everyone in our circle knew when we
were official. But our circle had widened and simultaneously closed in on itself. You knew even then, but you
wouldn't give up
until almost a decade later. Still, it brings me what passes for joy.
Since when did my emotions become performative?! My secret is that I keep wishing
for that curtain call.
I'd bow out, but why? They already have all my data. Social suicide is not only for monks, although they too flirt with
disaster. After it all collapses, will the future browse through declassified profile pages, to see how we once lived?
Let them pore over this verse:
The likes keep at me
Like waves nagging an eroded beach
After awhile, beer
tastes like obligation water
These friends you can at least put to sleep.
Philip Brubaker is a Polish-American writer and filmmaker who was born and matured in the Washington D.C. region of the United States.  He made the award-winning documentary, "Brushes With Life: Art, Artists and Mental Illness" in 2009, which has screened across the country on public television and at film festivals.  Philip is a graduate of the inaugural class of students in Duke University's MFA program in Experimental and Documentary Arts in 2013.  Since then, he has been published internationally as a video essayist, whose work has garnered tens of thousands of views and been recognized by Sight & Sound Magazine as Best of the Year from 2016-2020.  Video essays are the right combination of writing, editing and film criticism and Philip has a YouTube and Vimeo channel to host his content. He hopes to publish more writing as he is a writer at the very core of his being.
Bunny California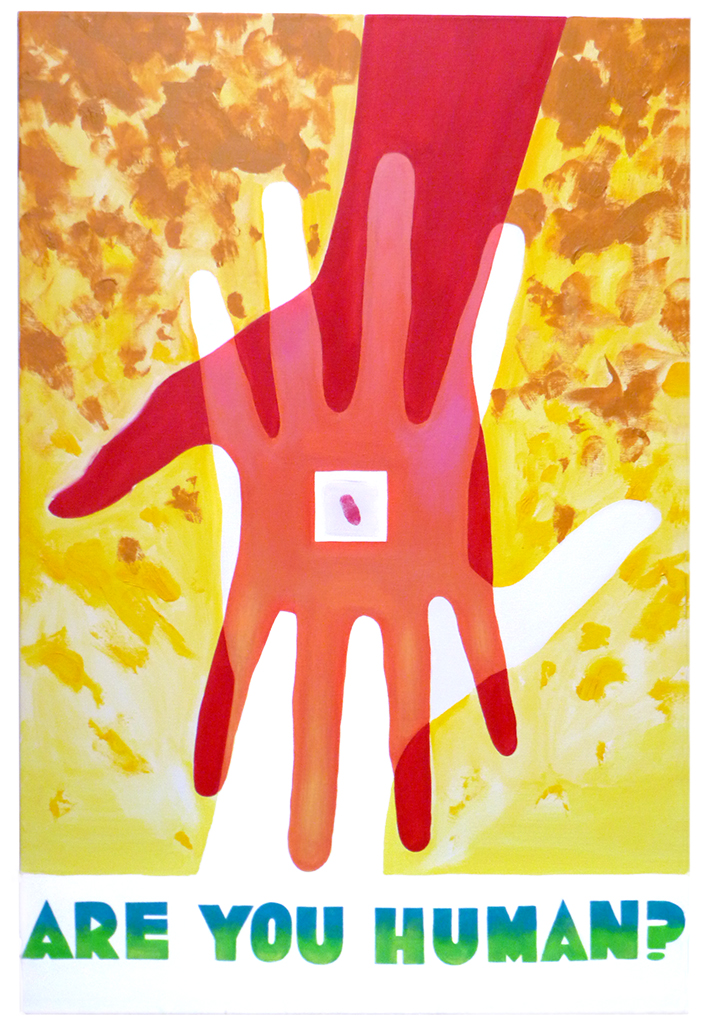 Are You Human
My curiosity is sparked by art that contributes to the social conscience of our community. I'm drawn to art with visual rhythms. My focus is a semi-representational graphic aesthetic that also deeply values visible signs of life, movement, mood, or emotion. I was born and raised in San Francisco. I have a BA in Fine Art (University of San Francisco, 2011) and an MA in Museum Studies (USF, 2017).
Jeremy Forman
The Cascades
A mobile home with a carport
Redding, California
I can see the mountains
And I do not care for anything other than my work
When you visit, I get so excited, I cannot contain myself
I jump over the couch in the kitchen-living room combo
I bring the needle to just slightly after track one on an Al Green record
The coffee percolates
No fear
No hate
Just love
I do not look for jobs
I do not worry about the rent
I do not worry about dying alone
I do not worry about my sleeping habits or my eating habits
It all goes fast, but with total gratitude
You'd be surprised how emotionally sound, emotionally mobile, one can be in a
mobile home with a carport
It's that thing that you keep thinking will change, but never does
And then does
A weber grill
I flip the record
We dance
"The dogs are done!"
I still eat kosher mustard
So do you
We dance again, prance, really
I don't look at anything as a crutch
There are none
Everything is as it is, habit-propelling or not
I go back in, take the record off, replace it with Live At The Harlem Square Club
And we speak or sometimes scream along and move with
the audience, more so than with Cooke's vocals
I am not begging the world for a piece of the pie
You neither
And it feels so good
We go to bed together
The next afternoon, we wake up and get the coffee going again
There are ways to get along with Redneck neighbors
We offer the older couple next-door a cup
We all sit and enjoy and the steam comes up
And god damnit, it feels great to not be competing or benefiting or profiting in
anyway
Just to be neighborly with a lover beside you and a cup of steaming coffee
outside in the carport.
We make some kind of Strawberry Pie
From your mother's recipe
and smile at each other, you by the stove, me by the turntable
And a moment again, later, both of us on a small stretch of the banks of the
Sacramento River
A smile again and a wave too this time
Jeremy Forman is a songwriter living in Sacramento, California. He's also an Office Assistant and a librarian. He likes strong coffee and weak tea and feels ill-at-ease any time the sun is out. He's currently reading John Muir's "My First Summer In The Sierra" and the latest issue of the home recording magazine, "Tape Op."
Seongmin Yoo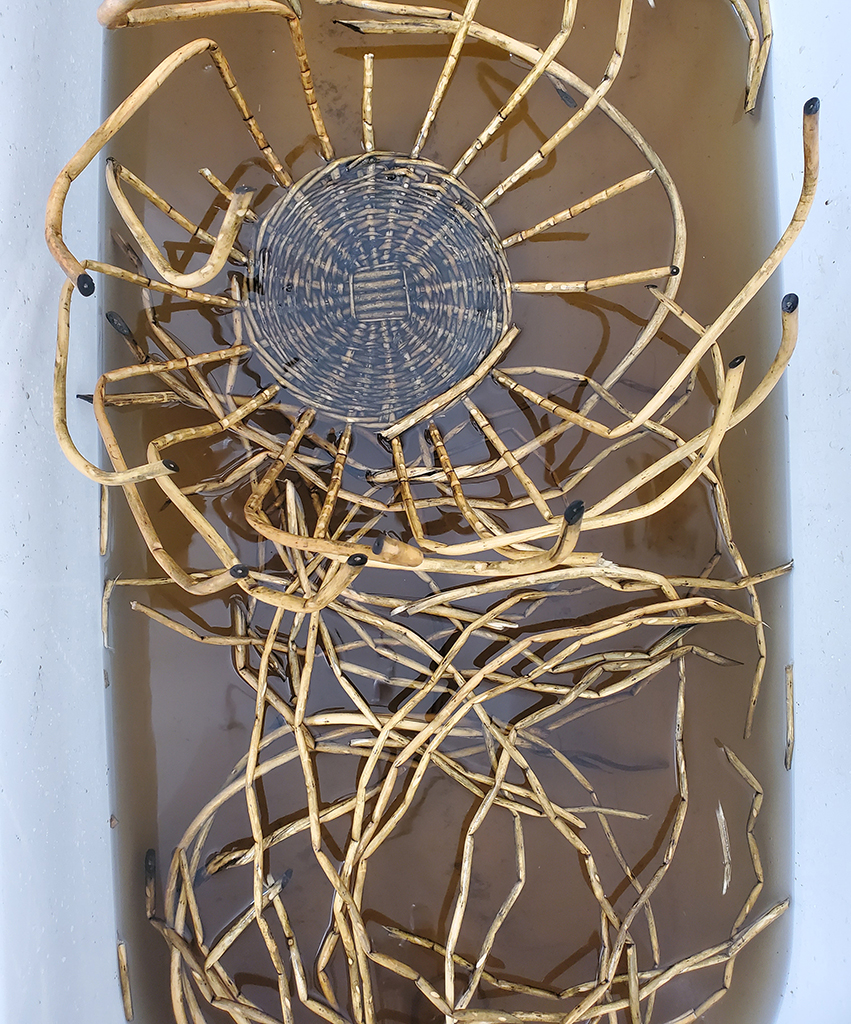 Summer Solstice 2020 Project, One Basket, (A basket is taking a bath)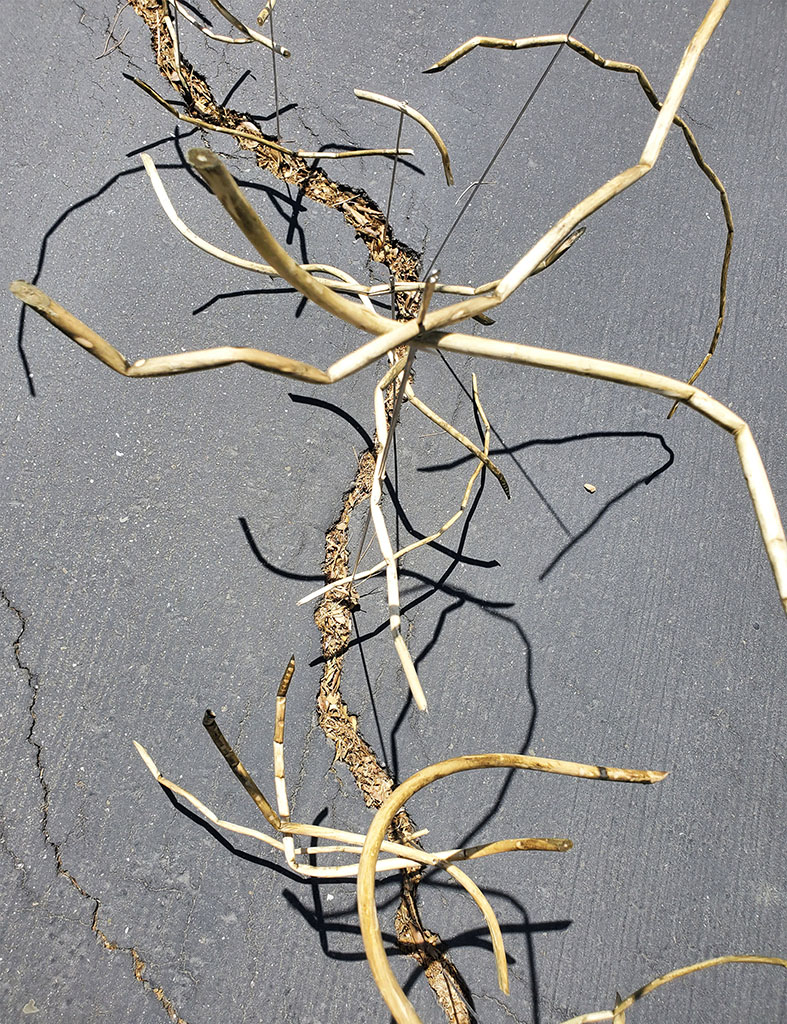 Summer Solstice 2020 Project, One Basket, (highest and darkest)
Summer Solstice 2020 Project, One Basket, Handcrafted needles, one basket, crack
Seongmin Yoo has trained in traditional Korean art-making skills, such as Korean silk embroidery, Mother of Pearl Lacquerware, and brush painting in South Korea before she moved to the United States. She decided to make a big life-shift in order to break out of her traditional art-making rules, expecting that moving thousands of miles would affect her creation. She records her new time and space of life with her traditional medium. Currently, she is working as a graduate student at Sacramento State University. Her art practice is focused on installation and mixed media.