Art Music Lit Space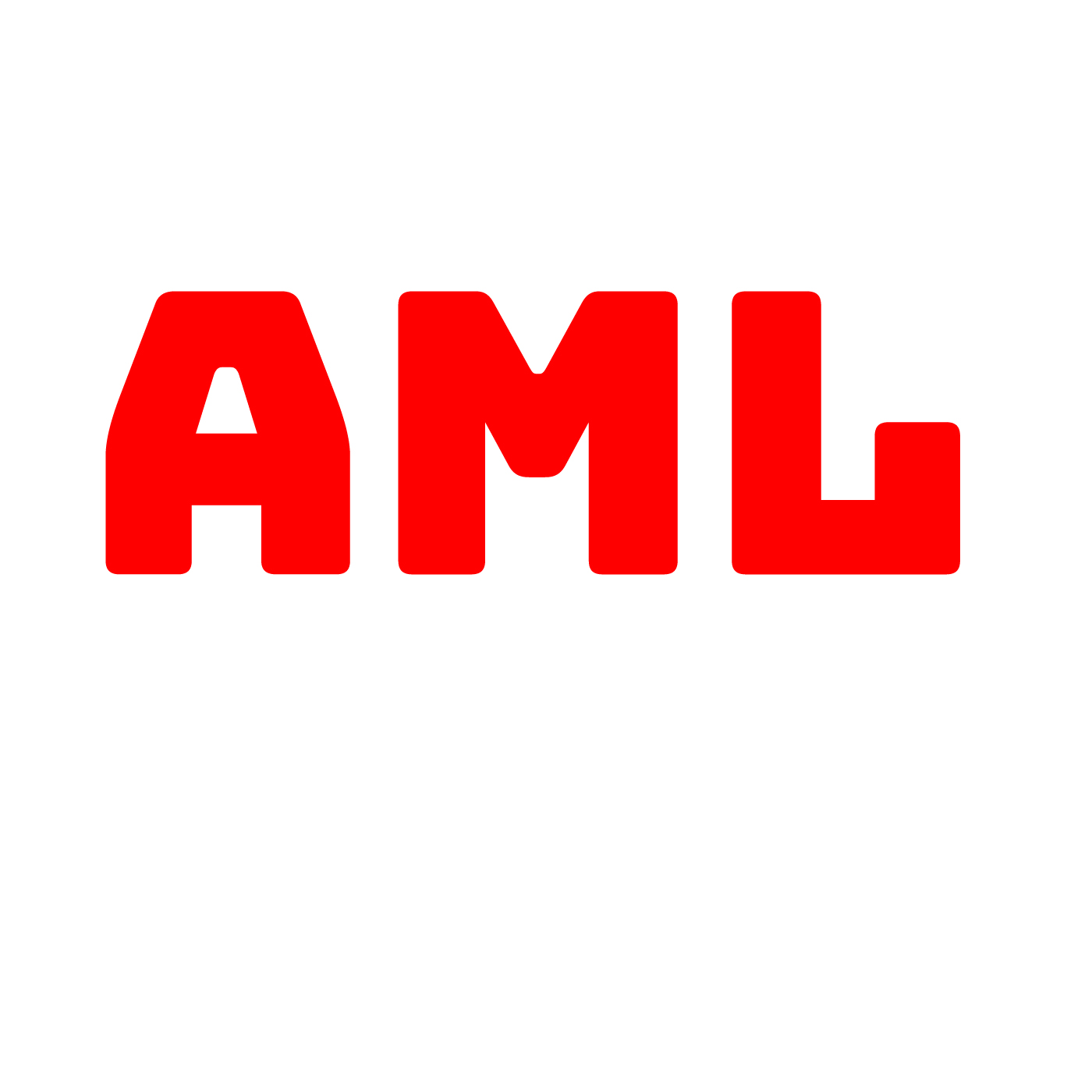 Dead Reckoning
Meagan Spott       Calvin Welch        Philip Brubaker        Katherine Leung        Cory Sewelson        Caiti Chan        Ria Rajan        Brittni Plavala          Jamie Angello and Jeremy Forman        Madeline Gobbo, Sara June, Miles Klee and Jessica Placzek
Art Music Lit Space is running
toward another presentation of critical Fine Art, Sound and Literature. But Dead Reckoning, like many other attempts in our foreground to return to course, will provide a subtle, playful and observable, reclamation of what we lose when we become complacent. We steer left to avoid an obstacle, like in the studio, we revise and consider. The politics of our current lives would have us bolt to the ballots, careening as it were away from a foreseeable uncertainty. The artists in Dead Reckoning do look toward political upheaval in the historical sense as well as joy, treasure, the seeds of concrete soil, ancient cultural and violent practices but also humor and the satisfaction that a practice brings. This is a full palette, a carte blanche of will to do and become the full self through insight and wisdom, the fervor of movement in the studio and the serenity of a studied work.
Meagan Spott and Philip Brubaker provide a pause with laughter, a chuckle, a soothing chide. With color, found objects and play, their work digs deeper under the surface portent into an investigation of the social and private self. What does it mean, it seems they wonder, to occupy a space made up of things and ideas so vast that our voices are made smaller in the hollow? But they rise with stark and sheer wit to ask the questions through the objects they make that remove us from what we think we know into a place where there is much to learn.
Calvin Welch provides painting and collage of everyday life or rather, the dusk of night. In Nice Neighborhood and Painting 2, the work leaves us unsettled, searching like dogs for light in the slough of rubble. But the rubble of our humanity lies in the scraps left to lie, like the way we saunter in the dark room to gather a sip of spirit to a wanting mouth. And, like beautiful animals we trace our steps, the lines on our faces to where we are full of spirit, dancing in rubble and frolicking like milk-pups for the pleasure of windy streets and empty balconies… Where we can find our voice in the howl of the city. The glow all but a nocturne lullaby.
Color in Dead Reckoning is alive with rebirth. How we long to play in a world where doubt and fear double down on our senses. But Cory Sewelson and Caiti Chan remind us that hope is all about what we see when we look out into the world. Hope is how we touch a surface and transform it from nothing and void. Hope is the play we provide for the other, they, provide for us with their work. Both present us a process, alchemical and formal. Yet their painterly approaches develop a space: a color space; a fantasy world. And we can lose ourselves within these worlds of color and form and the subject of fantasy. For these are created for the artist yet to be enjoyed by the viewer. These vast and welcoming planes both articulated and immersive. And we can lose ourselves to return to our lives strengthened in the imagining, further affirmed that hope still prevails.
Dead Reckoning is a moody glow, a sparkle and shine of hue, spirit, form and subject investigation. In a time where we wonder what tomorrow will bring, the artists of Dead Reckoning bring you a bounty. They are strong in will, spirit, the compassion to question and hold accountable forces of power that oppress and malign our humanity. They bring us back on course, which like a ship - the ships in our unconscious that remind us about the dangers of foreboding winds - to reckon the course is to atone for. And we forgive ourselves for what we lost.
Curator, Tavarus Blackmon
Meagan Spott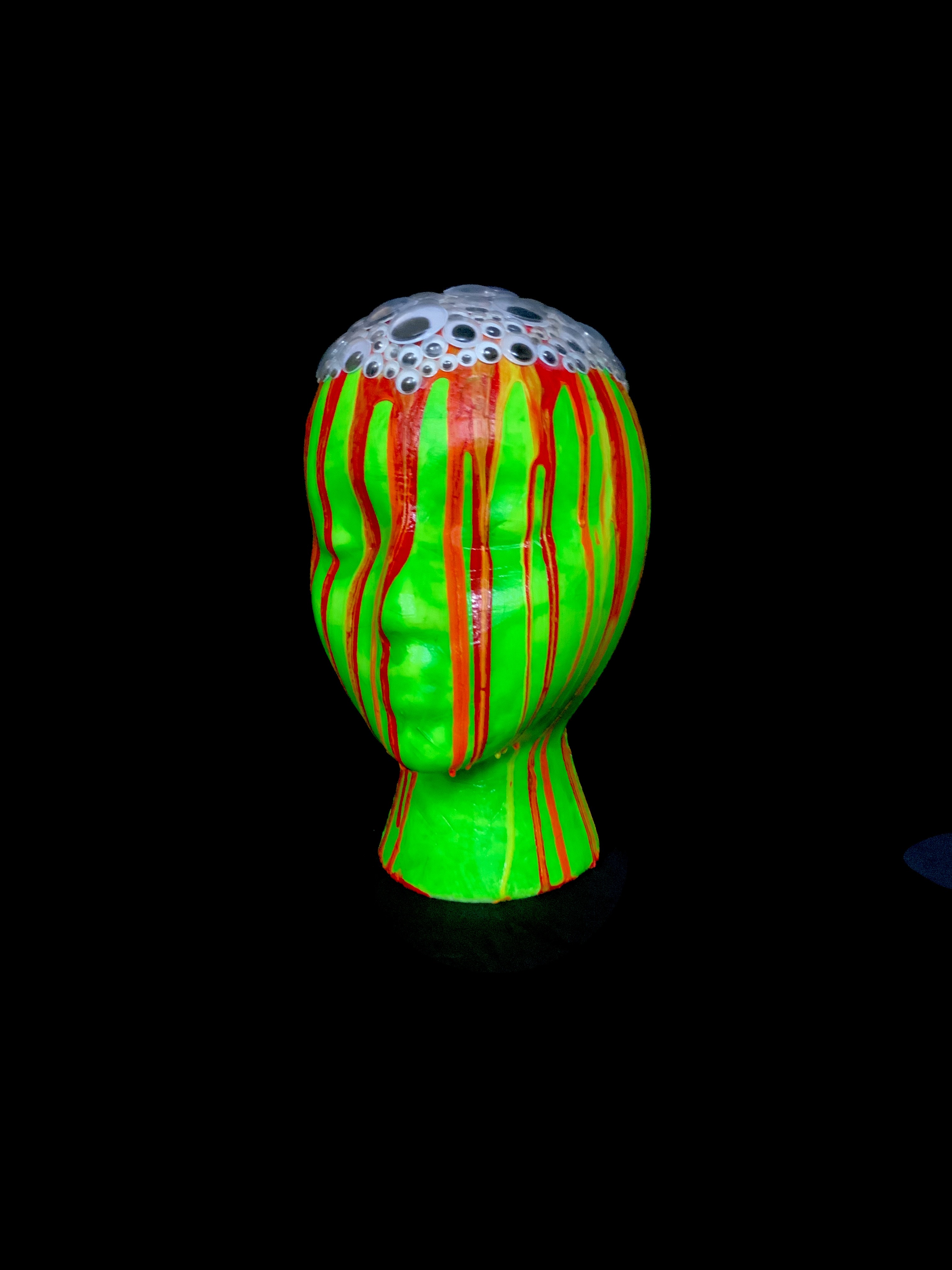 All Eyes On Me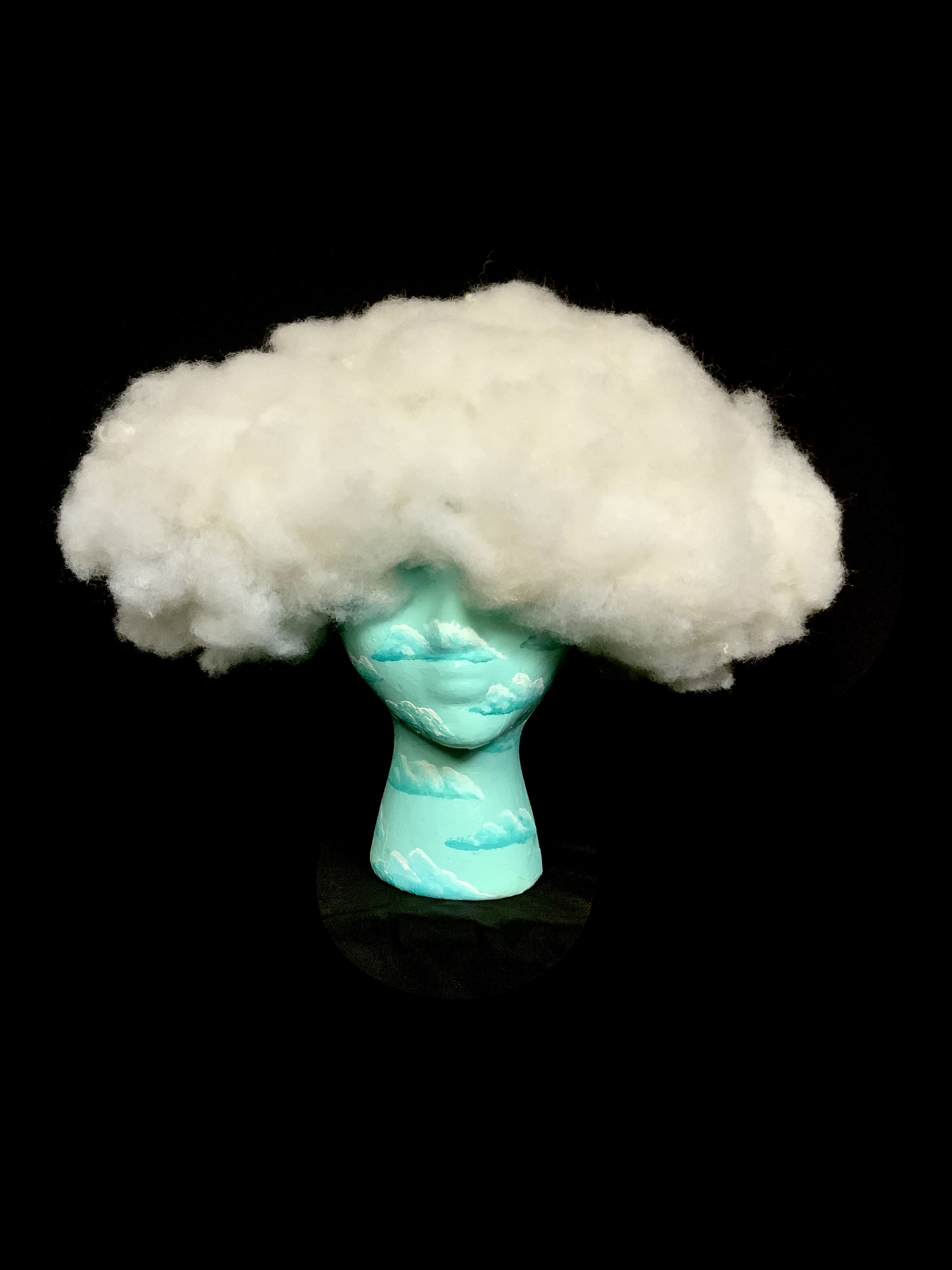 Head In The Clouds
Meagan Spott is a self-taught up and coming artist from the Sacramento area. She has been featured in the Light and Space Time gallery in Palm Springs as well as local art hops and shows. She has her bachelor's degree in Education and Theater Arts. She currently works as an arts integration teacher and has plans to continue her passion for teaching and helping people through art by pursuing a Master's in Art Therapy.
Calvin Welch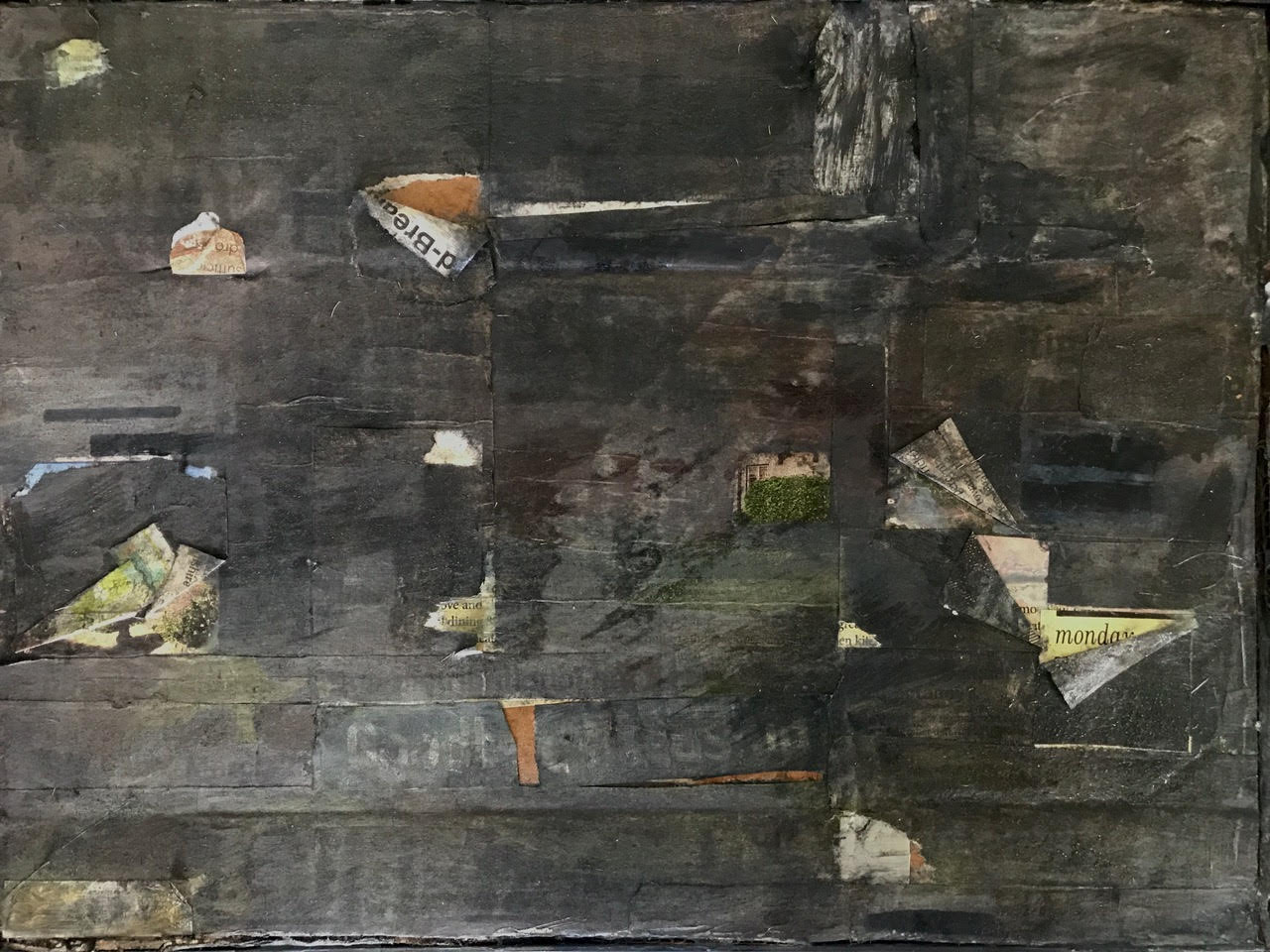 Nice Neighborhood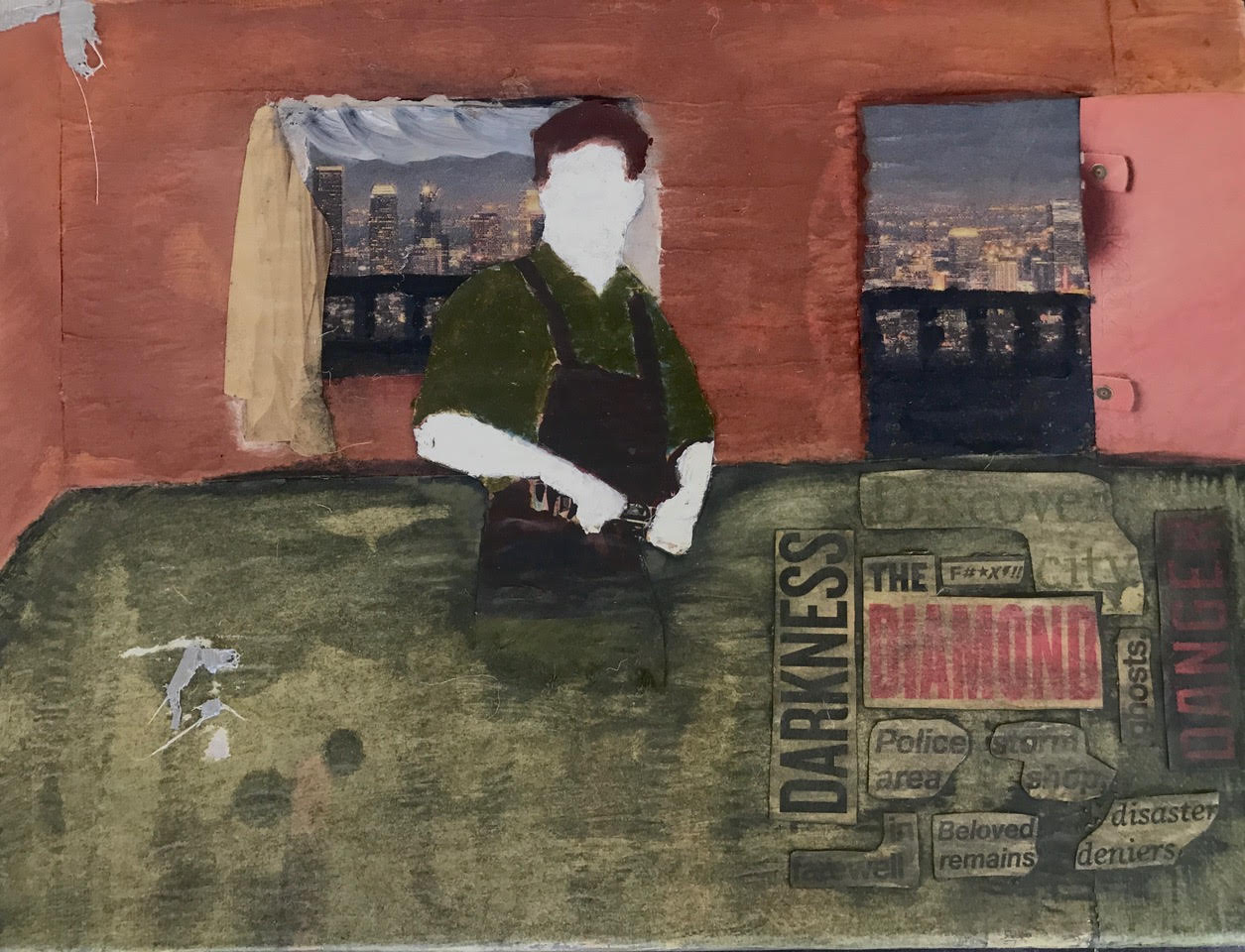 Painting II
Calvin Welch is a self-taught, multidisciplinary, artist based in Los Angeles, CA. Calvin was born and raised in a blue-collar, Southeast Texas, community and has lived on both the East and West coasts of the United States. Through both video and mixed-media collage paintings Calvin explores ideas relating to non-identity, labor, the working class, and American nostalgia.
Philip Brubaker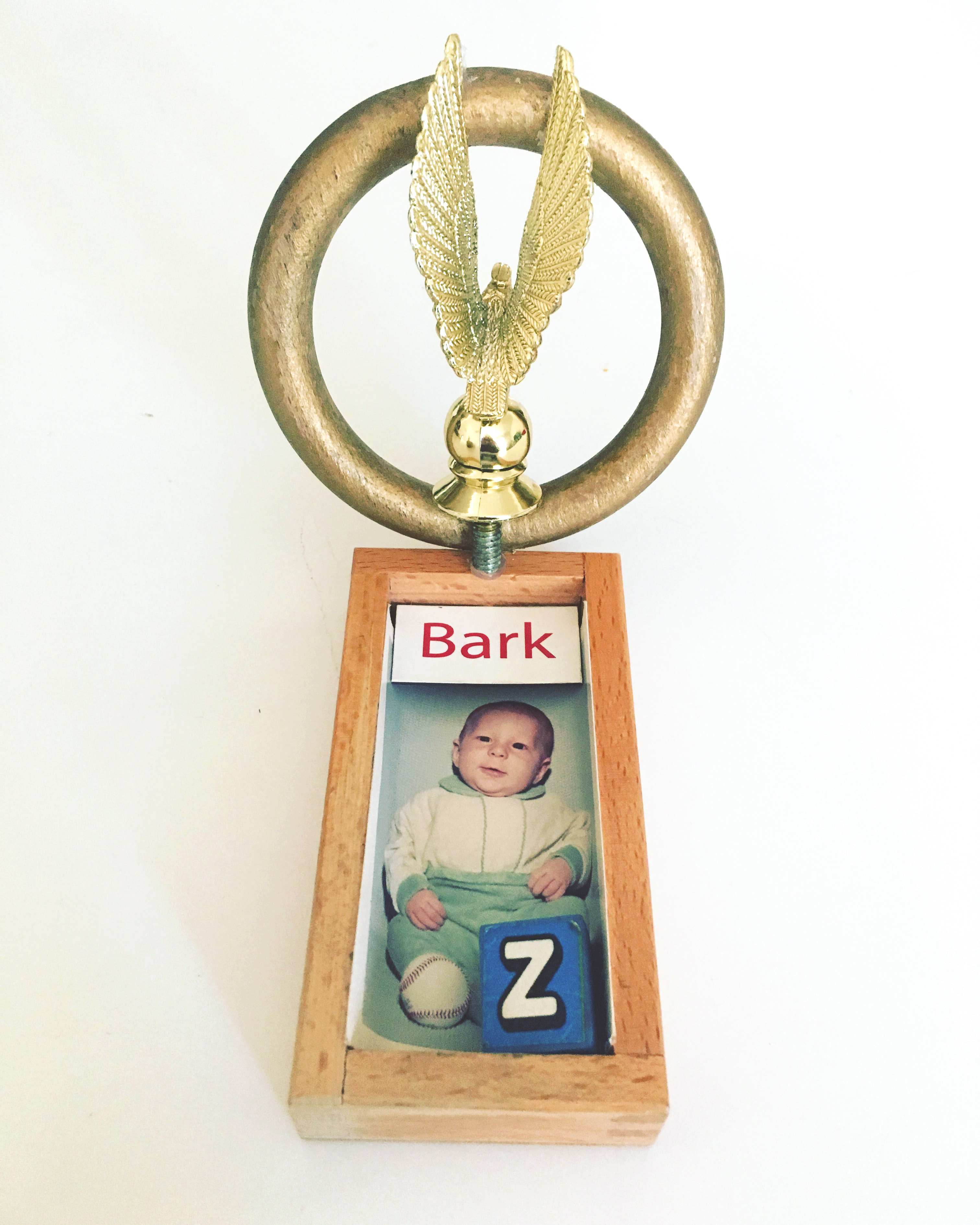 Secular Humanism
Philip Brubaker is a Polish-American writer and filmmaker who was born and matured in the Washington D.C. region of the United States.  He made the award-winning documentary, "Brushes With Life: Art, Artists and Mental Illness" in 2009, which has screened across the country on public television and at film festivals.  Philip is a graduate of the inaugural class of students in Duke University's MFA program in Experimental and Documentary Arts in 2013.  Since then, he has been published internationally as a video essayist, whose work has garnered tens of thousands of views and been recognized by Sight & Sound Magazine as Best of the Year from 2016-2020.  Video essays are the right combination of writing, editing and film criticism and Philip has a YouTube and Vimeo channel to host his content. He hopes to publish more writing as he is a writer at the very core of his being.
Katherine Leung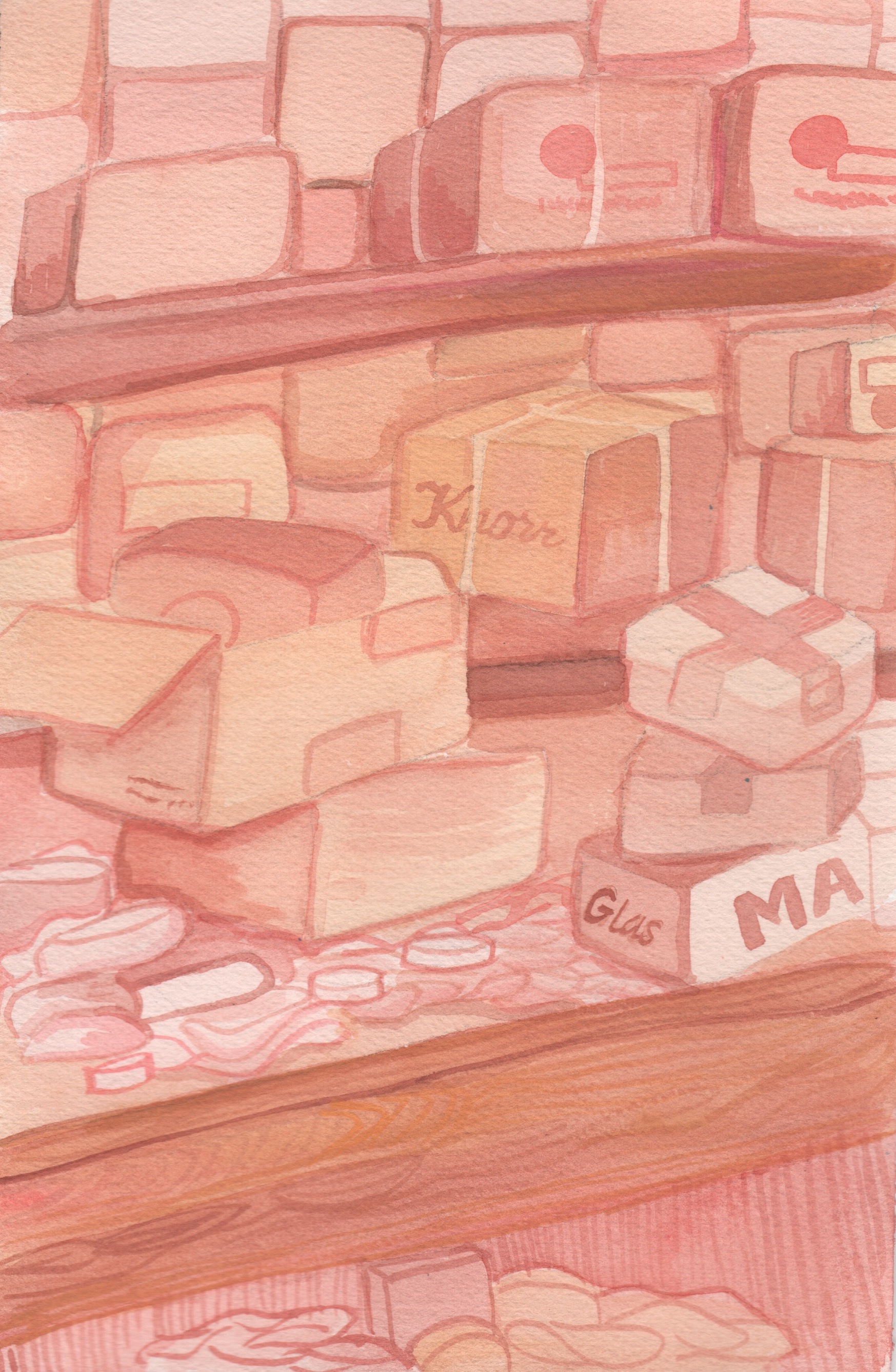 Munster Store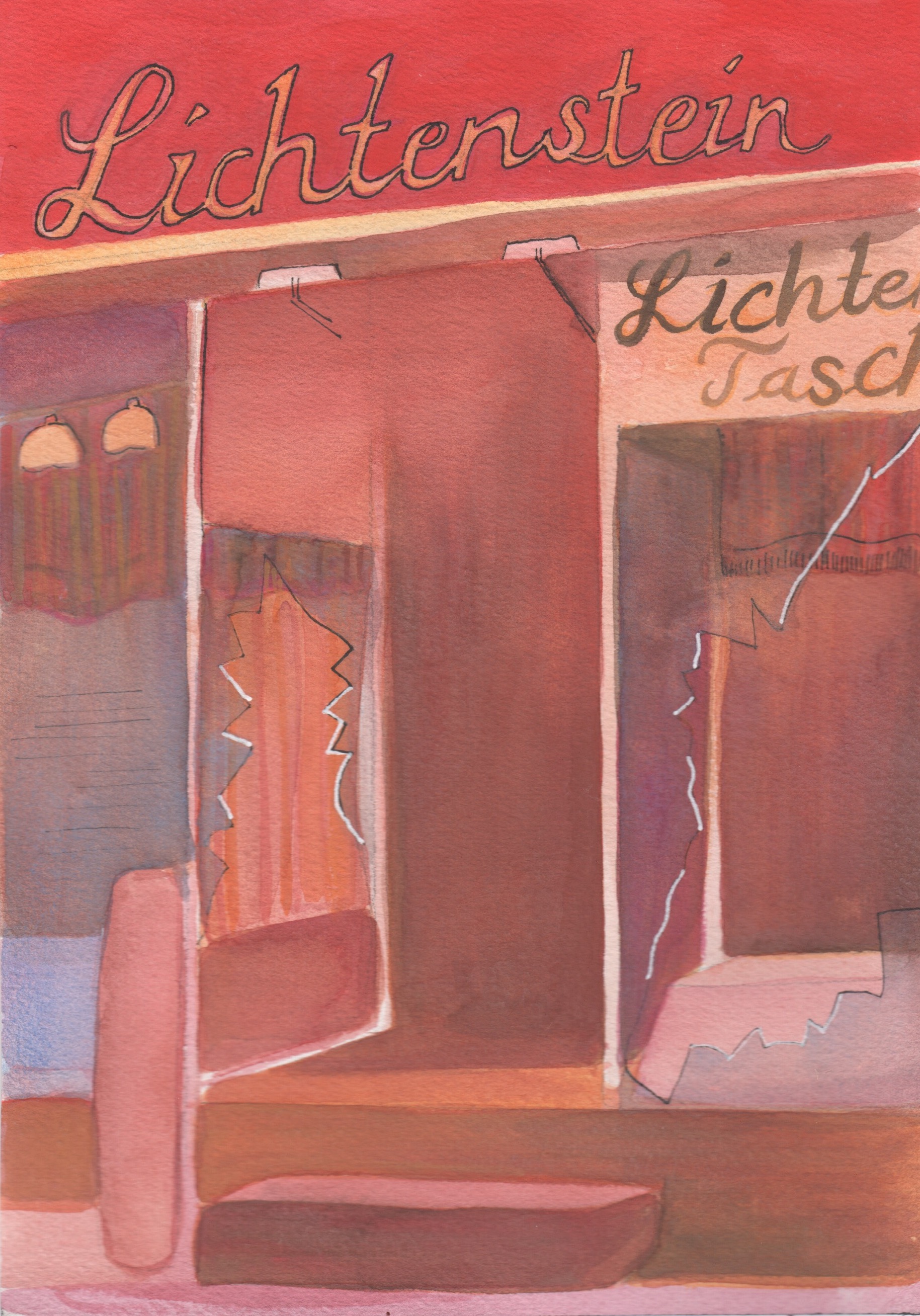 Berlin Leather Goods Store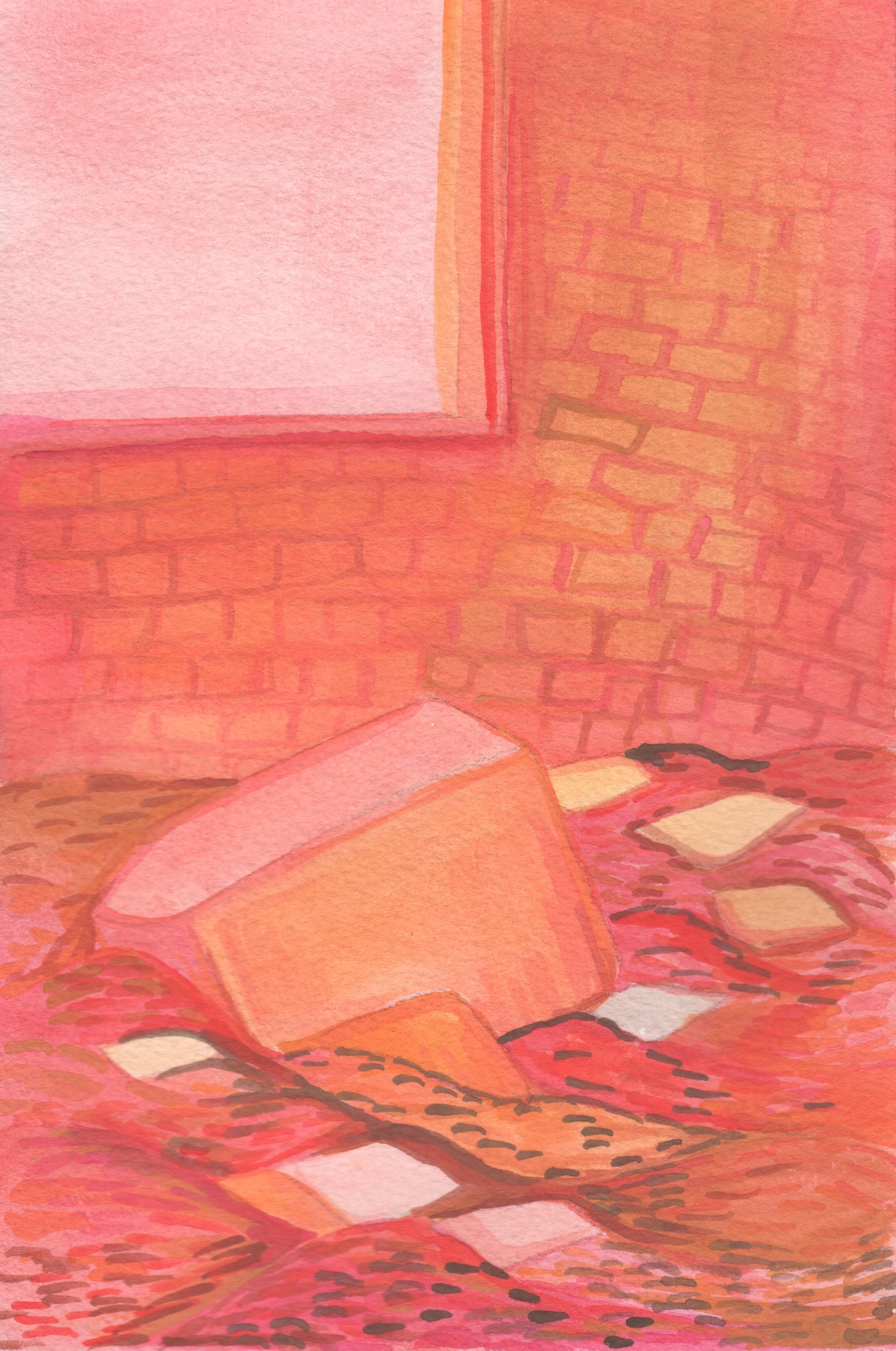 Vienna Cemetary Ceremonial
Katherine Leung is a multilingual Asian American artist, activist, and educator.
Cory Sewelson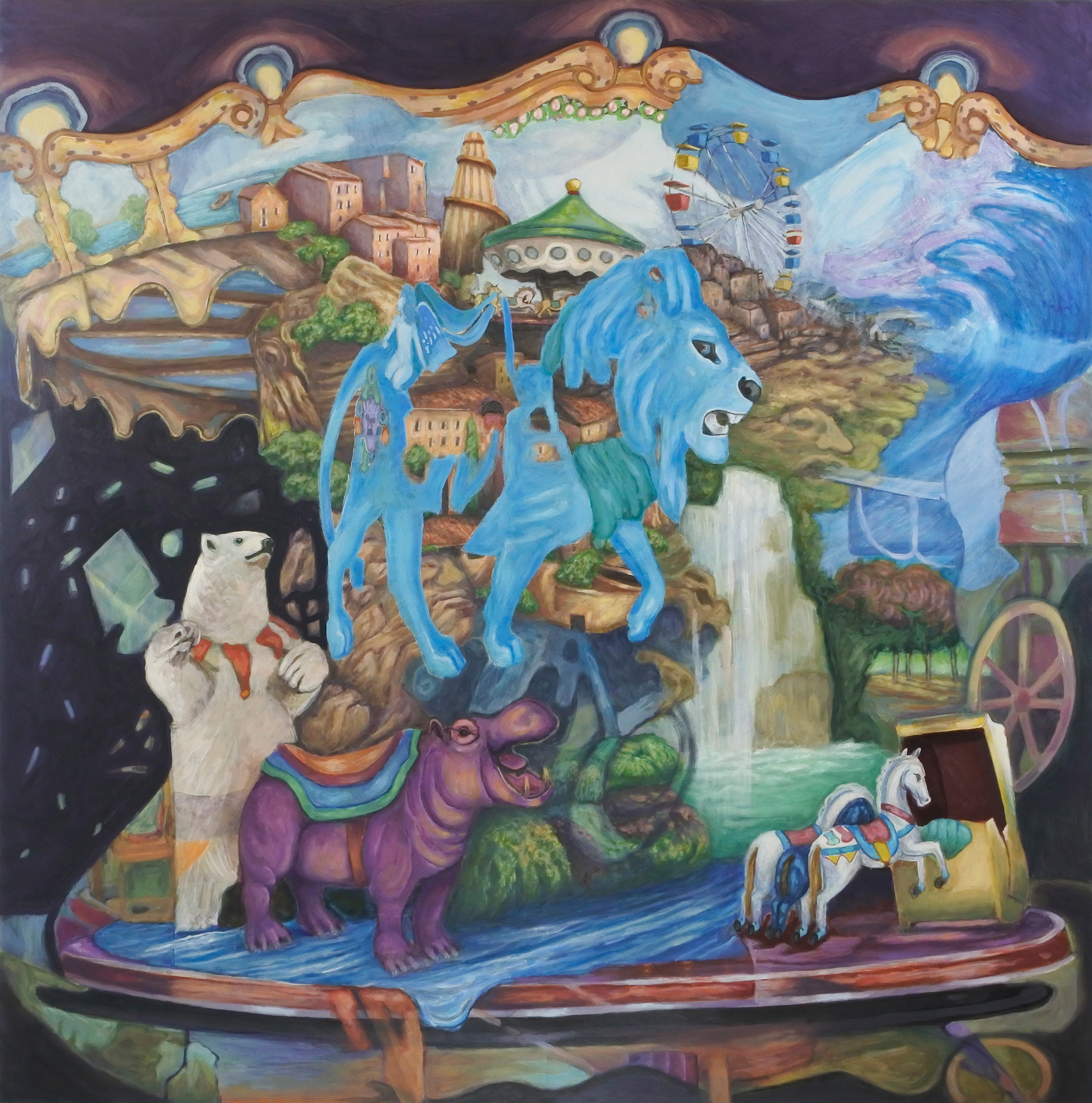 Hippodrome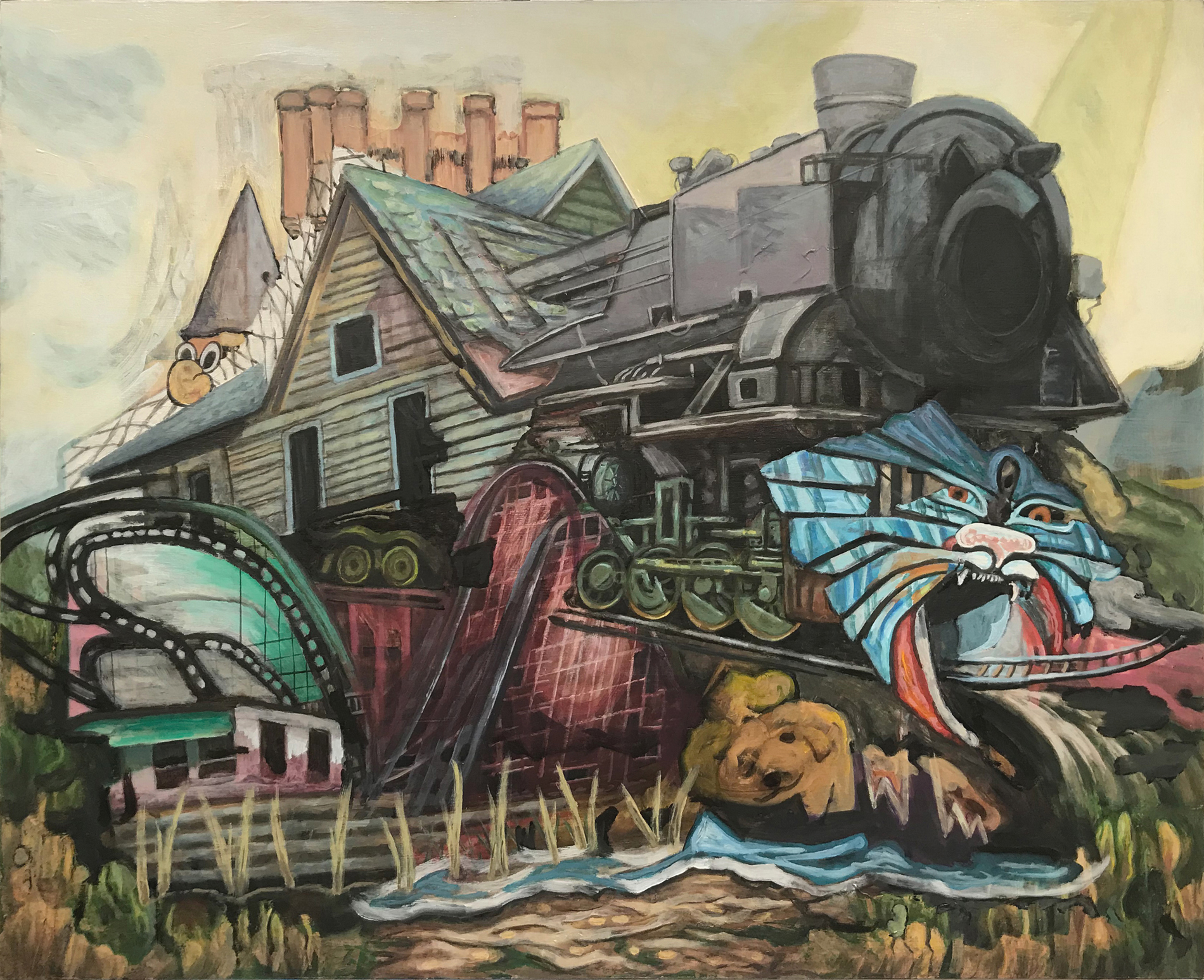 On Time (Transfixed)
Cory Sewelson, a Los Angeles native, currently works and resides in Altadena, California. He earned a Bachelor of Fine Arts degree from California State University, Northridge in 1977. Sewelson's work explores our relationship to nature as experienced through the built world of our architecture. In addition to his formal art education, Sewelson's practice has had other strong influences. An education in biology preceded the one in art, a working career designing theme parks, including animal habitats, at Disney, and a life-long love of the outdoors. The long-term exposure to and interaction of these various centers have all contributed to the direction of his current series of paintings, Fun House. Sewelson has shown in the U.S. and in Europe. His work is held in corporate and private collections both here in the U.S and abroad.
Caiti Chan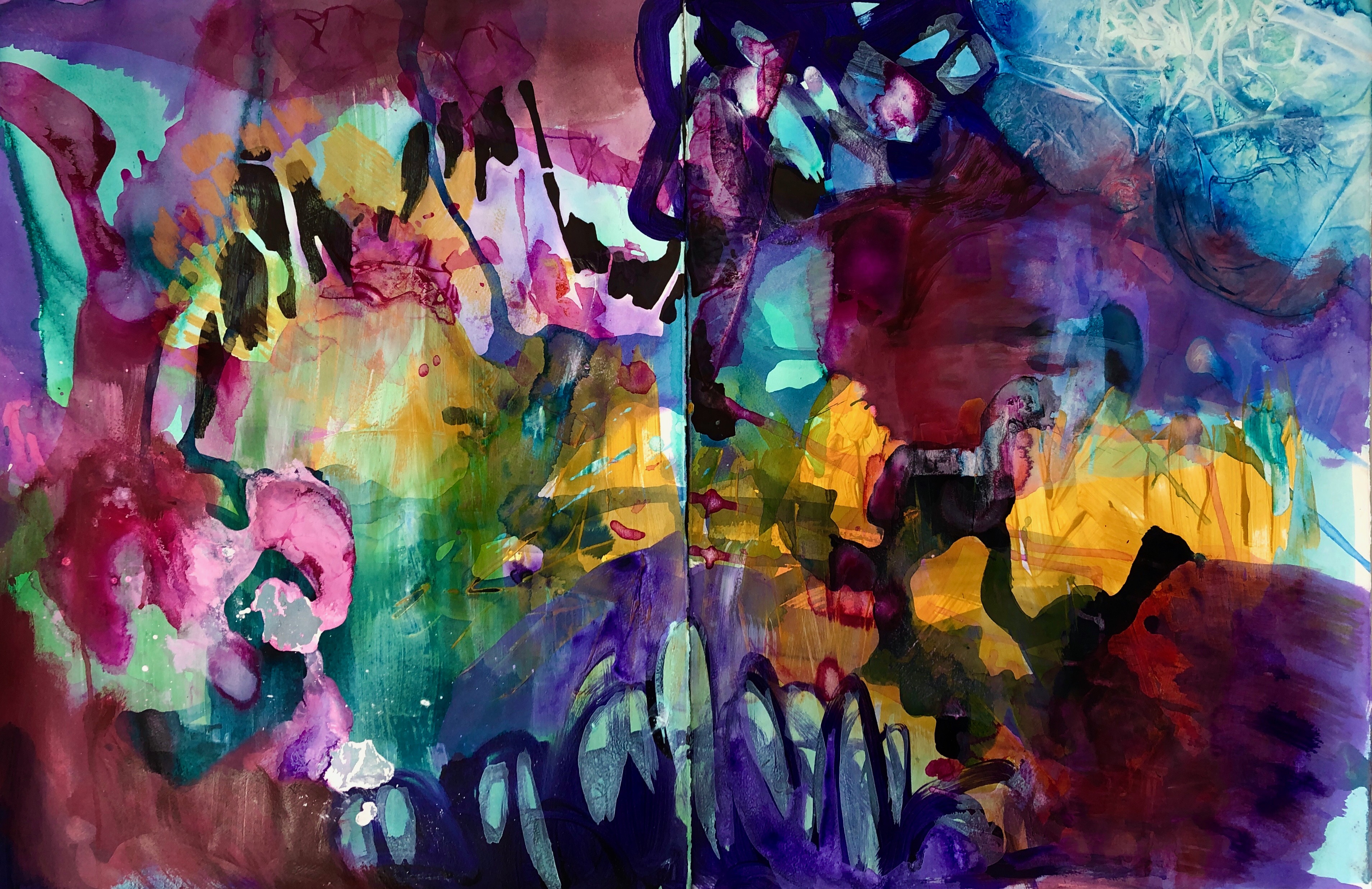 This Feels Like
Missing You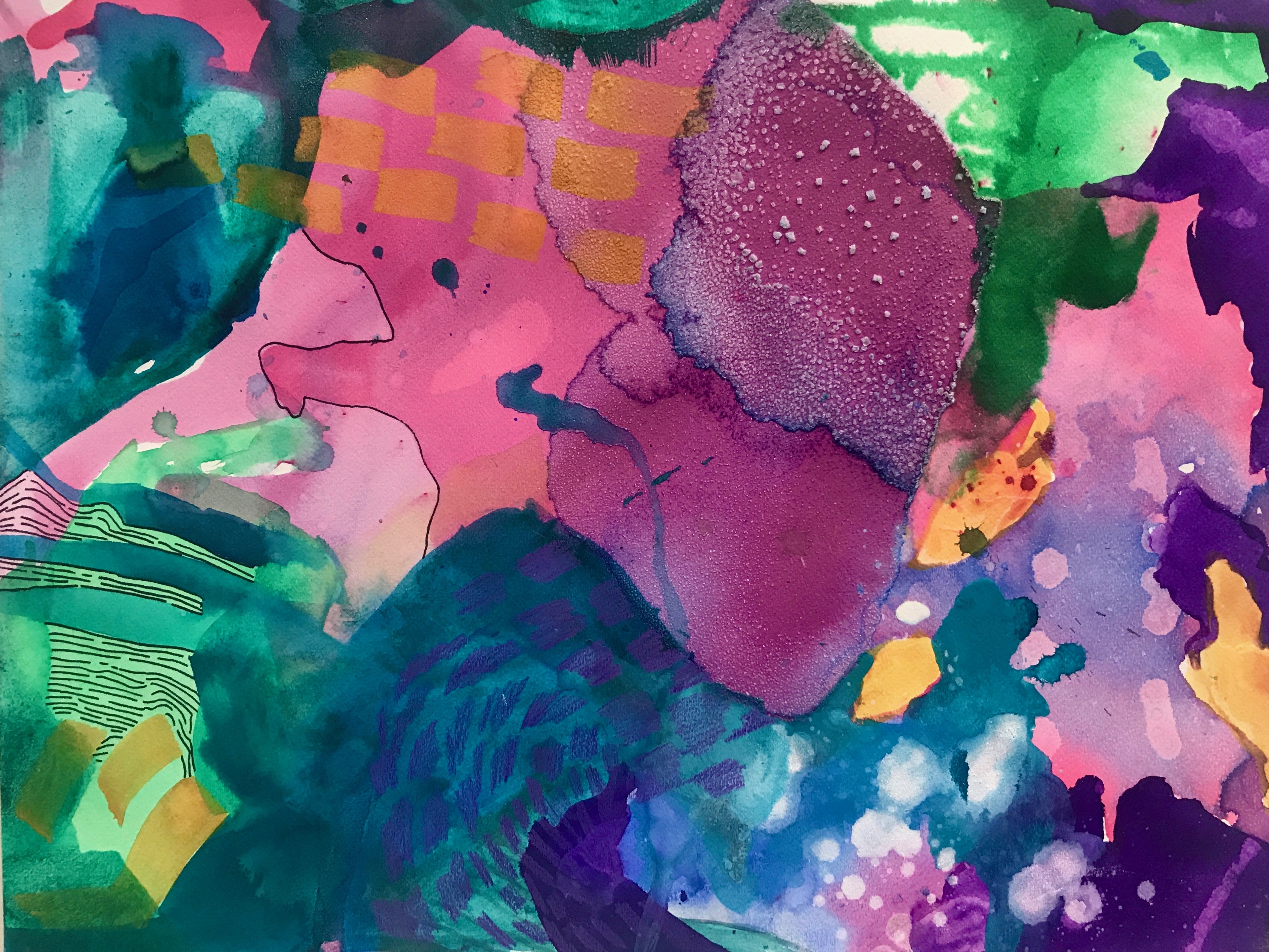 Untitled
Caiti Chan is a Sacramento, born and raised artist. She received her BA and MA at Sacramento State University and is a current art resident at Verge Center for the Arts. Her paintings are process driven and involve experimentation with paint and other materials to create large atmospheric abstractions.
Ria Rajan's series
Glitch Botanica x Desert Life infuses the settings of her southern California desert COVID lockdown life with surreal, otherworldly colors and a hazy, dreamlike evanescence through animated wavy distortions. Like many of the artists featured at Art Music Lit Space, I met Ria at a residency in the southern California deserts depicted in the series. During my time there, I witnessed firsthand the otherworldliness of the landscapes, especially compared to my normal, central California suburban life. The residency was held in Bombay Beach, CA where endless desert meets up with frothy sea and my travels with the other residents took me to Joshua Tree-studded landscapes such as the one depicted in No. 1 where miles of the tree are punctuated by piles of impossibly large rocks.
Through color transformations, including the almost-inverse-like transformations of No. 1 and the rainbow palette of No.2, and wavy distortions caused by shifting rows and columns of pixels, Ria infuses the already otherworldly landscapes with the woozy temporality of desert days enhanced by pandemic isolation. True to its title, this series of animations is suffused with glitch aesthetics, making the digital nature of the artwork apparent. These aesthetics are most notable in No. 1 where the color values of a column of pixels are spread throughout rows to the left boundary of the image and the color values of a row of pixels are spread throughout columns to the top of the image. In No. 2, these aesthetics are most notable where pixels that fall outside of the boundaries of the image are wrapped around to the other side. Ria's use of glitch aesthetics to enhance the surreality of real-world landscapes reflects the reality of our daily lockdown lives where typically in-person interactions have been replaced by digitally mediated ones.
Curator, Derek Kwan
Ria Rajan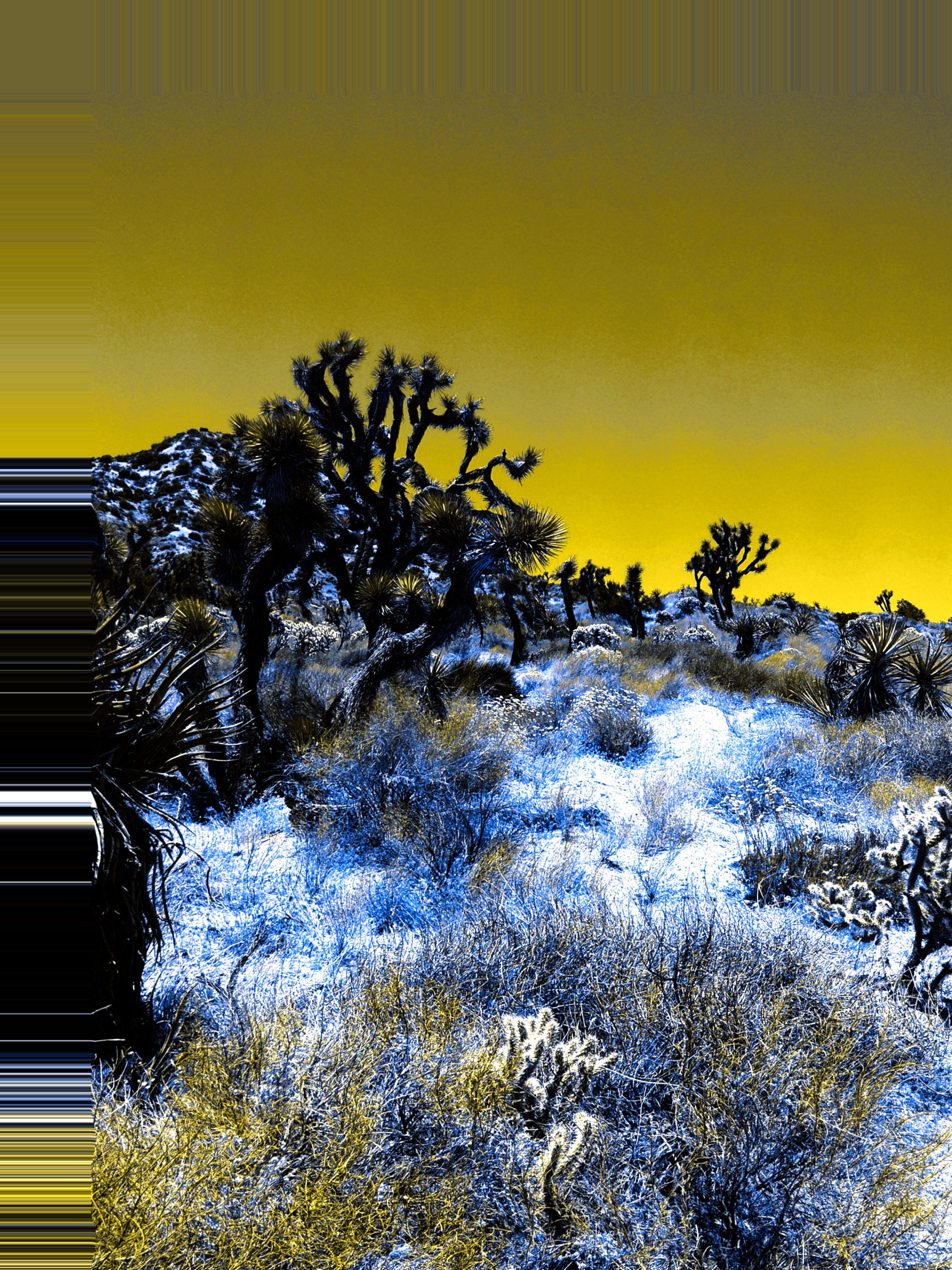 Glitch Botanica x Desert Life I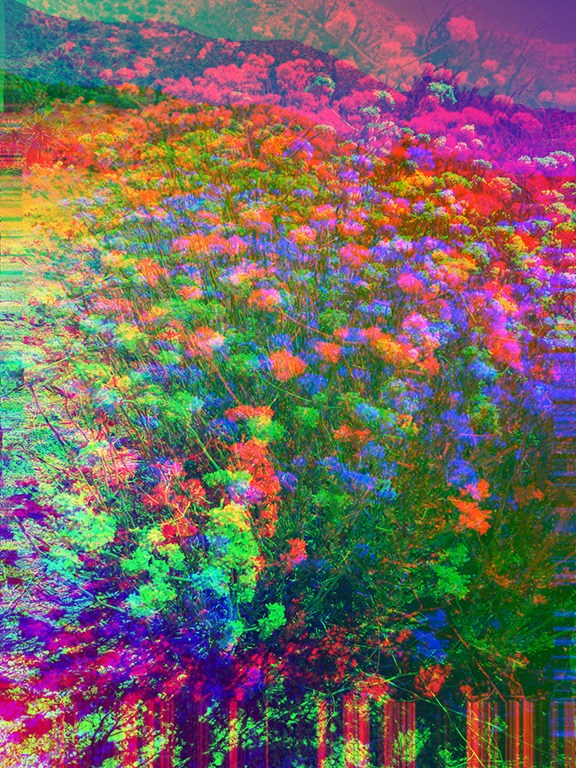 Glitch Botanica x Desert Life II
Ria Rajan is a visual artist and designer whose work lies at the intersection of the analog and digital, spanning across mediums including drawing, prints, image-making, video, sculptural explorations, and interventions in spaces. Her ideas develop in response to her physical surroundings.
Where do we go from here?
Or maybe that question is dead on arrival. Where is here? Where have we been? What is this astonishing existence rooted in, even as it unravels across the endless sea of being? To pinpoint our here in time and space is an exercise in futility just as much as it is one allowing us to move on from whatever point this is, as if here were an actual point, as if point were anything other than a word. And yet we rise, most days, with our lonelinesses and our lovelinesses, with our minds up the sleeves of yesterday and tomorrow, with our hearts in our socks balled up at the end of the bed. But really, we do rise, nonetheless, and move and document and forge and forage and despair and fête and love… we move from room to room; smile and wave at passerby, or not; go to hug friends, family, acquaintances and then stall in a jittery hesitation warped with risk calculations.
Where are we, damn it, and how do we proceed from here? With our senses either obscured by cognition, or worse, manipulated by our auxiliary brains (ahem… devices), just what tools are left to us for grappling? Cue cartoon superhero with an A on their cape, landing on the sidewalk outside of your home thundering, "ART! Let art help you grapple!!!" Cheesy, but true, for the artists in this show wade into the thick oblivion of our times, and then, out even further into oblivions past, somehow stumbling back to shore with poems like Jeremy Forman's Parties where the funniness blooms into sadness while the reader's mouth mimics embouchure and starts to water after the sounds and Jamie Angello's animations of other people nearby (oh so near!) in a room carelessly clinking cups and loosing track of which one was theirs. We can begin to grapple with the wild disorientations of our current moment in works like Greenroom (Madeline Gobbo, Sara June, Miles Klee, Jessica Placzak) where we are given the simple gift of disorientation and chaos externalized, fictionalized, and trimmed down to a digestible radio-spiel bite, with compelling and varying sound effects and a humorous illustration of exercises in futility. Summoning post-death visions of beings detached from their bodies, Brittni Plavala calls us to our grappling senses, inviting the reader to question the western hierarchical imperative of head over heart in Decapitation and Mummified. Meanwhile, Katherine Leung's placid pink, peach, plum colored paintings hiss a warning and bleed disquiet, daring the viewer to sit with the comparisons between this moment in history and Kristallnacht, 1938.
Take heed, dear visitor. Take comfort too. Perusing these artists, take time and take melancholia, take love, take what you need, for these artists give and ask only that you look, listen, and most of all, feel.
Curator, Joy Miller
Brittni Plavala
Mummified

You placed my heart in a canopic jar
what am I to think with in the afterlife?

My brain will dwell, my body will dry
what's left of my soul will wander.

The Nile calls my corpse
and I wish - now - you had rather

drained me of remorse
and pulled my brain out my nose.

Decapitation: your stubborn surrender

La guillotine took to your neck

No splatter gleaned

clean cut

redeemed
 
you
		
       stood
		
             lifeless

The executioner shrouded

a pleasing grin

his hat trick
 
prevailed again

The crowd was hungry

they ravaged your pleas

At last you dropped

	      on

q   i   e  i   g
	 
  u  v  r   n
  	
knees
 
  Silenced.
Brittni Suzanne Plavala loves her full, given name. She believes that language carries power, healing, play, and magic in spoken, written and visual form. Brittni writes from the dream body, and her work has been developing since youth. Originally from Southern California, Suzanne attended poetry workshops, spoke at readings, and published work in Orange County with Sadie Girl Press and Bank Heavy Press. Performing poetry live is her absolute passion. Since 2014, Plavala moved to Sacramento, graduated from Sac State in Art History and French, gave birth to a glorious baby girl, teaches yoga, and is a swooning riparian romantic.
Jamie Angello and
Jeremy Forman
Jeremy Forman is a songwriter living in Sacramento, California. He's also an Office Assistant and a librarian. He likes strong coffee and weak tea and feels ill-at-ease any time the sun is out. He's currently reading John Muir's "My First Summer In The Sierra" and the latest issue of the home recording magazine, "Tape Op."
Jamie Angello's approach to art is playful and direct. Every painting begins with a physically immersive performance that is documented online.
The marks, feelings and atmosphere created during the performance become the catalyst for further investigation and painterly expression. An ad hoc use of line and color turn the canvas into a record of their thoughts and emotions, giving form to parts of themself that are hard to share any other way.
Madeline Gobbo, Sara June, Miles Klee and
Jessica Placzek
The Green Room
Sara June is a director and comedian in Los Angeles.
Madeline Gobbo is an illustrator and writer living in West Hollywood. She is the events manager at Skylight Books, a general interest independent bookstore located in the Los Feliz neighborhood of Los Angeles. With Jessica Placzek, she co-hosted season 3 of SFMOMA's podcast Raw Material. Her illustration portfolio and short fiction can be found at www.madelinegobbo.com.
Miles Klee is an LA-based writer for MEL Magazine and the author of two books, Ivyland, a novel, and True/False, a short story collection.
Jessica Placzek is currently the editor of podcasts at KQED. She's been a reporter at KQED, KPFA, and KALW in the Bay Area. In New Orleans she wrote for the Nola Defender. She taught audio and served as an editor for men incarcerated at the California State Prison in Solano who produced the show "Uncuffed" which runs on KALW. In 2018 she co-hosted and produced the third season of Raw Material for SFMOMA. Her work has also appeared on Marketplace, All Things Considered, The California Report, and Vice.