Art Music Lit Space
Art Music Lit Space is pleased to present After Before, the exhibition after Love and Isolation and before Methods of Negotiation. Be sure to catch up on past events through video and audio. Check out our Guests page.
After Before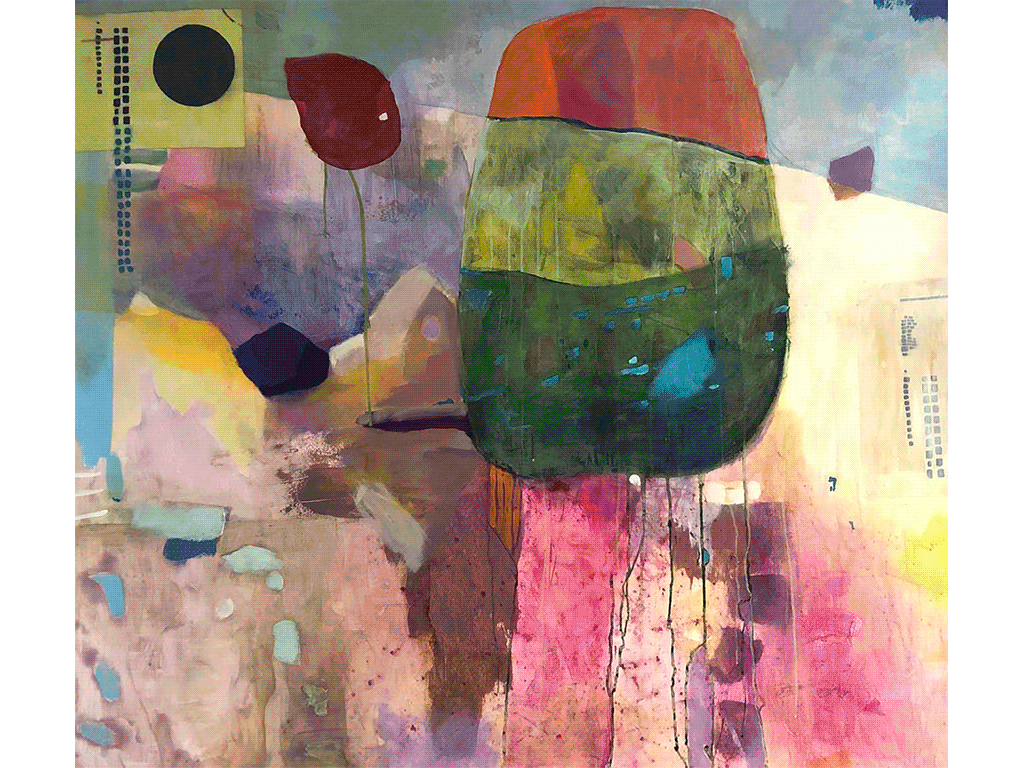 Alexandra Yakovleva       Amanda Thomas        Daniel Brickman        Giulia Seri        Tatjana Sogorov        Forest Aliya        Ronald Walker        Cai        Stefani Byrd        Sofy Yuditskaya        Jeremy Forman        Ben Shurtleff          Adam Forman        Philip Brubaker
Time breathes with us.
AML Space has invited work that explores themes related to disjointed time, the essence of events that demarcate eras, the nature of such demarcations, and, the complexities intrinsic to the mortal relationship with time.
A period of time follows an event.
For brevity's sake, let us call this period "After."
Also, it just so happens that said event follows a period of time.
Henceforth, we shall refer to this period as "Before."
Let us now consider the meat, hereto neglected, on a sandwich made with these two slices of time, to which we may alternately refer as bread.
We should make sure to remember that there is no such thing as a sandwich without meat, whether figuratively or literally speaking. Which is to say, there is no such thing as a sandwich without a middle substance because, otherwise, only two slices of bread would be indicated, related merely by the fact that they appear to have derived from the same body of matter, that is, of course, only if both slices come from the same loaf.
Having said this, though, it is clear that whatever divided the loaf could very well have functioned as the meat: the blade as it passed through having been sandwiched by that which it cleaved. On the other hand fromage, bacon, catastrophe, bliss, revelation, butter, baloney, and/or confiture--these substances may very well happen serve as the meat, especially if the bread's rupture arose not from a sharp wedge but from a torque enacted on the outside of the loaf's body.
The work in After Before helps us to have the sandwich, feel the sandwich, hear the sandwich, and eat it too. For god knows, we are all very hungry. Maybe images, sound and stories here will even help us be the sandwich. Scrolling down this page, let us peer at the crusts curiously while sensation pulses in our esophagus where bread bulges. In the midst of tasting that the meat is stainless steel or maybe maple flavored mayo, the shape of the sandwich might shift before our very mind's eye from a bagel and lox sandwich to a swaying GIF, and then again morph into a lengthy baguette slit down the middle and from that cut, magma flowing. Maybe a criminal even stands next to the sandwich, smiling at us while he extends the waistline of his pants beyond the picture frame.
Meanwhile, the sandwich was never a sandwich at all, but a fountain with waters flowing in perpetual progression, else they sicken into a muddy pool of illegible conformity and tradition. Let us now turn to those who have turned to the source.
Curator, Joy Miller
This is a moment of true challenge.
Caught between a Global Pandemic and World-Wide protests in refusal of systemic racial violence, one might wonder what our friend, the artist, is up to these days? They are making, making space in their work for worlds to develop - better worlds and worlds of presence. They are making a space for us all where we can be more compassionate, more thoughtful in our response, more studied in our engagement with the world we inhabit.
They are making a place for us to live in, be lost in, if only in its pleasing way. For we wake from our ideal dreams in our less-than-ideal world and while there is much to question, fear or fight for, the beauty that brought us out of our world, out of our minds that have been damaged by violence and uncertainty, is still of our world. The painterly and sculptural artists of After Before: Alexsandra Yakovleva, Amanda Thomas, Daniel Brickman, Giulia Seri, Tatjana Sogorov, Forest Aliya and Ronald Walker bring calm and awareness to our consciousness, stillness and excitement to our habit of complacency. With marks, strokes, indications, with diverse mediums and material fluency, they provide repose from outside pressures asking us to look inward. Into to a place where we are better people for having made attempts at reconciliation. The reconciliation of media in some respects, in others, the reconciliation of the lives we live and the world we want to live in. And, we realize with our touched minds our woke selves and with the most earnest methods of listening, that our less-than-ideal selves are care-taken by the sensitive brush stroke, the familiar plasticity of the screen, the stark space of the image, and we can begin to care for ourselves. Our less-than-ideal but capable, loving, selves.
Curator, Tavarus Blackmon
Alexandra Yakovleva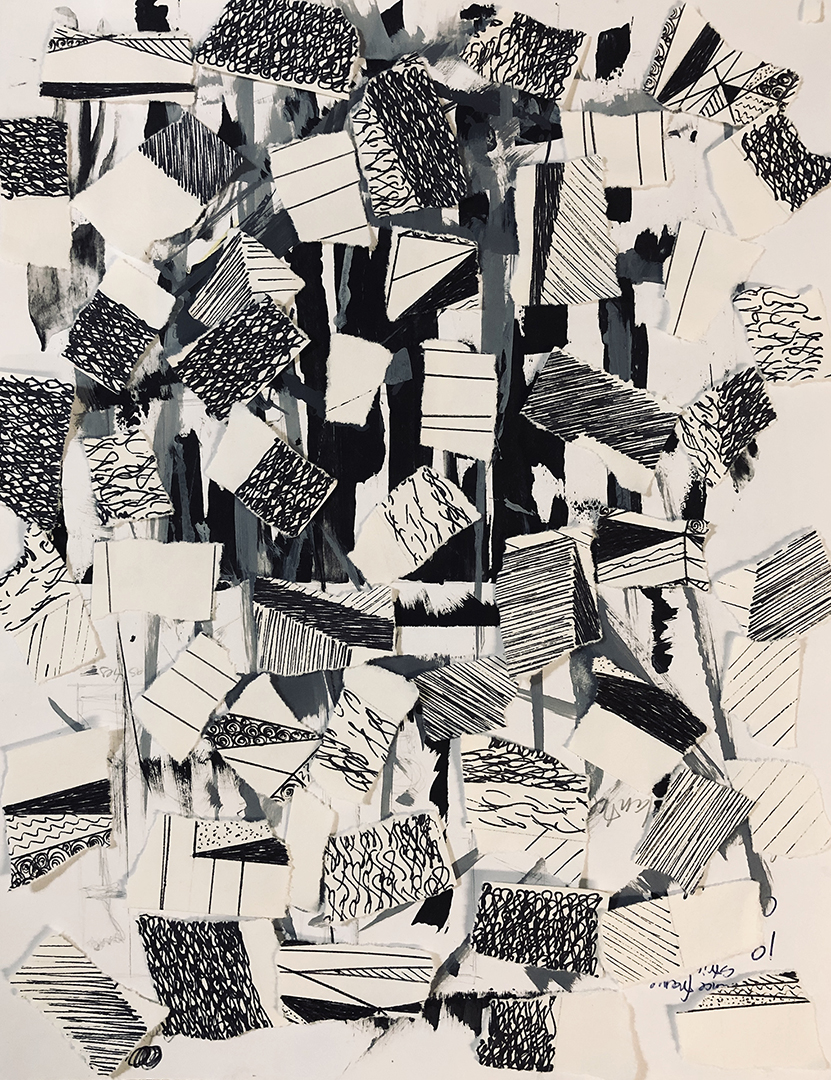 Scattered Junky Dreams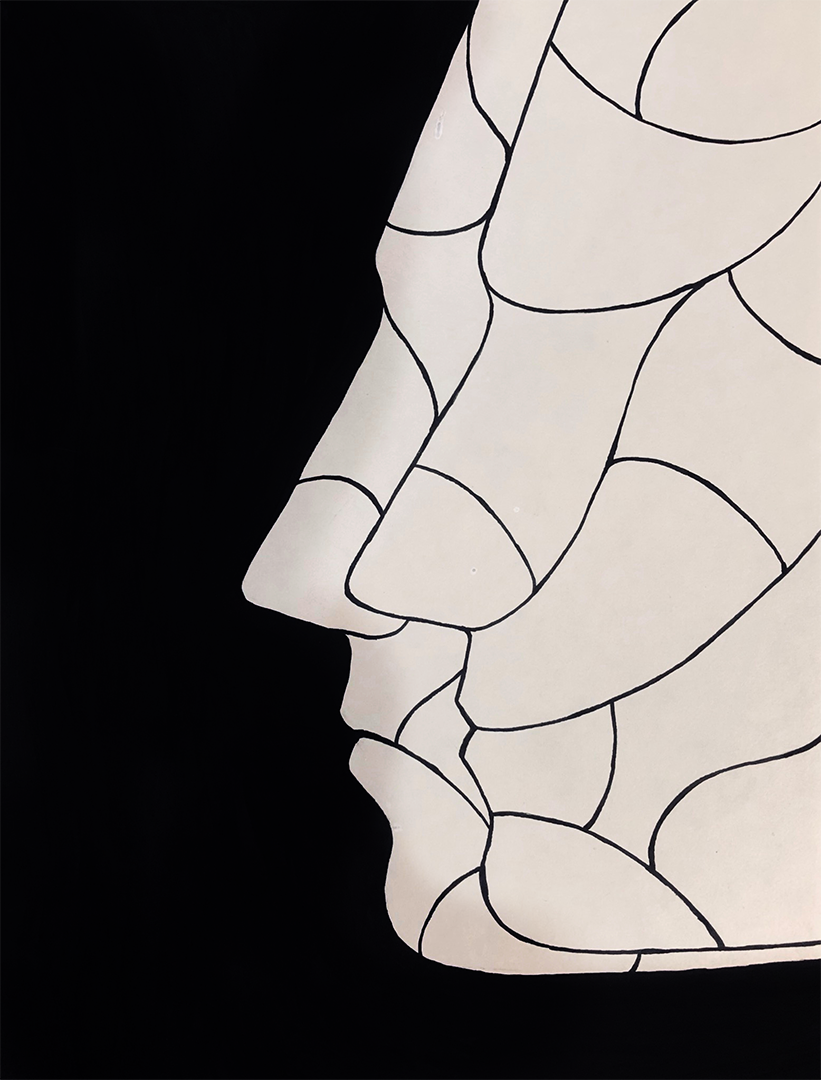 A Shadow of Mine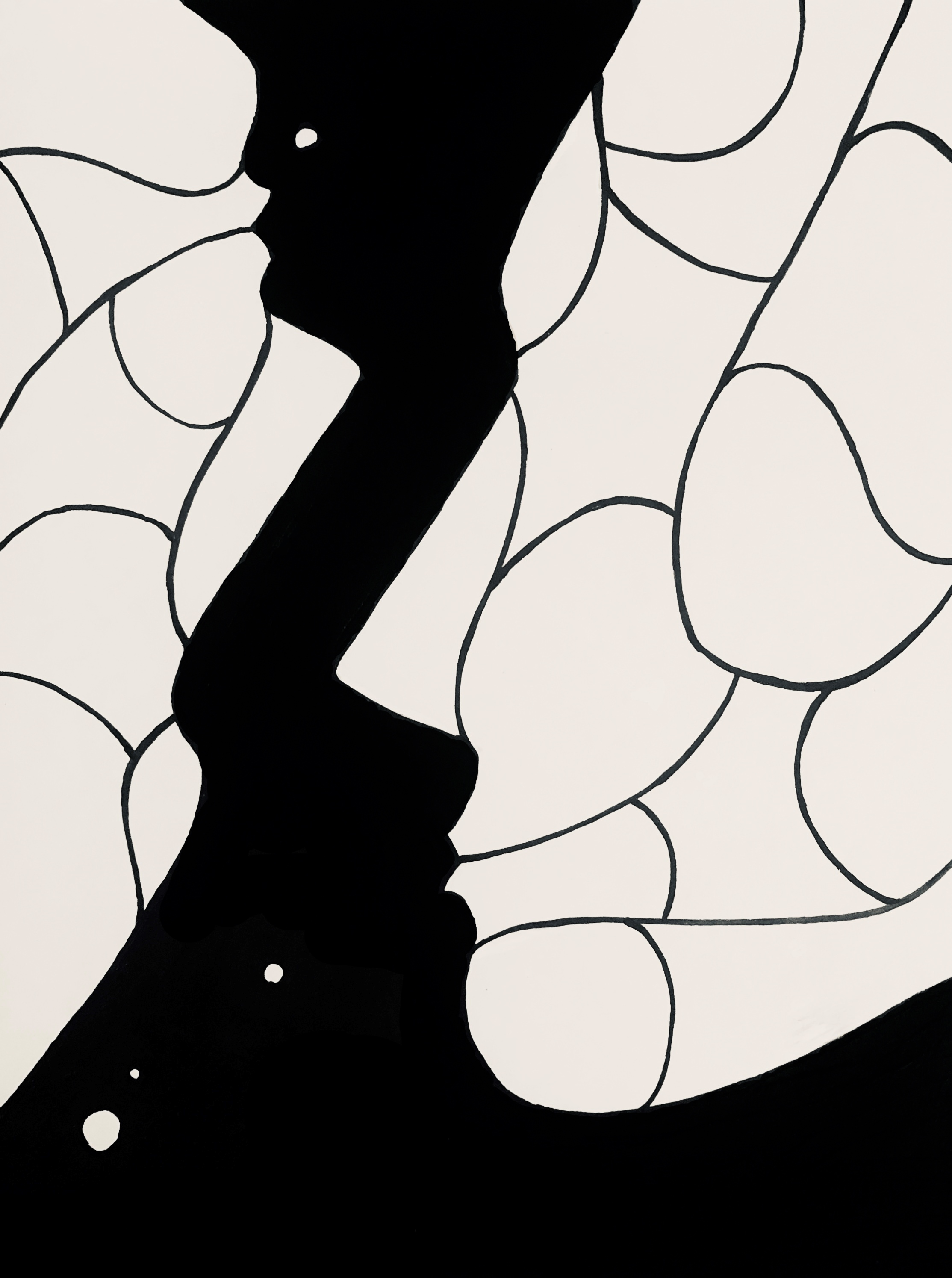 River Between Us
Alexandra Yakovleva What we will see today after tomorrow is a shadow of us, or each other upside down, or just a mirage of the present. It seems as if we had an optical illusion about life, we think we know what we need, we're broadly told and forced to like what is advertised and our attention is consistently stolen. Media and social media steels our attention on a second by second basis, robs us of a moment to think or ponder. We are caught up in a hamster wheel. But then the wheel stops, and the silence comes. The life seems like a mirage of unnecessary movements, actions and worries. Now we can look at our shadows - the opposite sides of us. We can detach ourselves from the moment and look from before and after; see what has changed or what needs to be changed for good. For a better good.
Amanda Thomas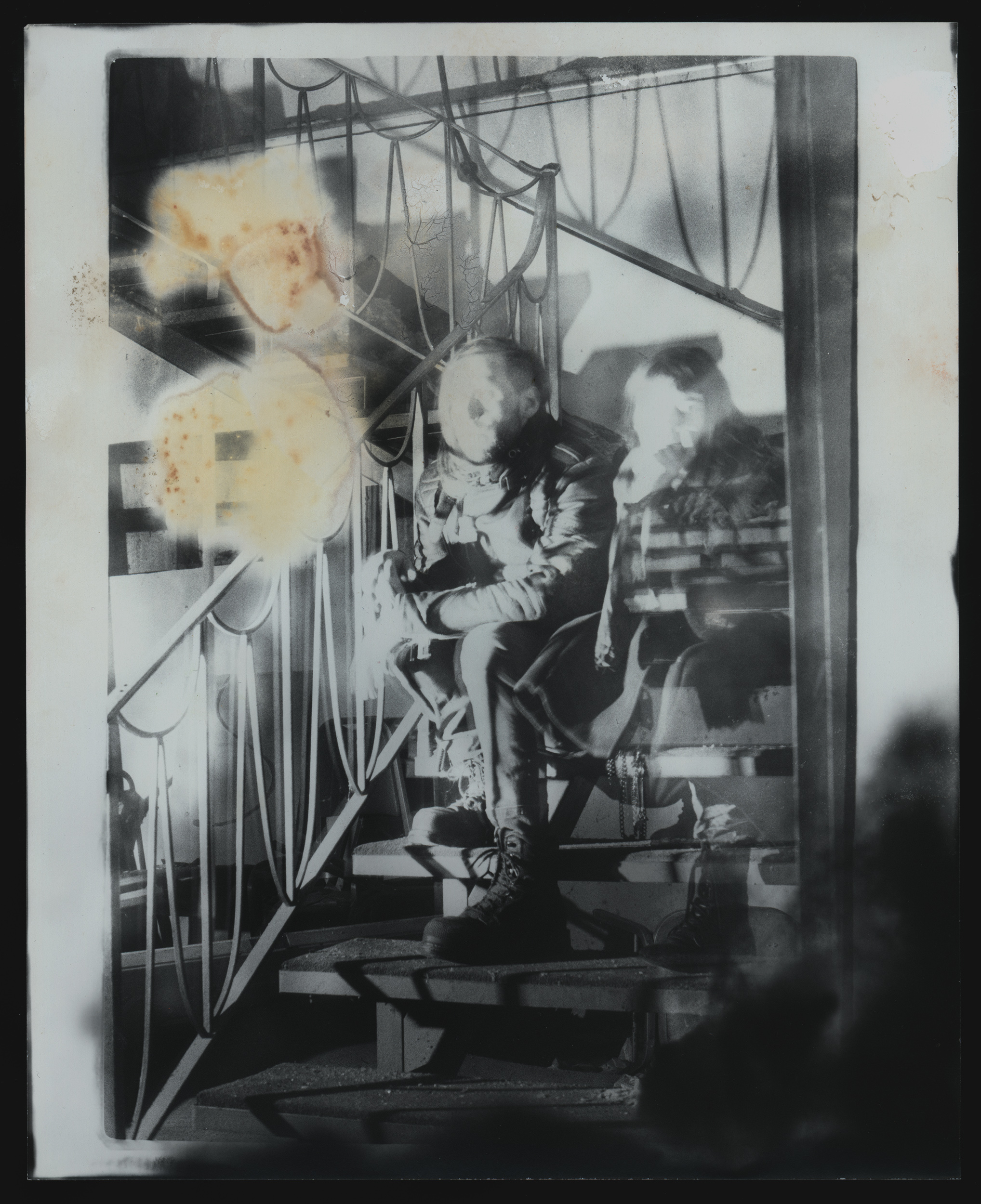 Stares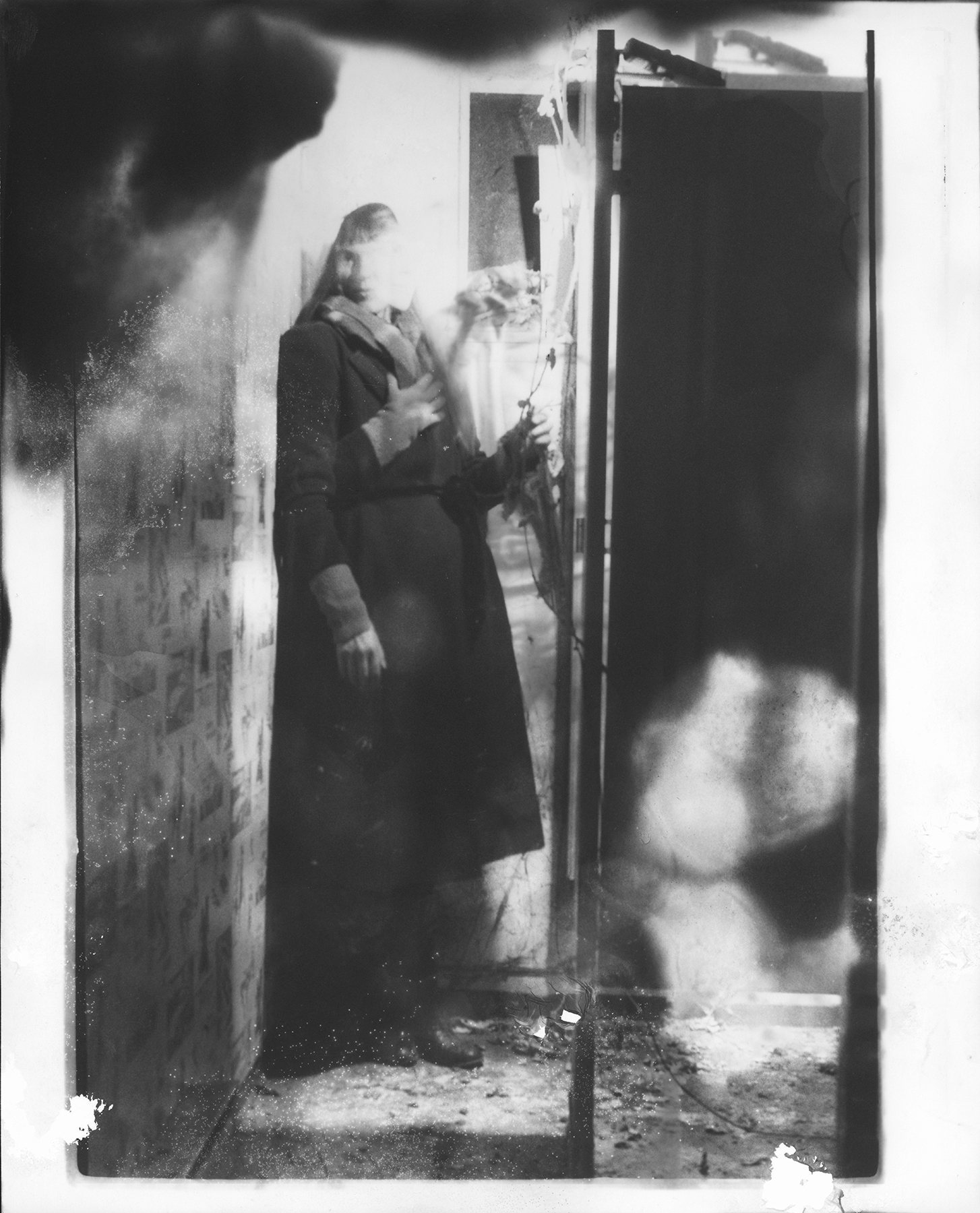 Fun Seekers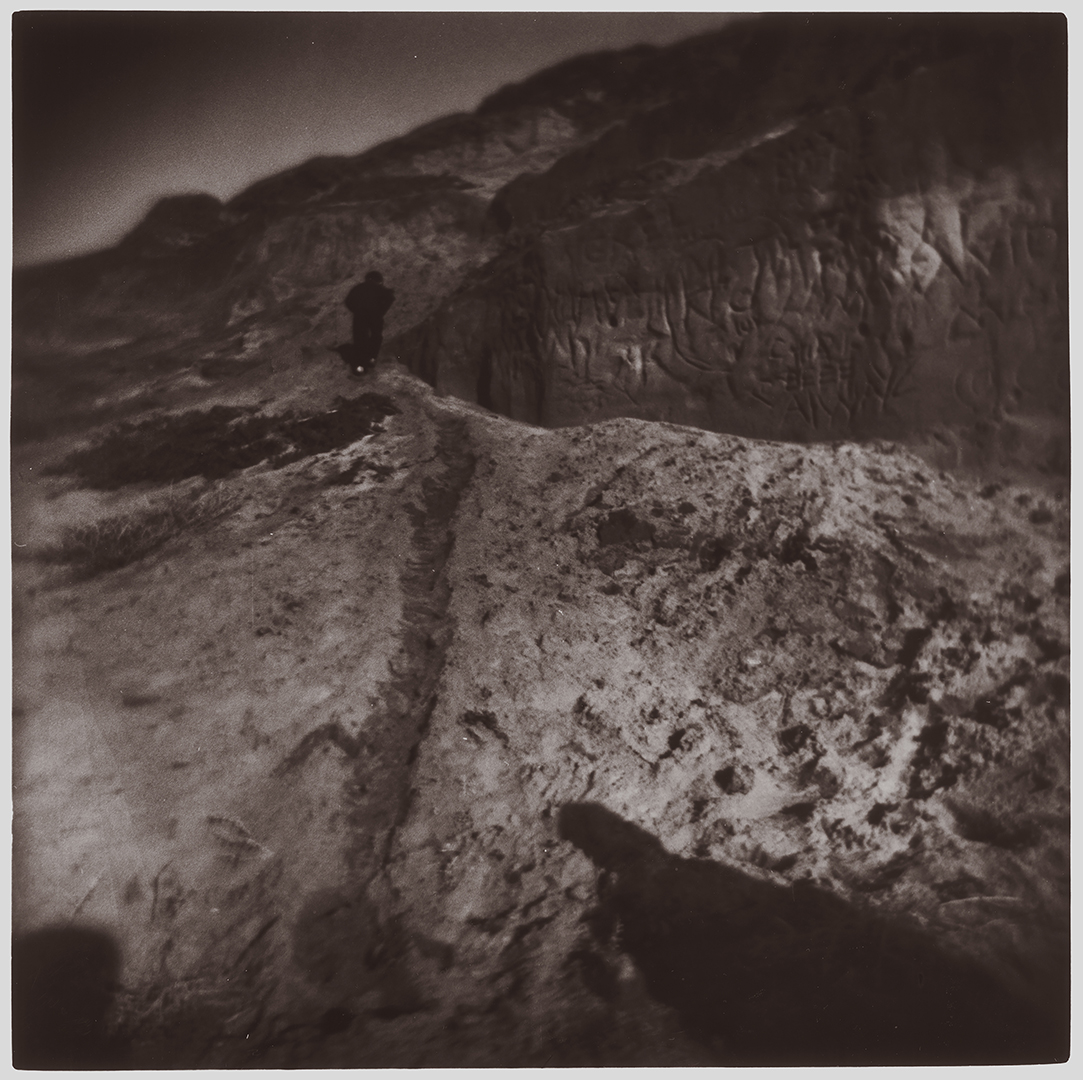 Trying to Leave Marks on Landslides
Amanda Thomas I am a multidisciplinary artist, musician, and solo parent from Northern California.  My primary mediums are ceramic sculpture, oils painting, and film photography.  I frequently use discarded materials in my work as a reaction to the destructive wastefulness of consumerism and, offer my perspective on social issues.  As an artist, I seek to be a door.  My work resides at an intersection between my life experiences and the larger world.
amandathomasart.com
Daniel Brickman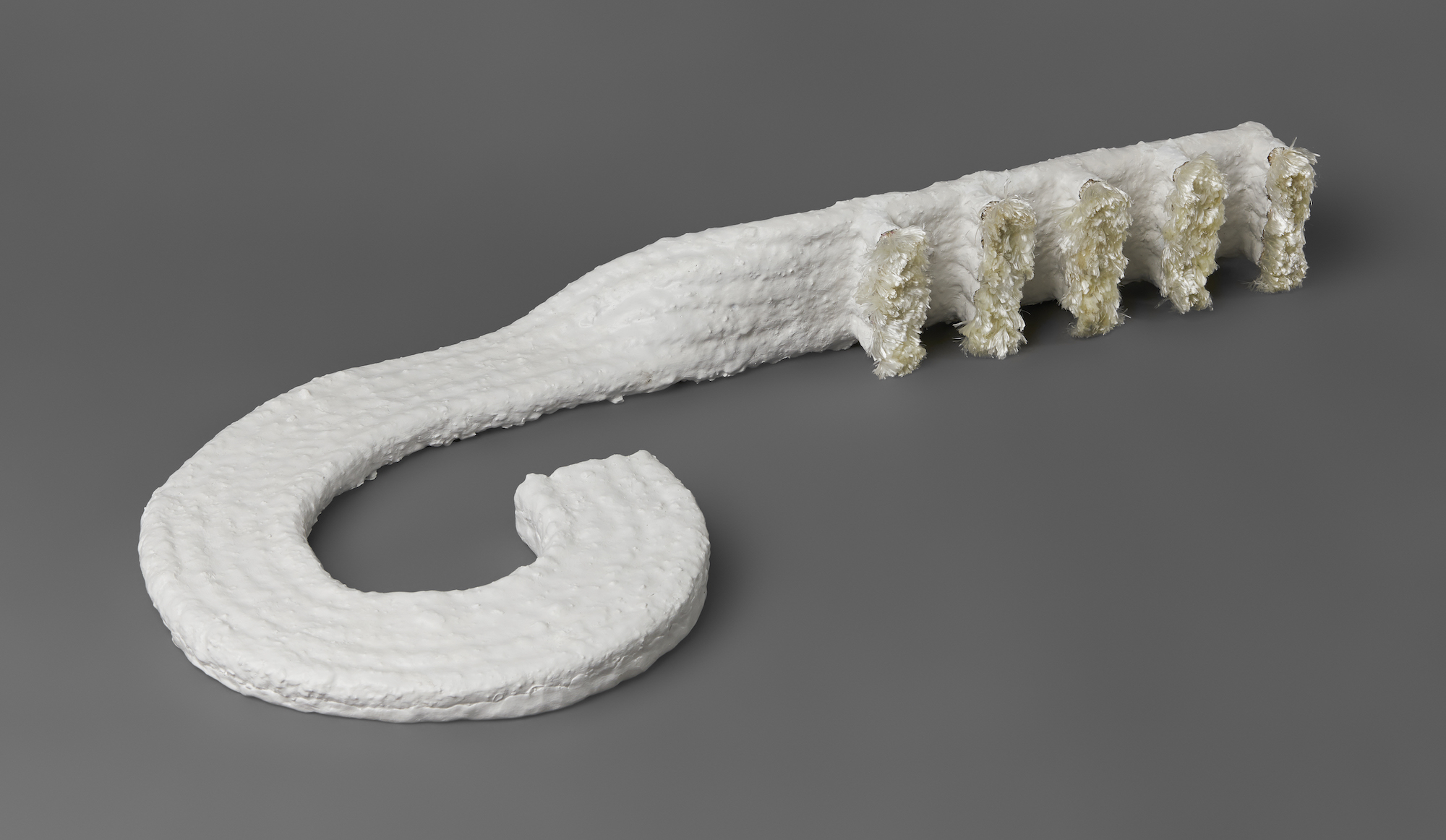 Instrumental 2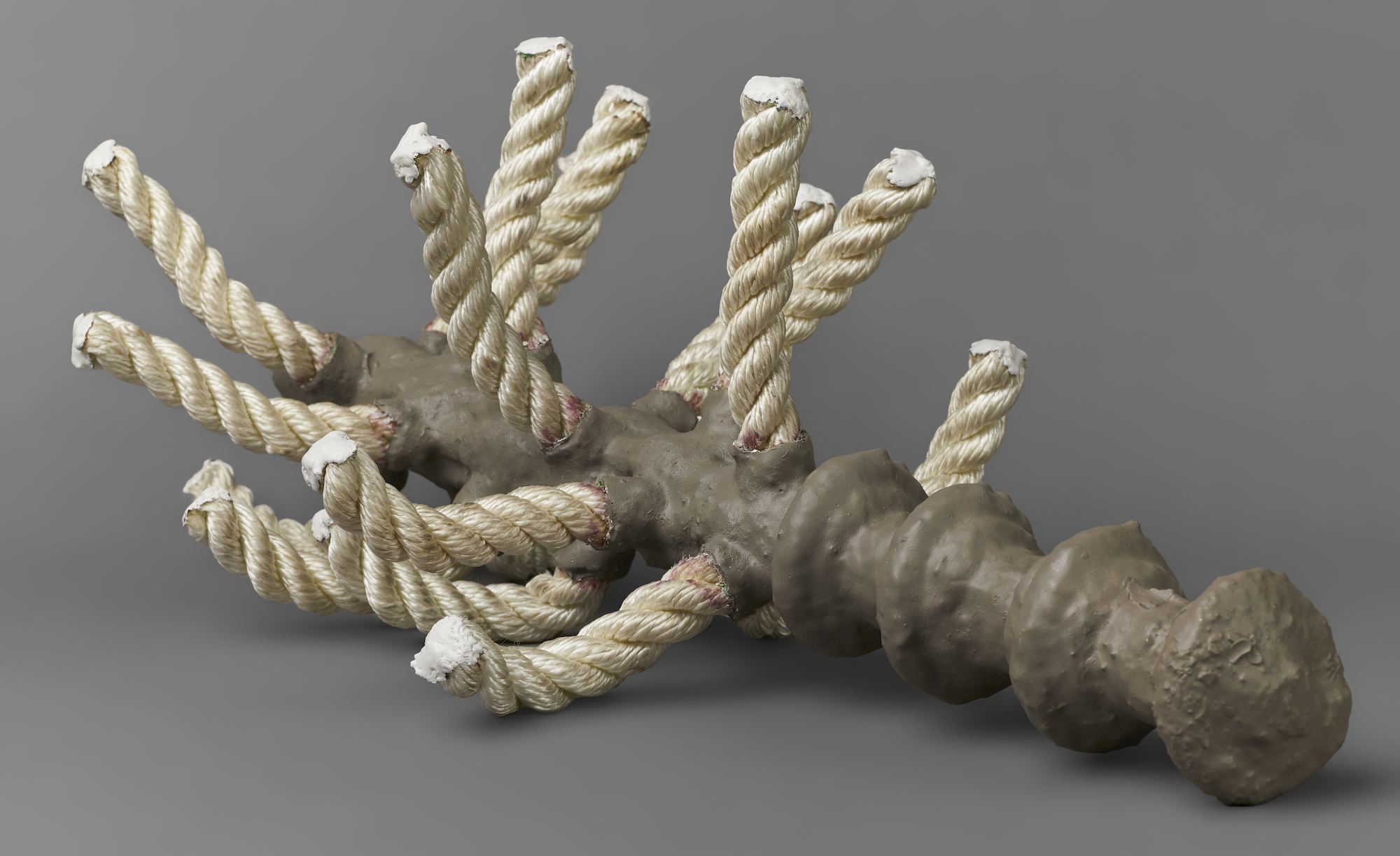 Ixodes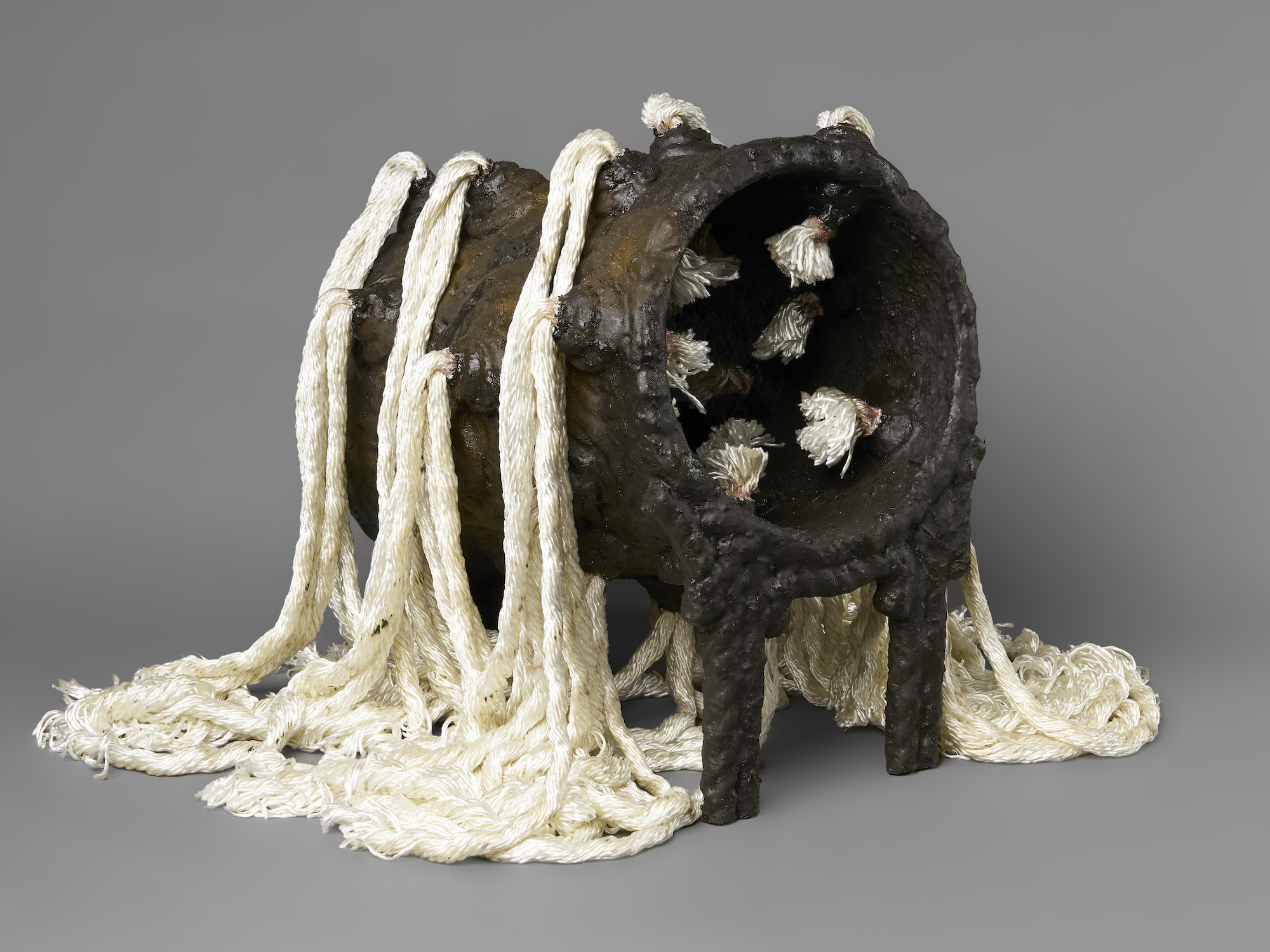 Soft Follicle
Daniel Brickman became interested in art during high school, when a mentor introduced him to linoleum block printing. Afterward, he studied architecture at Auburn University for two years, then switched to sculpture and earned a BFA from Indiana University of Pennsylvania. Following up on a study abroad experience, he spent the next two years living and working in Zagreb,Croatia.
Brickman returned to the US and fulfilled an MFA at The University of California, Davis in 2012. After moving to the Bay Area, he established resin and painting studios and developed an artistic process that combines rope, sawdust, polyester resin, and acrylic paint. Formal interests include the micro/macro, ideas of organization, relation of part to whole, and patterns of growth.
danielbrickman.info
Giulia Seri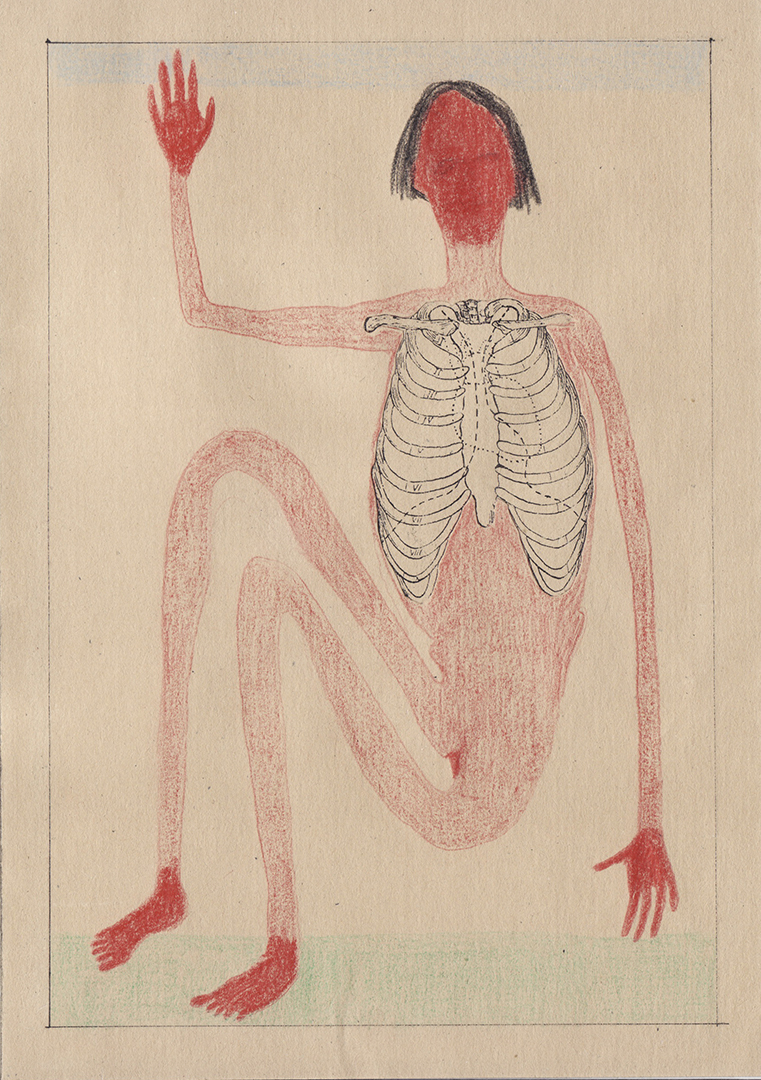 Suspended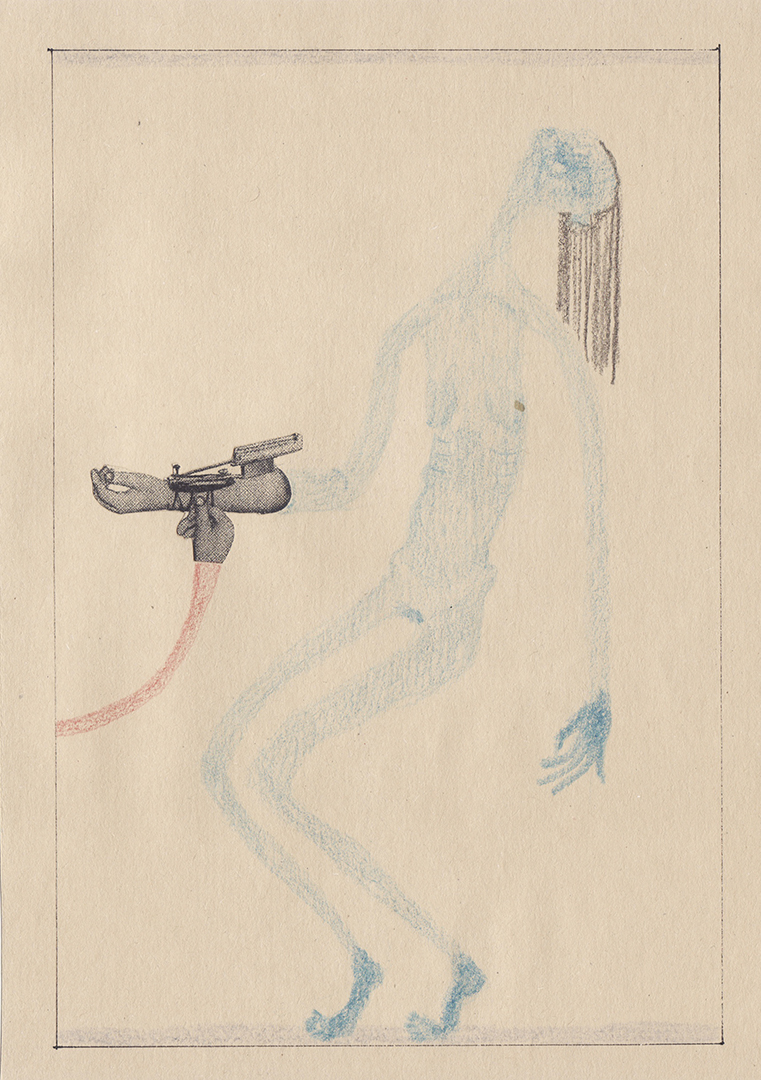 Suspended 3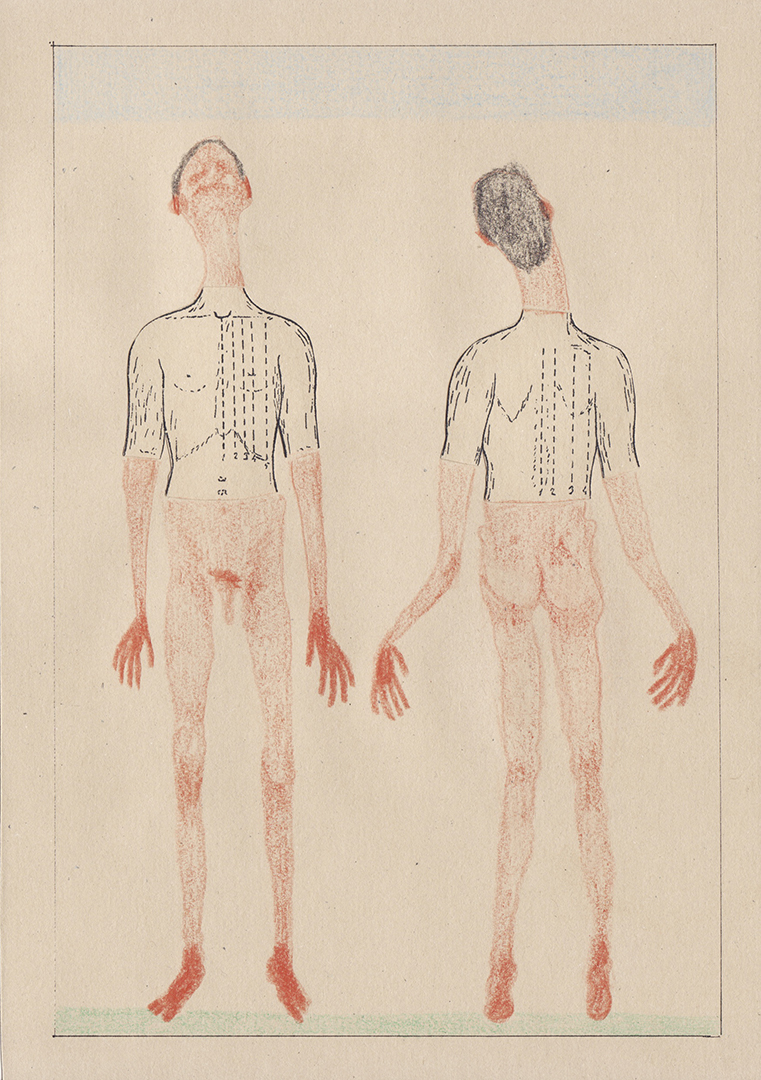 Suspended 5
Giulia Seri is an Italian artist, born in Rome in 1988. After a master degree in biology she studied painting at the Art Students League of New York (NY, USA). In 2017, she won a fellowship and obtained the specialization at Il Bisonte International School of graphic art where she worked for the following two years as etching and silkscreen teacher. She took part in residencies, solo and collective exhibitions in Italy and abroad and was awarded and shortlisted in national and international art prizes as "Jusùs Nunez International printmaking prize" (Spain) , "biennale di Incisione Giuseppe Maestri", "Biennale internazionale di incisione Acquiterme" and " Fibrenus Carnello cArte ad arte". In 2018 she was invited to the " Triennale européenne de l'estampe contemporaine" in Toulouse, France.
Tatjana Sogorov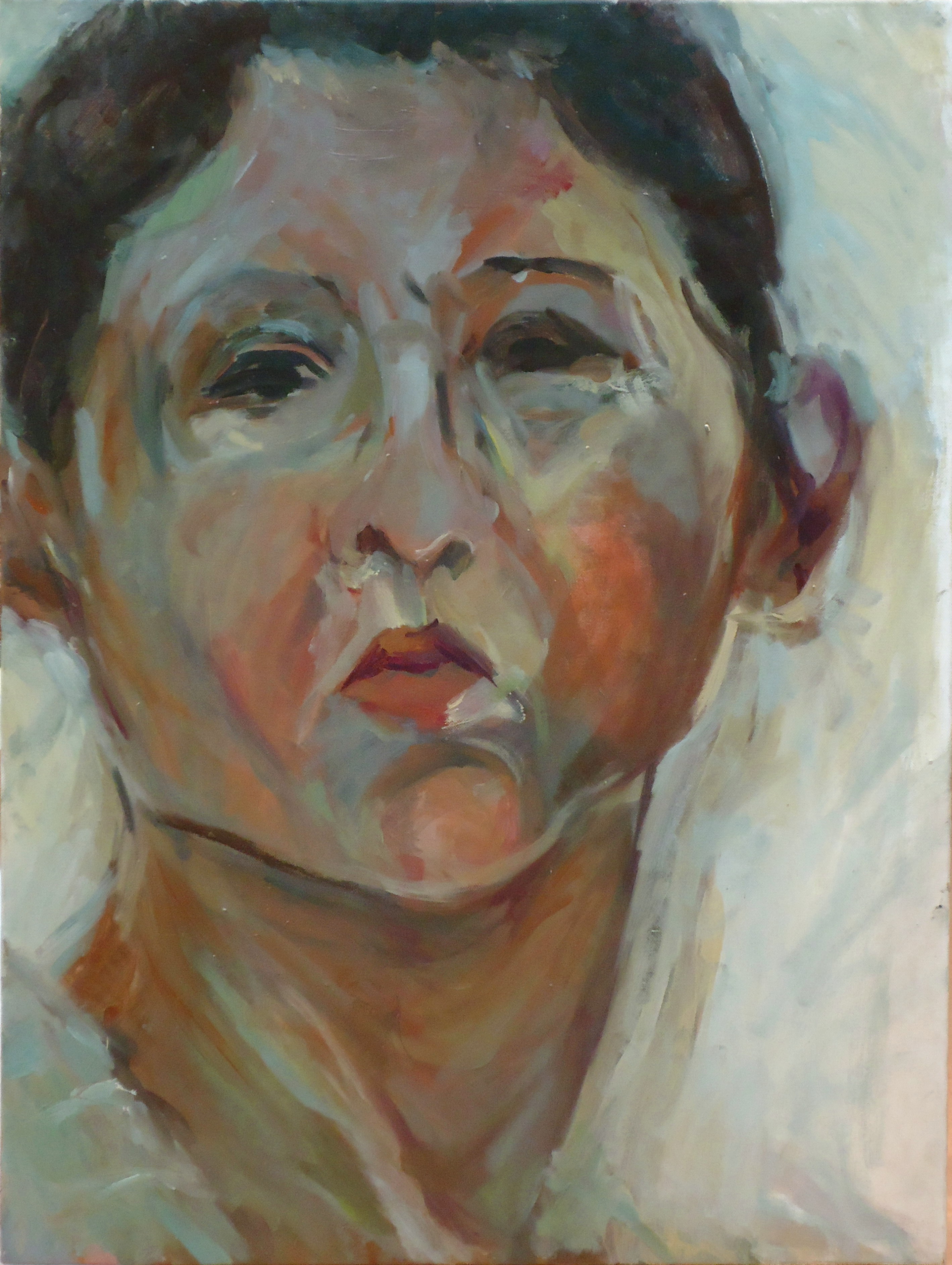 Self Portrait 3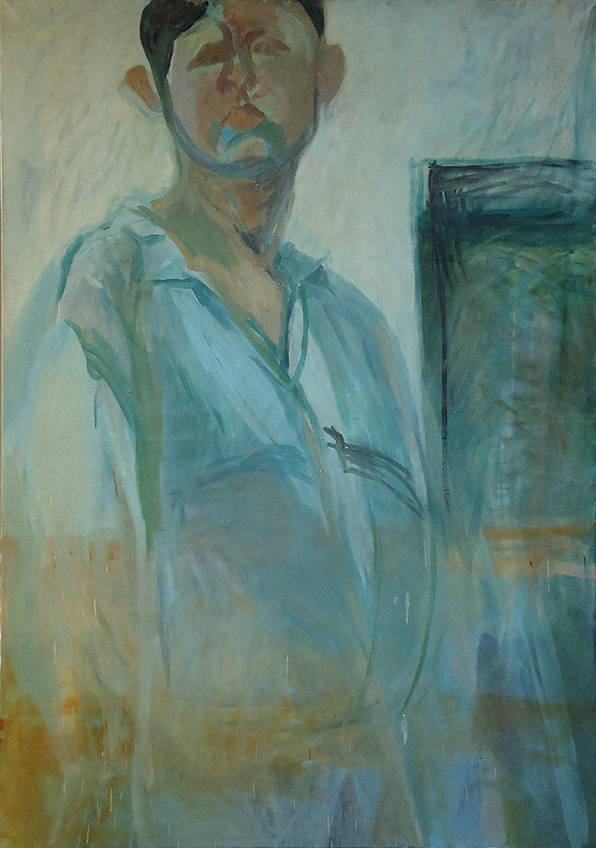 Self Portrait
Tatjana Sogorov is an MA painter of fine arts at the Faculty of Fine Arts, Belgrade, Serbia since 2010. Member of the two representative fine and applied arts associations in Serbia, ULUS since 2011 and ULUPUDS since 2012. Freelance artist since 2011. Also, they have participated in one solo exhibition and took part in more than 45 juried group exhibitions in the country and abroad.
Forest Aliya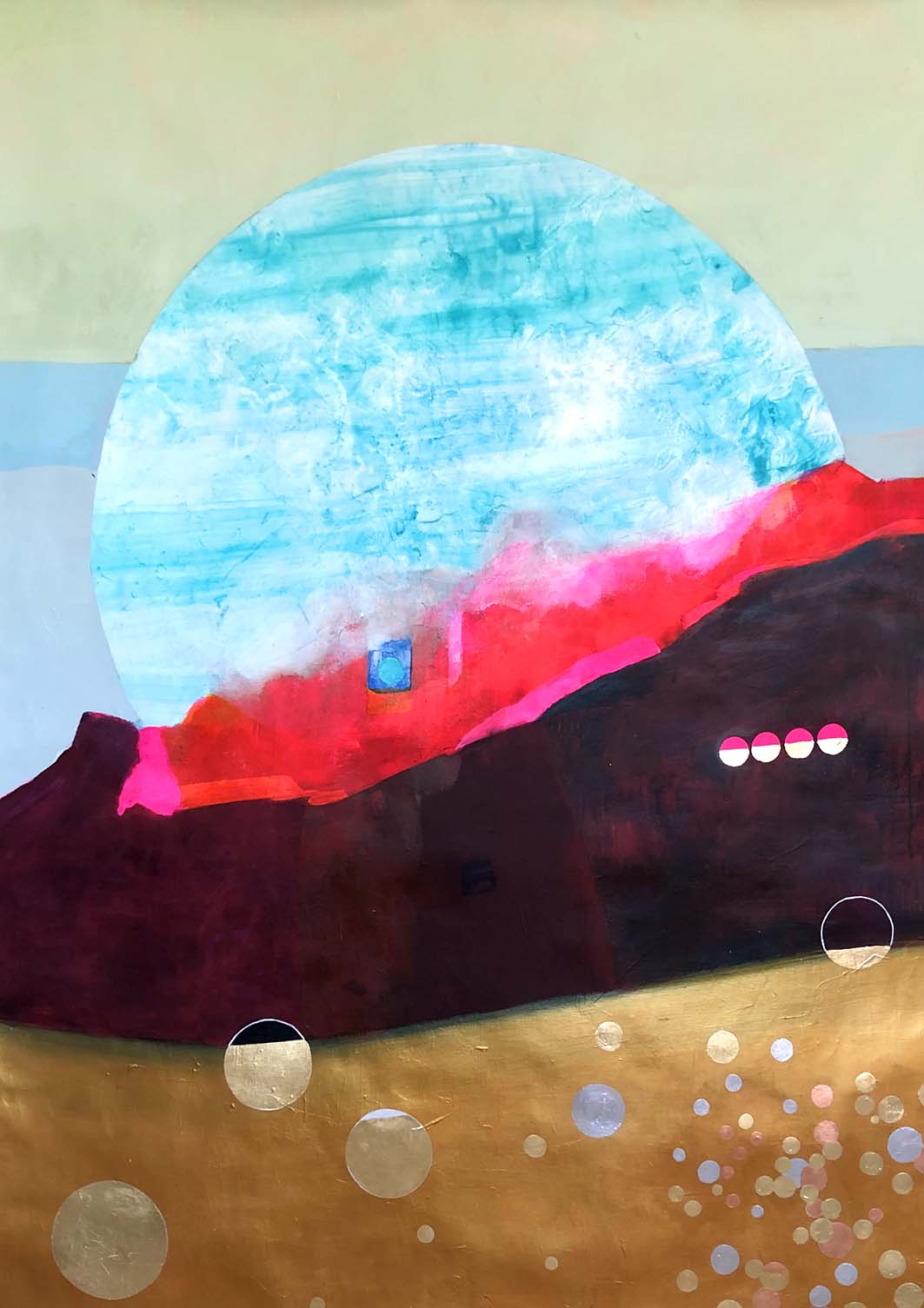 Golden Ground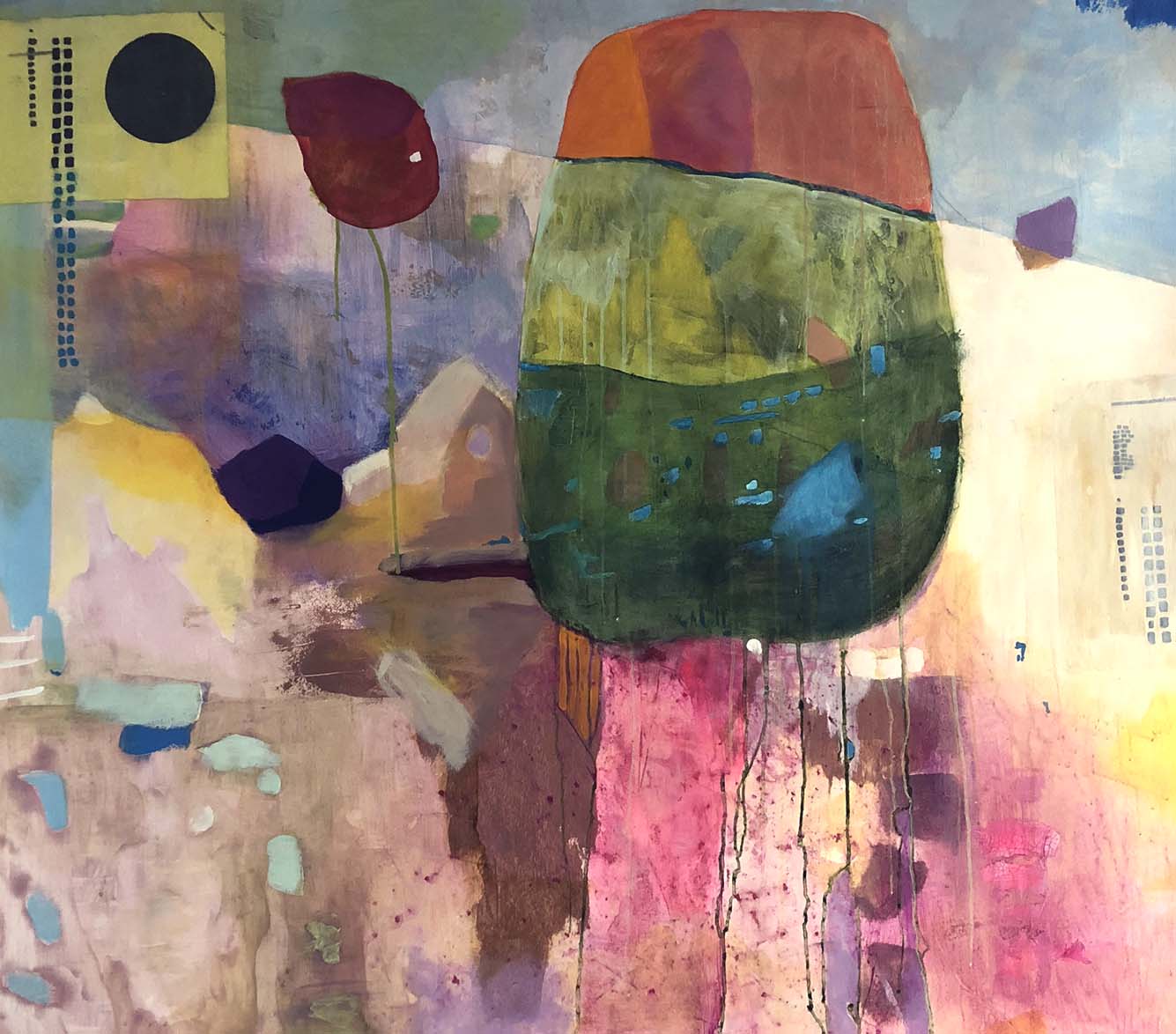 Counting Days
Forest Aliya is a clairvoyant, contemporary, abstract landscape painter, muralist and, sound artist who lives and works in Nevada City, CA. She describes her work as Timescapes which are narratives of collective places she has experienced in the physical world as well as with the mind's eye. They are brought together to create a world that has not been fully manifested on Earth. In a timescape, there is neither time nor space only movement between worlds which are expressed with color, line, and form. Her art is an expression of how light and sound interact. Aliya's work has been exhibited in the San Francisco Bay Area, Sacramento, CA, Capetown, South Africa, Portland, OR and Nevada City, CA.
Ronald Walker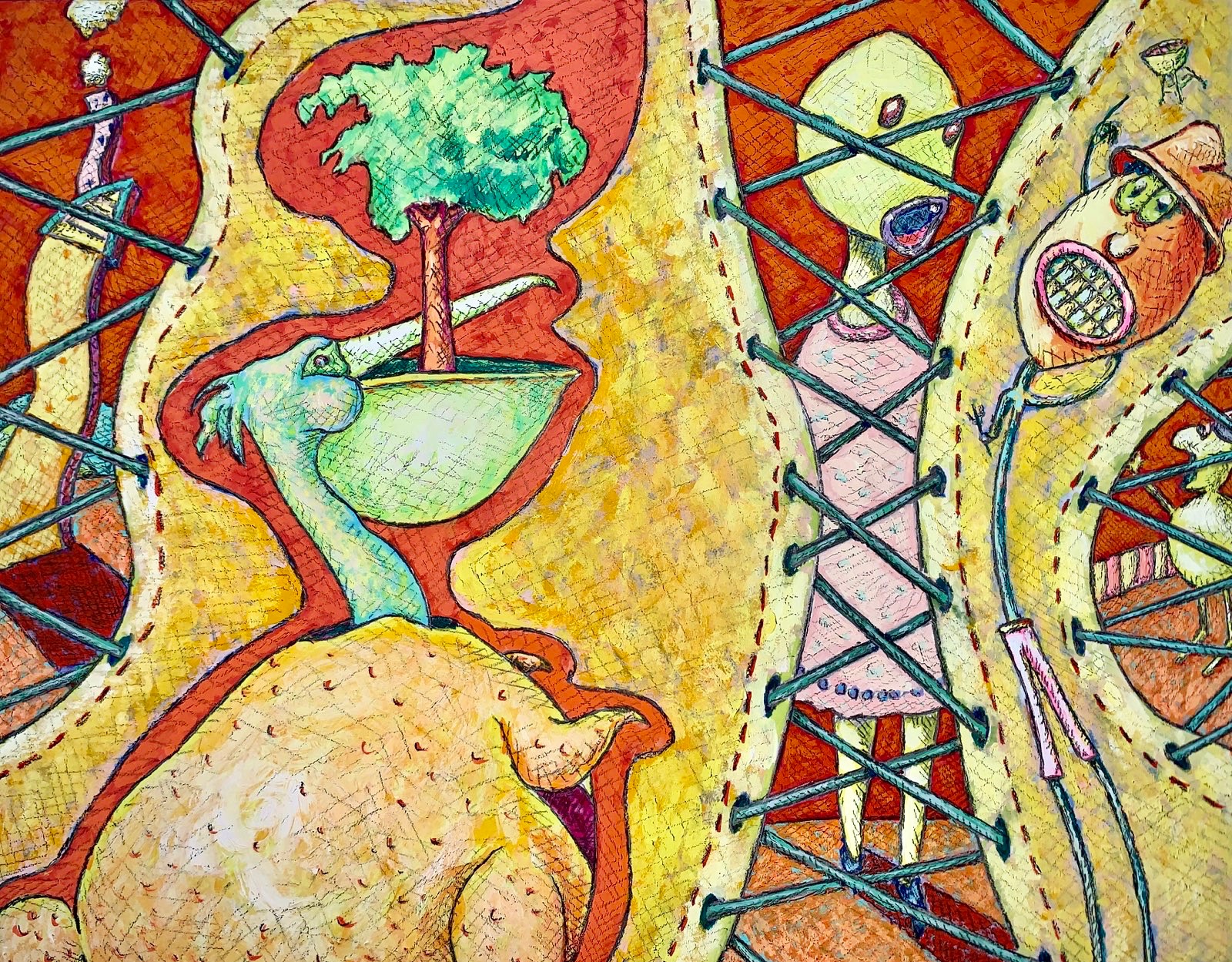 The Divide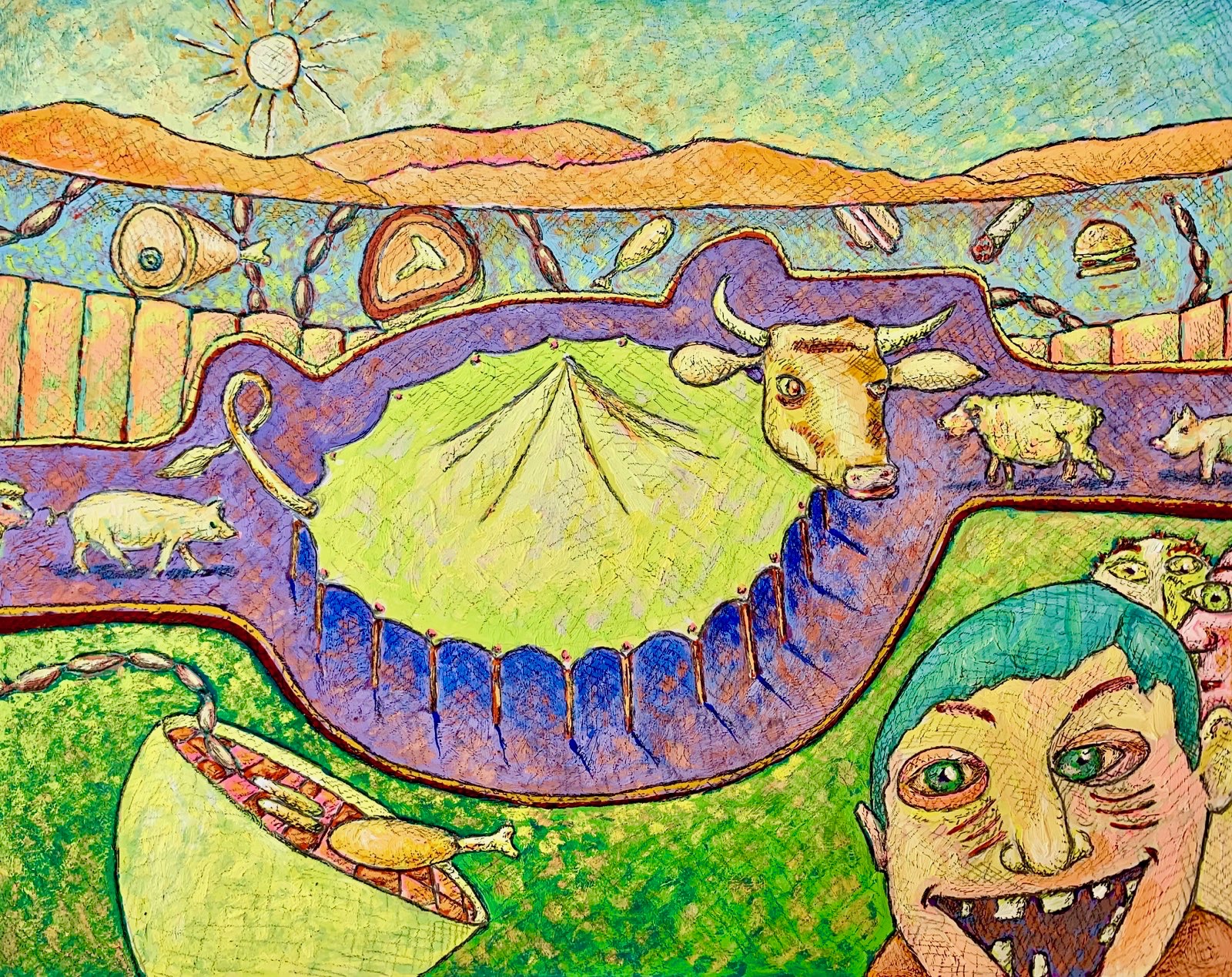 Summer Fun
Ronald Walker is an artist living in Fair Oaks, Ca. These works deal with current events and perceived events, in other words, reality vs. altered reality. I have had 40 solo exhibits to date with my next one being at the Siskiyou Museum of Art in August. I hold both a MFA and a MA in painting. I work in a style I term "Suburban Primitive," this style combines my interest in the origins and functions of art along with life in the suburbs.
Cai's looped animation Seeker
blends his generative algorithmic techniques with the playfulness characteristic of his other animated works. In Seeker, Cai's playfulness shines through in the disorienting physical impossibilities of the scene. Cai's implementation of generative algorithmic techniques takes the form of a smoky Perlin noise rectangular portal that a portion of the middle structure's roof disappears into. Spindly legs are seen through a rectangle walking up the stairs into a circle of this structure and one of its walls has been replaced by a branch where a bird lands upside-down. Additionally, a cloud manages to disappear in between this structure and the gray triangles behind it. However, perhaps the most disorienting aspect of this scene is the color blue. Coupled with the cloud to the left and the branch to the right, it appears to be sky but coupled with the middle structure and the hole at the top-right corner, it appears to be a wall. Does Seeker refer to the suspiciously surveying eye in the top-left corner or does it refer to us, seeking physical truths in the self-contradicting world Cai has created?
Stefani Byrd's sound installation Cacophony (24hr News Cycle) (2014-15) removes the words from news reports on mass school shootings, leaving only the human breaths and transforming these pauses in between words into sound objects that have their own interleaved pauses of silence. Despite the relative homogeneity of these breaths throughout the selection's twelve minutes, their succinctness combined with the silent gaps in between result in a soundscape not composed of an ambient environment that the listener becomes accustomed to and is able to relegate to a background layer of attention, but rather an irregular one where each sharp breath is imbued with the despair of its original creator and pierces into the listener's awareness.
Byrd's video True Love (2018) pairs the tranquil beauty of the piano accompaniment from Radiohead's 2016 version of True Love Waits with layered scenes of a pair of bonded eagles with gripped talons midair. As with the song's mode-mixing with its flatted sixth scale degree bass notes amidst a major chord progression, there is a darkness and quiet desperation to the beauty of the twirling pair as they both meet their deaths crashing into the ground if they do not release each other. The layered imagery is complemented by two copies of the piano material gradually phasing out of sync with each other. As with composer Steve Reich's use of the phasing technique, the relatively simple piano material and the twirling motion of the eagles through superimposed layers become more complicated and reveals more of their nature to the observer, mirroring the simple yet paradoxically complicated nature of love.
Sofy Yuditskaya's video Bombay Beach Dream (2020) draws its sonic and visual material from Bombay Beach, CA, where we both attended the brahman.ai art and technology residency. The repeated scenes of the open road, houses and RVs of Bombay Beach proper, seaside art installations, and activities from the residency that constitute the video's first half are distorted, layered, and rainbow tinged in at first light then dark shades, reflecting the dreamlike isolation experienced by many of the residency's participants. In Bombay Beach, we were isolated from the rest the world and free to pursue our dreams of communal living and collaborating on art amidst endless desert, art installations interspersed among houses, and surreal sunsets. Over a quiet whirring and whooshes of wind and passing traffic, she intones "I can't hide in my home because the home that I have isn't really mine to speak of". We were only visitors at Bombay Beach in our temporary desert homes (she still is and I had left in the middle of March) and sheltered away from the realities of the pandemic that began to rage in the outside world while we were there. The multitude of vibrant colors from the first half give way to a much more muted palette in the scenes of Bombay Beach departure of the video's second half. "We consume all that we have, all that we have: peace and love and even each other. Consume our father, sister, mother, brother...". Through the Internet, images of police brutality in cities throughout the country are still able to reach areas as remote as Bombay Beach. Her words "find the promised freedom before we die" accompany the video's closing scenes as the sign for nearby Salvation Mountain crawls into view.
Yuditskaya's New York City is a Demon God (2015) captures the kaleidoscopic variety and endless frenetic energy that the city provides. I lived in New York City proper for three years (then four years in Long Island) and have experienced the demon god qualities of NYC with its senses-barraging relentless activity and voracious appetite for attention and energy. Throughout most of the video, saturated, glitched, jittery images are layered one on top of each other flickering in and out. These images range from halal food carts to cupping therapy videos and glitter-encrusted guns. Like the physical city, sound is an inescapable phenomenon in the video and ranges from subway whines and hums to bucket drummers and the song Feliz Navidad. The subway system is an ever-present phenomenon in both the city and the video and takes more visual prominence in the latter's closing scenes as its pace drops. The video's last minute and forty-five seconds consist of layered images of skyline views from elevated subway tracks and a choir in an underground subway station. The video comes to its conclusion with repeated chants of the video's title arising from the relatively placid current of subway whine and clatter.
Curator
Derek Kwan
Cai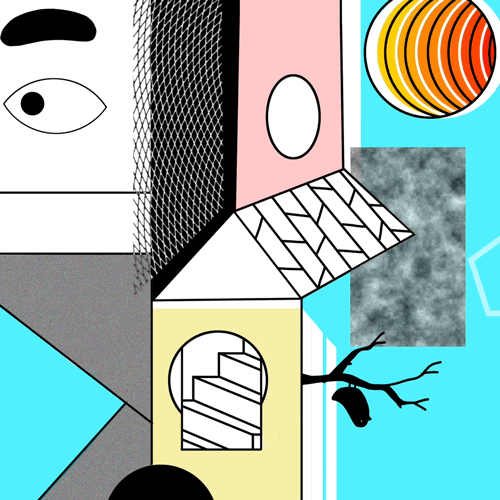 Seeker
Cai is a generative artist, whose work dwells on the intersection where art intersects with technology with a rebellious sense of wonder. Coming from a classical background and studying at NID that follows the Bauhaus principles of design, Cai's work ranges through different mediums and disciplines. Over the last decade mixed multiple mediums like claymation, sand animation, light-animation, pixelation, 3D and 2D animation, music, programming, painting, and film-making to express his ideas.
At the core, Cai is a storyteller and has been using visual mediums to tell his stories. Though technology is an integral part of his work, he has been constantly pursuing ways and techniques to bring his work outside the computer and make it tactile. Some of his recent works cover visuals made out of music or gestures of performers.
Stefani Byrd
Cacophony (24hr News Cycle)"
True Love
Stefani Byrd's art practice includes video, new media, and interactive technologies. Byrd is most noted for her interactive temporary public art installations that create "empathy training" experiences for the audience. These works are a hybrid of video and performance art that both disorient and re-orient the viewer. Her work is both playful and sophisticated, drawing the viewer into active and often interactive engagement. Her practice aims to shed light on the complicated nature of communication within a contemporary culture where social stereotypes often define our interactions. Often her work confronts or undermines these stereotypes by turning the tables on traditional power relationships. She has received grants and support from groups such as: Creative Capital of New York, Flux Projects, the InLight Richmond Festival, Atlanta Celebrates Photography, and Idea Capital. Her work has been featured in such places as the Public Art Review Magazine, the Public Art Archive, the Huffington Post, the Atlanta Journal Constitution, and Art Papers Magazine. Byrd's work is held in the permanent collections of the Museum of Contemporary Art of Georgia, the Columbus Museum of American Art, and the Diane Marek Collection and Trust. She received her BFA degree in photography from Georgia State University in 2008. She holds a Master's Degree in Visual Art from the University of California San Diego with an emphasis in New Media / Art + Technology. Byrd is currently a Visiting Assistant Professor in Experimental Media Art at the University of Arkansas. She is a former Lecturer in the Digital Arts division of the Claire Trevor School of the Arts at the University of California Irvine. She is also a former Lecturer within the Interdisciplinary Computing and the Arts (ICAM) major in the Visual Arts department at the University of California San Diego.
Sofy Yuditskaya
Bombay Beach Dream
New York City is a Demon God
Sofy Yuditskaya This is a much darker and more minimal version of the work I intended to make. The original piece was supposed to be a kind of portrait of this Census Designated Zone that I spent the quarantine in, with just 5 other people in the desert. But, we are a week away from when the quarantine is supposed-to-be lifted, and NY is having it's most meaningful demonstrations against the continued militarization of our police force to date. We are also seeing clashes including the most egregious violence from the police on the populace, and that is saying a lot considering the NYPD's long history of police brutality. I know this is happening all over the country, but I am holding NY in my heart because that is the place I am quarantined from.
What is the exercise of reading,
if not also an exercise in sensing thought's incapacity to perfectly suture the now and not now? And yet, in Beetles, Jeremy Foreman neglects this incapacity, or rather skips over thought, straight to gut, rendering "before" and "after" as both simultaneous and disparate. The other writers below capitalize on and play with thought's incapacity to think, simultaneously, now and not now. In Shurtleff's In The New England Maple Cheddar Sandwich, a voice riddled with jest washes over the reader, prodding them on to the cool surprise of the present moment. Philip Brubaker's retrospective narrator pours forth a singular vulnerability in Funny, earnestly connecting disparate and distinct moments from his past. Adam Foreman's Hark casts the reader about uneasily in what at first glimpse seems to be a specific moment approaching ascension, but gerunds and recollections and predictions exponentially expand the point in time like "the sand expands uncontrollably onto the [California] highways and driveways inland away from the great Pacific.".
Curator
Joy Miller
Jeremy Forman
Beetles
There is nothing more horrifying than a large beetle feeding delicately on a small, round piece of dog shit.
Jeremy Forman is a songwriter and librarian living in Sacramento. He's been writing short stories since December 2013, but has focused more seriously on poems in the last year. His interests include Geography, home-recording and Ben Stiller's career in 1998. He's currently reading The Adventures of Huckleberry Finn.
Ben Shurtleff
The New England Maple Cheddar Sandwich
Back then Jennifer was always going to Gold's for the elliptical and the StairMaster, and she'd come back so salty from exercising however many hours that she'd start to like shame me for it. All, I'm out there climbing stairs to nowhere and sweating my tits off, and I get back and you're drinking Bud Light and leaving crumpled-up Dunkin' Donuts bags in the car we have to share?
So I'm like, First off, I'm not a fucking college kid. I don't drink Bud Light unless I'm at a barbecue or a game, or maybe at the beach.
I mean, these days I'd much rather have a Sam Adams or a Harpoon IPA, you know? So right away, I nip that in the butt.
Secondly, I honestly can appreciate where she's coming from, so for solidarity's sake I give up having breakfast and/or lunch at Dunkin's for a month, although I still go for my morning coffee, just I do black, not with all the cream and sugar they usually do. Also on Saturdays I start hitting up the park with Dougie D, to play horse and a little one-on-one, and then I top the week off with some 20 lb. curls on Sunday so Jen and I are more or less on the same page health-wise. I mean, I don't mind pulling my own weight, you know?
But so, Dunkin's had just come out with that limited-edition Curt Schilling maple sandwich, where the sausage patty is injected with like this artificial maple flavor or whatever? And they had that commercial where he's trying to do a Boston accent, but he sucks ass at it?
Well, people were asking me had I tried the thing or not. And I kept having to say no over and over because I'd sworn off Dunkin's. And even though Curt Schilling was basically a God in the city of Boston at that point in time, everyone was saying how disappointing this sandwich was. It was like they'd only ask me if I'd tried the thing to tell me how terrible it tasted. I mean, except for this one guy, Jesse Basement, who we called that because when we were in high school he had this sweet setup in his basement, with like air hockey, an electric guitar and drums, and this mini fridge that was always stocked with fancy kinds of beer, and even though we were all underage then, his parents didn't really give a shit about that kind of shit, and so since his dad loved beer and they had more money than most, it was always just there. But other than once having an awesome basement I wouldn't really trust JB's taste in anything, so needless to say in my mind skepticism abounds about this Curt Schilling maple sandwich everyone else's been shitting on any chance they can get.
So finally a month is over, right? Naturally, I head to Dunkin's, wicked excited to get a hot breakfast in my stomach for once, since I've been like quarantined to cereal island for my solidarity diet with Jen. And naturally, what do I do but get the Schilling sandwich, because why the fuck not? It's limited time, and you only live once.
Well so, the ingredients are, it's a basic sausage, egg, and cheddar cheese on a croissant, and then the maple is this curveball gimmicky thing. I don't know if the maple is supposed to be in the cheese or the sausage, but it's in there somewhere.
Without further ado, I take a bite. And I couldn't even tell you what the fuck a maple tree looks like, honestly, except for maybe the leaf, which I'd recognize from Toronto's uniforms, or the Canada flag. But even if I don't know the tree I know what syrup is, and I know how that shit's supposed to taste, and so right away I know that this sandwich did not taste right. Look, our parents didn't splurge on a ton of things, but they'd grown up on real maple syrup, and so that we did have at the house. And so to my taste buds, the artificial flavor is so fake-tasting, it's like a bottle of Aunt Jemima took a dump all over what otherwise would be a perfectly edible sausage, egg, and cheese on a croissant. But worst of all was that I was in my fucking car when I started eating the thing, and that fake-ass-smelling maple smell got soaked into the upholstery so bad that even like weeks later, Jen's all, Oh my God, what'd you do to the car? I had to go buy an air freshener, it reeks like sugar-coated farts in there.
And now Curt Schilling, even though he was such an essential part of us getting that Series, breaking the fucking curse mind you, and no one can ever take that away from him or the city, and it's this unbreakable-forever-bond type of thing—and I know, I know, the bloody sock and everything. But these days, he's always talking all this nonsense on Fox News or wherever, and at every turn he's defending this president we've got, this silver spoon in his mouth bitch, never had to give up a single thing for one second of his life, literally owns a penthouse made of gold and still he can't stop whining how unfair everything is, and well I wasn't gonna vote for Shrillary either, until Jen practically gave me a PowerPoint presentation on why you'd be a dumbass not to, but frankly you don't even wanna get me started on what a fucking mess this country is in, and anyhow, point is, now any time I see Schilling opening his mouth, I just say to the TV: Fuck you, Bud, I'm glad your goddamn sandwich tasted like ass.
Ben Shurtleff is a Pittsburgh-based writer from Massachusetts. His writing has been published in Redivider and Colloquium. In 2015 he was shortlisted as a finalist for the Edes Prize for Emerging Artists based on excerpts from the manuscript of a novel.
Adam Forman
Hark
He screams, driving towards the crunched moon shadowing the highway.
HE'S SPEEDING UP
So fast, an astonishing fast, a quicksilver fast, like driving straight north towards exploding stars and planets, long extinguished of flame.
It's BIRD and California and the sand expands uncontrollably onto the highways and driveways inland away from the great Pacific. The great Pacific which is West, not East.
Surfer smiles in hamburger bliss blinded in sun, off white waves, off Scottish cliffs, off soft skinned coffee shop princesses in midlife crises pouring dark roast coffee, table to table, caught in a permanent fake smile.
Your heart explodes over hash browns, and yellow eggs spill out in front of you like embarrassing ketchup dreams. But that's what it is, man. I've known girls for years and years. Known their friends and grandmothers. Known them long enough for their youth to fade, only to emerge as slightly younger versions of their mothers and aunts, beautiful and sad and old. Heard echoes of their scars through silent pillow cases. Watched in horror as they shovel blue makeup all over their faces, early morning, before work.
But Rachel, who poured that coffee in Santa Cruz, was as close to God as I'll likely ever see.
To old New York friends living in California and to the absurd sepia moon, chomped in half, north of Route 1, the square stars forming dippers and belts, growing larger one night and smaller the next, and Rachel, hopefully breaking at least one heart per coffee pot, soft and shimmering against the brown rock bluffs. I hope she's home now, wrapped in warm blankets, naked, sore and tired, listening to Art Tatum records, searching for something more, never knowing she's loved by strangers, more than husbands love their wives.
An astral cliff anticipating the inevitable dislodgment of earth from the great North American continent, into the sad green Pacific. Floating slowly towards Japan, capsizing in expansive nowhere. IT'S A PARADISE, I've heard. ENDLESS BEAUTY. I may have heard it spoken by me, in a midnight whiskey dream or by an old friend I never truly knew. True or unbearably false; either way it doesn't seem to matter.
Tonight and all other nights the moon, quivering in stage freight, will shine full or half, or, as I like it, serrated, like a hungry dinosaur with faulty teeth took a large bite off the side, mistaken it for a giant peanut butter cookie…Tonight, I look up, and see soft Santa Cruz waitresses and crumbling brown earth, and old friends, all smiling together, driving in a convertible north on 1. Driving faster and faster, hoping at some point to blast into the atmosphere, ascending fore into black skies sprinkled white with stars, or aft, to a fiery end.
Adam Forman is a drummer/percussionist and occasional author of short fiction. He played in many rock bands and chamber ensembles in the New York City area. Recently, he left that behind and drove out to California, where he currently resides. His writing is often set in a prose-poem style where the characters, although separated by time and location, are emotionally connected. He thanks Art Music Lit Space for the opportunity to submit his work.
Philip Brubaker
Funny
I've always known I could sum up myself in one word: weird. That's what the other children called me in the cafeteria. That's how I felt when I saw my school photo and felt pure self-loathing. Those severe eyeglasses that said, "Future Serial Killer" combined with wide forehead, tiny lips and lopsided hair like an unkempt bird's nest.
When I was 21, I started to develop a breast.
Don't mistake my words: singular.
My skinny body had an asymmetrical quality…
When I was 21, it escalated to a breaking point.
My right breast had become full-figured over the course of several months. It wasn't my idea. My family doctor examined me and said I had middle stages of gynecomastia.
It made me feel like a woman, a feeling I experienced a long time in my life.
From being a child, waif-like thin with long hair and vulnerable demeanor and getting called darling. A park ranger called me that when the wind whipped my hair all over my face during the family vacation out west. Wearing a Pisces pendant from my cousin, baggy long sleeved shirt and chapped lips. He thought I was a girl.
I had lordosis, which caused the curvature of my lower spine and permanent protruding tummy.
But the reason my right breast was getting bigger was because of the enlarged tissue caused by a medication I was taking: Risperdal. Risperdal is an antipsychotic drug used to treat schizophrenia. If you use it enough, you get prolactinemia, a condition that causes all breasts, male or female, to grow in size.
It was a little weird, and also funny, to know that I had not two breasts but one. And I was a good size. Just under a handful.
There were things to be disconcerted about. When I pressed my palm down on my nipple, I could feel a hard coral-textured lump under the surface of the skin. It hurt to push it down and it grew in size as time went on.
I was going to go to a plastic surgeon to get breast reduction surgery.
I had surgery and a fever dream afterwards-
I asked my roommate Aaron, as he stood and donned his ball cap to leave our dorm room - I told him I had an enlarged breast and it made me self conscious about taking off my shirt around girls. That night I would have a date with a really sexy girl but I was already dreading it because of the shame and embarrassment I would feel if she discovered my puffy breast. He said, "Yeah. Well, there's nothing you can do about it." There was one thing I could do, my primary option: refuse to take off my shirt.
I woke up coughing, in my hospital bed. I vomited a little and the older nurse at my side said, "Yes, yes…" The surgery was done. I delicately touched my right breast and felt a thick gauze bandage over a very sensitive swath of chest. It was tender but I felt the absence of my breast, the muscle memory seemed to belong to a different entity. The surgeon told me there would still be a crease on my chest from the fold of the enlarged tissue, despite it's reduced size. It's still there to this day.
When I was 11, I saw the Annie Leibovitz photo of Demi Moore, seven months pregnant, posed nude on the cover of Vanity Fair. Her body, slim except for the protruding belly and her short, mannish haircut looked unconventionally beautiful. I thought I was an unappealing boy, so I posed in the mirror like Moore. I exhaled and for once, tried to make my belly as big as possible.
"Suck in your belly," Mom would say to me.
Sometimes, I would cup my right breast after the surgery, to feel a breast even if it were only my own. I was a self-sufficient young man who tried to be my own everything: mother, lover, friend.
Philip Brubaker is a Polish-American writer and filmmaker who was born and matured in the Washington D.C. region of the United States.  He made the award-winning documentary, "Brushes With Life: Art, Artists and Mental Illness" in 2009, which has screened across the country on public television and at film festivals.  Philip is a graduate of the inaugural class of students in Duke University's MFA program in Experimental and Documentary Arts in 2013.  Since then, he has been published internationally as a video essayist, whose work has garnered tens of thousands of views and been recognized by Sight & Sound Magazine as Best of the Year from 2016-2020.  Video essays are the right combination of writing, editing and film criticism and Philip has a YouTube and Vimeo channel to host his content.  He hopes to publish more writing as he is a writer at the very core of his being.
Curators
Tavarus Blackmon, also known by the Anglo-Saxon, Blackmonster, lives with his partner and three children in the City of Trees, Sacramento, California. He earned his MFA as Provost Fellow at the University of California Davis. He has been under Fellowship at the Headlands Center for the Arts and is a current Parent-Artist Fellow at the Kala Art Institute, which recently shuttered its doors due to the "stay-at-home" order.
Derek Kwan is a electronic musician, percussionist, and digital artist exploring the expressive capabilities of computer technology through interactive media. His creative output includes live coding electronic music, interactive audiovisual installation art, physical computing, acoustic and electronic music composition, and percussion improvisation. As a performer, Derek has appeared with the Bang on a Can Marathon, Make Music New York, and soundSCAPE festival and has performed with Raphael Mostel's Tibetan Singing Bowl Ensemble and Iktus Percussion. He has had music compositions featured at the New York City Electroacoustic Music Festival, the UC Davis Shinkoskey Noon Concert series, and Glasslands Gallery (Brooklyn, NY). Discussing his work as an open-source software developer and electronic musician, Derek has given presentations at the Fifth International Pure Data Convention held at New York University and the Bates Digital Music Symposium held at Bates College (Lewiston, ME). In July 2019, Derek curated a month-long exhibition at The Brickhouse Gallery (Sacramento, CA) featuring his audiovisual installation art alongside the artwork of artistic collaborators Tavarus Blackmon and Boris Allenou. In February and March 2020, Derek was in residence at the art and technology commune brahman.ai (Bombay Beach, CA) where he gave a workshop on the TidalCycles live coding environment, collaborated on the generative karaoke installation Karaoke of Dreams, and performed electronic music live coding with digital visual artist Cai Rhuturaje. Derek holds a Doctor of Musical Arts degree in percussion performance from Stony Brook University and has taught electronic music at University of California, Davis.
Joy Miller is an artist in Western Washington. She holds graduate degrees in Art Studio from UC Davis and in the Humanities from The University of Chicago. She is presently under quarantine with much of the world.
Open Call
Art Music Lit Space is accepting work that considers the Methods of Negotiation
What are the artist's Methods of Negotiation? This color here... that shape there, press this in such a way as to caress the form, creating but an acceptable contour. Our methods come at high prices too, like the cost of Art School, the solitary life that some artists lead and, the difficult nature of sustaining a life let alone, an art, music or creative writing practice. In the end, after the failings and successes the artist will return to the beginning, thinking back fondly upon all the before negotiations that led them to finally accept themselves as an artist: dreamy, winsome and sharp. The uncertainty in deciding on making, not observing, percolates, brews, will create meaning and, feed the mind and nurture the soul. We become a conglomerate of negotiations therefore, exercised in the shrewdness of forethought, the rigor of doubt and, lean in the contortion of the once rigid self.
Tavarus Blackmon
Notice that negotiation is not synonymous with compromise, negotiation being its very own triumph that bonds the members of the process.
Negotiation is a semi-permeable membrane, through which we ourselves may pass and then be new to ourselves and each other.
Wringing hands, raised eyebrows, body language stiff and loose, mouths open and close. Perhaps negotiation starts deep within bodies, on a cellular level, regardless of the negotiations spiraling outwards beyond their minute origins. Spores negotiate with cellulose and fungus fruits hundreds of feet above the process; a deal springs in a bank with a wink and a nod and an empty checking account; someone hands over the title of their boat to keep for the weekend, hoping to lay hands on enough cash to get it back on Monday; babies are made or aborted; wars lost and won and snipers fade into the background trying to find a fix for their adrenaline needs and the deep disconnect of their murderous anonymity; chestnut trees accept pollens from distant winds and drop fruit in exchange for a lightened load. Is not every single ounce of each millisecond and milligram and millipede, is it not all some clip of a negotiation happening everywhere all at once? And just how de we wrangle these negotiations, perpetuate and proliferate them?
Joy Miller
How do we negotiate virtual spaces and how do these methods differ from negotiating physical spaces? Are our online negotiations any less valuable or "real" than physical ones? What is the relationship between our online and physical methods of negotiation and do they coexist or overlap?
Derek Kwan
Messages of Solidarity
In our recent and current struggles, we have been catching glimpses of America's power structures and what they value. We have been catching glimpses of power structures whose status quo does not value Black lives nor rights and will go to great lengths to maintain it. Although these mass protests live in our current collective consciousness, we must recognize that the recent murders they are in reaction to are only some of the symptoms of the systemic racism that has pervaded this country for centuries and we must not never forget our current zeal and passion for systemic change in the centuries to come.
Derek
No number can fully capture the multi-century plunder of Black people in America.
This moment now is yet another revelation of what has been going on for years.
Racism serves as a buttress, as a justification for super exploitation, for mass murder.
We all know what happened to Medgar.
We all know what happened to Malcom. We all know what happened to Martin. We know what happened to Fred Hampton and Mark Clark and so many more.
Change cannot come under the present system.
The key thing is whether or not we have sufficient amount of power within ourselves to affect the system when the system is working against our vested interest.
We are going have to do more than talk. We are going have to do more than listen. We're even going to have to do more than learn. We're going have to start practicing and that's very hard. We have to start learning, and you learn through practice.
Joy
Don't kill me when I slowly turn the key into the door of the house I own. Don't kill me for tying my shoes on the wrong side of the side-walk. I am taking my time to watch the cars pass and the grass grow, feeding my children stories about the Bogey Man while they sing nursery rhymes and eat ice cream cones. Some people may think that since violence will not visit them in their private lives that the narrative of the victim is alien. These are people who do not know love or have the ability to care for others. They are without the capacity to feel as others feel, love how others love or die incrementally with the deaths of countless others. This is an alien affect, removed from the human concern that compassionate people express in their daily lives. We do not close ourselves into our own private worlds: Art Worlds, New Worlds, Privileged Worlds; we live in The World. Where you die face down begging for help and we are forced to watch you suffer. Let me stand so to look me in the eyes. So many "good men," have filled my back with bullets and choked me while I could not see their vapid, empty, hunger.
Tavarus

Art Music Lit Space serves as a locus for artists, curators, writers, lookers, listeners, feelers and thinkers to show, share, and connect despite the nearly global closure of physical exhibition spaces such as studios, galleries, basements, museums, schools, art fairs, fields, etc.
AML Space seeks not simply to fill the chasm so suddenly imposed by social distancing measures, but to provide opportunity for a constellation community to probe the chasm together, apart.
As curators, one of our roles is to promote challenging art in good times, good art in challenging times and, to create a space for artists where the two are not divided. Artists, art students and those who value art may be wondering, "How do I exhibit in this current climate of physical distancing, social justice protests and, how can I connect with art, artists and people with whom my message matters?"
Art-Music-Lit Space provides a platform for free and public access to curated virtual exhibitions of art, music and writing. Send images of your original work, studio or, curated image searches. Send original sound files under 1 minute in length or links to audio and video. Send up to 5 original, previously unpublished, poems or 1 short story (fiction/non-fiction) under 1,500 words, hyperlink-lit or lists; lists of poignant, funny, thoughtful or arbitrary nouns, shopping lists, wish lists, to-do's, etc.
In this time of doubt, questions and uncertainty, Art-Music-Lit Space connects artists and people. Proving that in times of change, struggle and difficulty that Art is vital, making is essential and that by communicating our cultural, creative and visual language our voices are indelible.
Images: up to 3 images of painting, sculpture, drawing, installation, photo-based work, curated Google or Bing photo searches [include search term(s)].
Music/Video: audio file (mp3) up to 1 minute in length, links to audio/video(s), cinematic poetry, recitations, recorded spoken word, sound art, music concrete.
Writing: up to 5 poems (doc/docx format), 1 short story (fiction/non-fiction) up to 1,500 words in length (doc/docx format), creative writing with hyperlinks, lists.
Include your 3rd Person Biography and full description of work: title, medium, dimensions, year created
This is not a fully inclusive list. Send your amazing, inspiring, cool, exciting, cross-genre/experimental work for inclusion.
Add a line to your CV during the gallery, museum, art space closures. Has your exhibition, performance, reading been cancelled? Share work with Art-Music-Lit Space, a virtual community connecting people through an intermedium presentation.
*All work must be made by the person submitting, unless you are submitting for someone else and have indicated so. All work must be previously unpublished unless you indicate where the work or documentation has appeared before and you retain right to re-publish.
*Art-Music-Lit Space is anti-hate/violence, unless you appropriately critique such gestures. We commit to presenting diverse voices including regional, national and international artists and seek work that comments on the current status of identity and compassion. Send us your protest, radical, activist and social practice work for consideration.
*Quarterly print and digital editions forthcoming, exhibitors receive one (1) free copy.
Email your submissions to:
Deadline: August 3, 2020